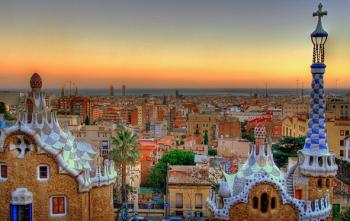 Let's imagine that you only have 24 hours to spend in Barcelona, you arrive at 0900 AM to the city centre and leave the next morning the same time. Sounds like there is very little you can do in one day no? Well no! 24 hours in Barcelona is a lot of time and we are going to prove it to you!
When you have so little time to spend in Barcelona you won't need to worry about your accommodation, there is very little time and it will be a shame to spend it on sleeping when there so many things to do. So book the first hotel you find in Barcelona, an apartment will not be an option as they only take bookings for 2 or 3 nights.
I would recommend you to start your day by having a good breakfast.  You will need all the energy you can get. Because our tour will start in the old city of Barcelona you will have your breakfast in one of the most "sweet" places in Barcelona, situated on La Ramblas number 83 :the Escribá sweets and coffee shop. It is there since 1902 making all sort of sweets and chocolates and serving great breakfast. The shop is beautiful and it is very representative of the Catalan life style. So you walk down on the Ramblas about 400 meters and on the right hand side of the avenue you will find it.
At 0945, after you had a coffee, sandwich and something sweet, you will continue going down Las Ramblas until you cross with Ferran Street. On Ferran street you turn left and walking some 700 meters more you will arrive to Plaza San Juame, one of Barcelona's most impressive plazas, where you have on one side of the plaza the building of the City Hall of Barcelona and on the other hand the Catalan government building.
The first street you find to your left is "Carrer del Bisbe". Take this street and continue until you arrive to "Plaza Nova". Here you will find the wonderful Cathedral of Barcelona, definitely a monument that worth visiting.
At about 10:00 AM you will continue to walk back toward "Plaza Cataluña", this time taking one of Barcelona's most commercial streets: "Portal del Angel". Watch out! This street is full of amazing shops, especially of clothing and foot ware, so walk fast and don't enter them unless you really know what you want to buy and you plan on doing it fast.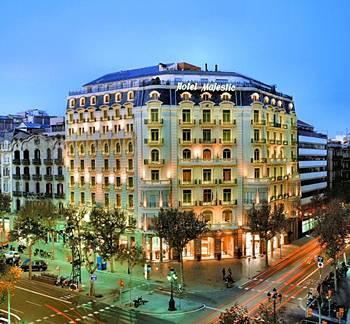 From Plaza Cataluña you will continue to walk, this time to "Paseo de Gracia", the most beautiful avenue in all of Spain and perhaps in Europe. Again, if you want to accomplish everything is planned you will have to ignore the temping shops.
Walk directly to Paseo de Gracia number 43, where you will find "Casa Batlló", one of Barcelona most famous buildings, built by Antoni Gaudi more that 100 years ago. A short visit in side the building and you continue by foot walking up Paseo the Gracia to visit the second master piece of Gaudi, "La Pedrera" or known as also "Casa Mila", situated on "Paseo de Gracia" number 29. Because we are short in time you will just view this inspiring work of art from the street and leave the visit in side for next time you are in Barcelona.
By now it is 11:00 AM and it is time for a short coffee break. Because you are in the "right" neighbourhood, you will have the chance to have your coffee in one of the most fissionable places of Barcelona, in the lobby of the Omm Hotel, in the corner of "Roselló Street" with "Paseo de Gracia". The design of the lobby is admirable and the bar is just a place you shouldn't miss.
The coffee was great and we continue with our race against the clock. Next I think you should enter a great shop, just around the corner called "Vincon", which really worth the visit and where you can buy some small gifts for your family and friends. It is one square below "Roselló street" on "Paseo de Gracia". Don't dedicate more that 30 minutes for the shop, you can always come back later!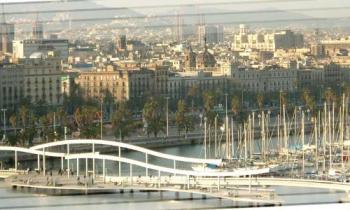 After the coffee break and "Vincon" it will be already about 12:00, soon it is time for lunch. To save some time you may need to take a taxi and head rapidly to the Park Guel to enjoy one of Gaudi's most emblematic works, as well as to relax from the long walking of the morning. The park has great panoramic views of Barcelona and you can easily spend an hour or more just wondering around.
At about 13:30 you will probably be starving, so you can look for a taxi again and tell the driver: "Por favour llevame a calle Mallorca number 236". Then the driver will say: "Aaahh… Cerveceria Catalana… very good!".   By 13:45 you will be in the restaurant, considered to be the best Tapas Bar in Barcelona. Don't even dream to find a table, so go directly to the Bar and try to find a sit. Then just try whatever they serve you, surely you will enjoy it all. Make sure you don't drink too much beer or wine as we still have plenty to do.
35 minutes later you should ask for the check. You will be a bit surprised by the bill but don't worry, they didn't forget to charge anything; the place is just not expensive! After you have paid the bill, you have little time to take the metro in the "Paseo de Gracia" station of the green line, 2 squares from where you are. It is 15:00 now and you are heading to Plaza España Metro station from where you can walk shortly to the pueblo Español.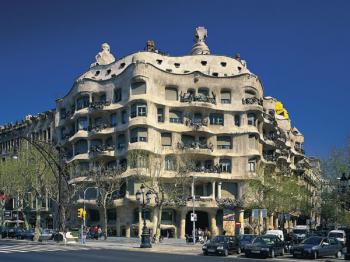 Over there you can enjoy the Spanish splendours and atmosphere, at least a couple of hours. At around 18:00 you might find an early flamenco show, one of the many that are regularly presented in the Pueblo Español. If you ere lucky to watch a flamenco show you will be leave the place at about 20:00. You may consider taking a taxi because your next destination is the beautiful neighbourhood called "El Borne".
A walk in the Borne streets is quite an experience; it is very clean, neat and elegant, with fancy unique designer's shops for clothing as well as other articles. The neighbourhood is also known for its huge variety of restaurants, and here you will have no problem to find a small and nice place for having a light dinner. You can choose between the "Repla", the "7 puertas", "Taller de Tapas", "little Italy", "Cal Pep" all of which you will surely enjoy very much.
By 22:00 you will probably finish your dinner, harry up because we don't have much time and soon the concert start. Which concert? The one that shows in the "Razzmattazz" club for example. After the concert there will be some dancing music and after a couple of drinks at about 3am we suggest you to go and get a few hours of sleep at the hotel, because soon you have a flight to catch.
There you are, 24 hours in which you got to know Las Ramblas, the Escribá, the city hall and Generalitat buildings, Plaza Nova and the Cathredral of Barcelona, Portal del angel shops, Paseo de Gracia street, Casa Batlló, casa Mila, the Omm lobby and buying some gifts in the Vincon shop, you visited Park Guel and then whent to eat the best tapas in Barcelona,  then you visited the Pueblo Español and watched a Flamenco show, then got to know the El Borne and has a light dinner there, after that you attended a classical concert in one of the most amazing halls in Europe  (el Palau) and you finished the day attending a jazz or rock live performance in the Razzmatazz, dancing and drinking a little… what a day!