Vietnam, oh Vietnam.  A country full of history and culture, on the top of my bucket list of places to visit. I finally went backpacking around Southeast Asia for my summer vacation, and the first place I visited was, of course, Vietnam.
The Vietnamese territory is so long and extensive that it takes too much time to travel from north to south. In my experience, it can take up to a month. The first time I visited Vietnam, I did it partially alone and partially accompanied by Mexican friends. I toured both north and south, taking care not to leave any highlight aside despite my backpacker budget. Here's what I did with that wonderful week of my life.
Day 1: First Impressions of Vietnam
My flight arrived in Vietnam from South Korea (where I lived). We landed at the Cat Bi airport (NPH) located in Hai Phong, Vietnam. This is not the main airport, nor the closest to the capital, but it is an excellent budget-friendly option if you come from Korea, Thailand, or other points in Vietnam. It's 2 hours by train from Ha Noi, the Vietnamese capital. Personally, I took this option because it was the only flight to Vietnam that arrived in the morning. I planned to rest on the train after spending the night before at the Korean ICN airport.
Walking Ha Noi
Once in Ha Noi, after getting lost in the small and busy streets of the Old Quater, I sat down to have breakfast in one of the many cafes in that area. For 3 USD I had a delicious breakfast consisting of a baguette and a frappe, both a must try in Vietnam. The coffee girls very kindly allowed me to leave my backpack there while I explored Ha Noi.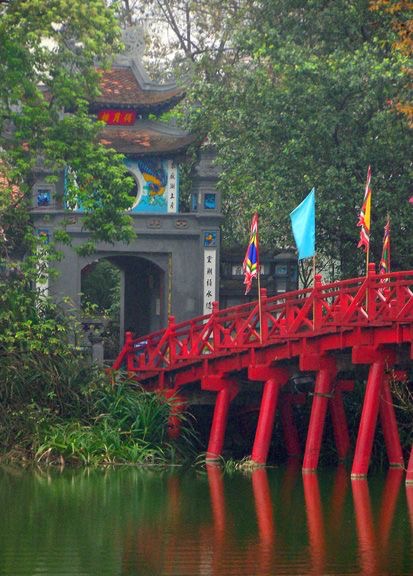 One of the most recommended attractions was the Water Puppet Show, a curious Vietnamese tradition with live music in the Thang Long Water Puppet Theater. All in all, it took 50 minutes and cost 4 USD. Once it ends, visitors can walk around Hoàn Kiếm Lake, a large and beautiful lake with several interesting spots to explore. My favorite was Ngoc Son Temple, Hanoi's most visited temple, which sits on a small island connected to the lakeshore by an elegant scarlet bridge constructed in classic Vietnamese style. The temple is dedicated to General Tran Hung Dao, who defeated the Mongols in the 13th century; La To, patron saint of physicians; and scholar Van Xuong.
After having dinner in Lotteria, one of my favorite Asian hamburger restaurants, I went to pick my backpack and then waited for the night train that would take me to my next destination: Sa Pa.
Day 2: Sa Pa – Y Linh Ho – Lao Chai – Ta Van
It's the second night in a row that I don't sleep in a bed, but it does not matter, whatever it takes to explore Vietnam – Sa Pa in particular. The train arrived at 5 am at the Lao Chai station, where you can catch a bus to the city of Sa Pa in 3 hours. That's the main problem with Vietnam; the routes are very long, and there are not many options to move from one place to another.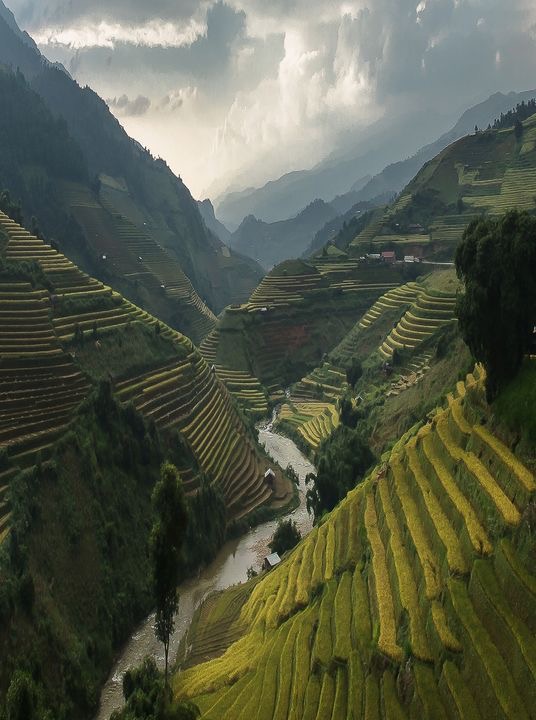 After a fruity breakfast, walk from Sa Pa to the Muong Hoa valley, which is worth every step to get there. The view of the Hoang Lien mountain ranges is beautiful. Walk through the northern rice terraces of this beautiful country until you reach the Muong Ha river where you can swim to a suspension bridge that takes you to the village of Za.
Vietnam, I love you, and it's only the second day.
Day 3: Sa Pa – Cat Cat
The third day, I woke up to have a coffee and watch the sunrise in this mountainous and magical place. After a shower and breakfast, walk through the bamboo forests to the town of Cat Cat. After a meal by the river, visit the foot of the Fansipan mountain, the highest in the Indochinese region. Here again, I was surprised by nature. Back in Sa Pa, I took a shower and picked up my things before returning to the night train to Ha Noi.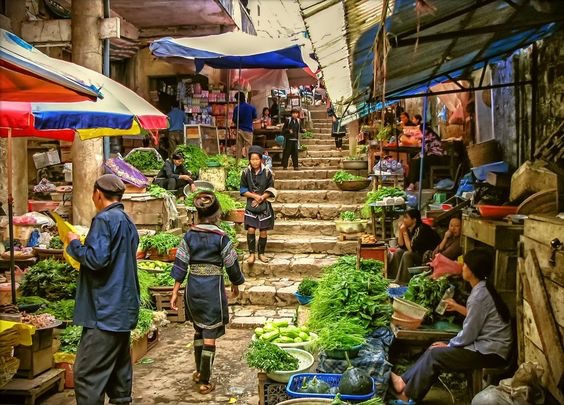 Day 4: Ha Long Bay
After another bed-less night, I arrived at Ha Noi early to have breakfast: delicious Pho – Vietnam's typical soup that is OMG delicious! At 10 am I took the bus to Ha Long Bay, one of the 7 wonders of the natural world. 4 hours later I boarded a cruise in Tuan Chau where I had typical Vietnamese food based on seafood and rice. Later I was able to appreciate Ha Long Bay and disembark to kayak and swim in the various caves (Hang Sung Sot is the biggest one) and grottos. The water here is green and refreshing in the more than 30 degree heat of a Vietnamese summer.  Spending the night there is a good option, especially if your trip, like mine, is for photographic purposes.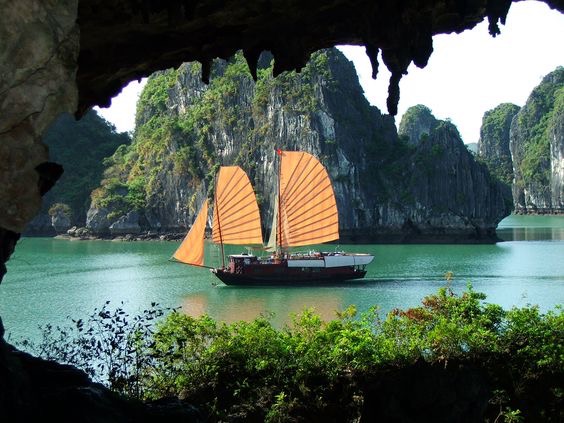 Day 5: Ha Noi
After having breakfast and walking a bit more around the caves, I went back to Ha Noi where I arrived at my hostel (Hanoi City Rocks) around 3 pm. After a nap and a fresh shower, I went to Đồng Xuân Market, where I bought some traditional clothes and ornaments and then had pizza for dinner, becacuse yes. I needed a pizza for my project of eating pizza in every country I visit. In my hostel, they offered free beer for one hour every night, and if there's a place where beer is delicious, it's Vietnam. Tiger beer is a MUST try drink at least once in a lifetime.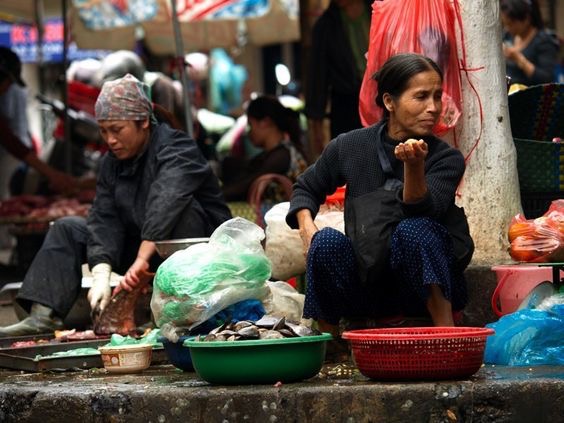 Day 6: Ha Noi in Scooter
On the sixth day, my Mexican friends arrived at Ha Noi and encouraged me to rent a scooter for 10 USD (the all-day price). One thing you notice instantly in Vietnam is the excessive number of scooters that crowd Vietnamese streets – there are more scooters than cars. So that day, we visited spots such as Literature Temple and Hồ Chí Minh Mausoleum in the north part of Ha Noi. We had lunch by Tay Lake (bigger than Hoàn Kiếm Lake) and then visited Tran Quoc Pagoda. After that, we went back to our hostel to have free Tiger beer, the best beer in Asia.
Day 7: Last day in Ha Noi
We spent the last day in Ha Noi, the capital of Vietnam. After breakfast in a small local restaurant, we rented scooters again to visit a pair of interesting and thought-provoking museums about this wonderful country: Hoa Ló Prison and the Vietnamese Women Museum. After talking a bit about the impression left by these two museums, we visited the Long Bien Bridge. Designed by Eiffel, this bridge crosses the Red River. As a strategic point, it was bombed during the war.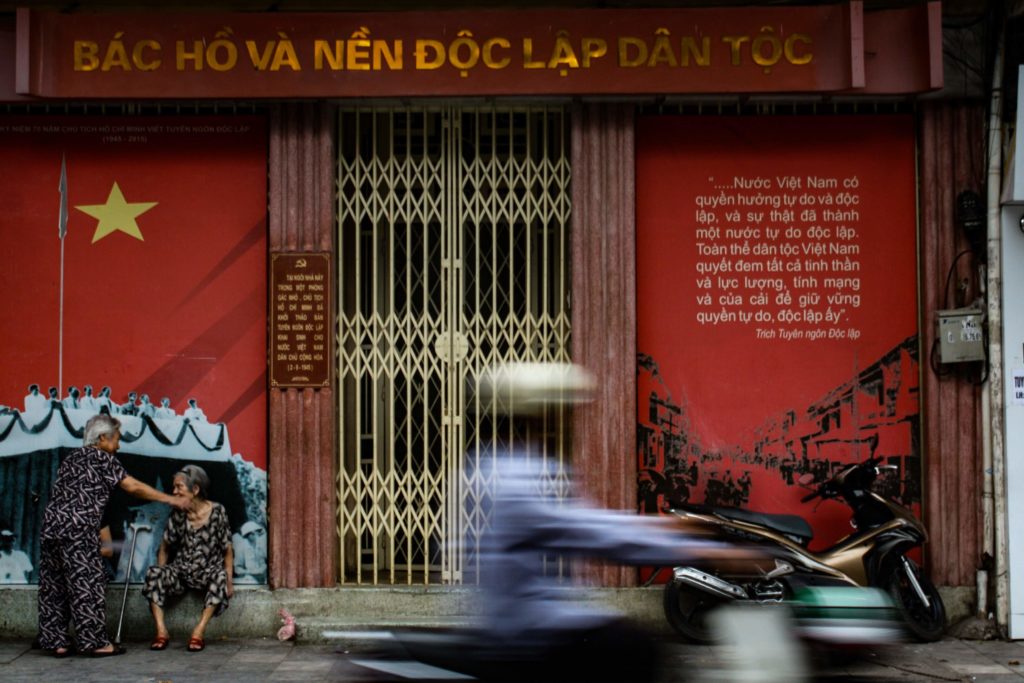 Before going to the airport and saying bye to my friends, I decided to go around the Old Quarter again on a scooter, buying some souvenirs and my last Vietnamese sandwich at Ha Noi.
Leaving
The International Airport of No Bai is one hour from the city center. Get there by taking a bus that for 2 USD leaves you at the terminal you prefer. In my case, the national terminal – my adventure in Vietnam is not over yet.