You've not tried Thai food in its best and most unadulterated form until you've been to Thailand. But with so much bland fare put on for the tourist crowds, it can be difficult to know if you are eating the real deal. Here are five dishes you absolutely must try on a trip to the Land of Smiles, with recommendations for the best spots to hunt them out in Bangkok and beyond.
Khao mok gai – Tender chicken buried in sweet yellow rice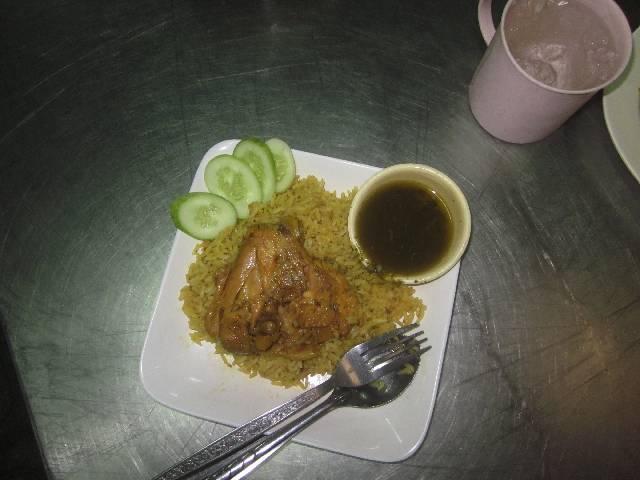 A southern Thai dish inspired by the spice trade from India and Malaysia, khao mok gai is the Thai version of chicken biryani with a difference. Think a whole marinated, slow cooked chicken leg, hidden deep beneath a mountainous pile of yellow rice flavored and colored with turmeric. Served up with a mint or chilli sauce depending on where you eat it, you can also find khao mok made with beef (neua).
This is one meal that quickly becomes addictive, so start your habit off somewhere good. Areesa Rote Dee, a Muslim restaurant in a surprising location just a stone's throw away from the pulsating backpacker hub of Khaosan Road in Bangkok's Banglamphu district, serves up what might just be the capital's best – and at 40 baht ($1.30) for a regular sized portion, or a little more to double up on chicken, rice or both with a "special" portion, it won't break the bank. Just ask for piset gai for extra chicken, or piset khao for extra rice.
Here are a few good places to sample this dish:
Areesa Rote Dee, 178 Tani Road, Bangkok (open 9.00am-4.00pm and 5.00-10.00pm)
Also at lunchtimes on Silom Soi Convent, early mornings at the end of Silom Soi 20 and at the night market in Kanchanaburi, a two-hour minibus ride from Bangkok.
Khao man gai – Infused boiled chicken on silky rice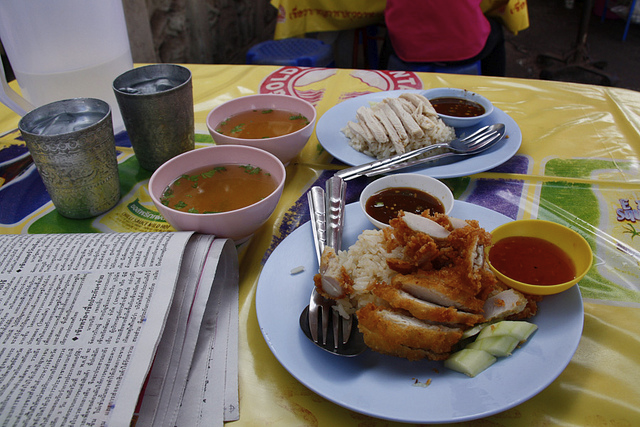 Chicken and rice fans will struggle to go far wrong with khao man gai, the pinnacle of Thai comfort food. Yet in truth, it is a complex dish with a combination of flavors working together to result in a dish that provides endless satisfaction. It is so much more than just boiled chicken on a plate of rice: whole chickens are slowly cooked in a pan of chicken stock based broth made with just the right mix of different herbs and spices. Small, thin slices of the carved chicken are then laid beautifully on top of glistening jasmine rice, itself mixed with a chicken stock broth to give a wonderfully pleasing taste and texture. The grains of rice sit atop one another, no two grains stick together thanks to just the perfect amount of chicken fat coating each one.
Khao man gai is usually served with a bowl of hot, steaming chicken broth, infused using the stock made from boiling down the chicken bones. A few pieces of spring onion and a couple of parsley or coriander leaves complete the soup with a final bit of flavor that complements the chicken in a way that will leave you wanting more.
A popular night-time stall at the entrance to Soi 2 on central Bangkok's Silom Road serves up some of the best khao man gai, with a peppery chicken soup on the side that adds some extra bite. At 50 baht ($1.60) it is one of Bangkok's more expensive places to eat khao mok gai, but it's worth every satang.
Silom Soi 2, Bangkok (evenings only) and elsewhere all over Bangkok.
Somtum – Fiery green papaya salad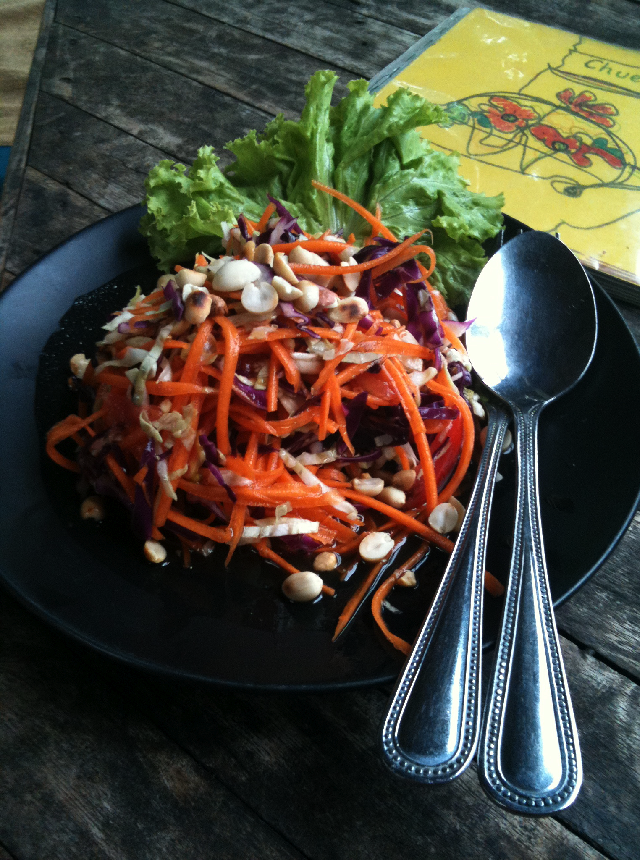 Anyone who's been to Thailand knows that pad thai and green curry aren't the true national foods.  That accolade is saved for the dish that really fuels this country: somtum, a hot-as-hell salad of shredded unripe green papaya tossed together with chilies, garlic, green beans and tomatoes in a pestle and mortar.
Though from Thailand's poor northeastern Isaan region, somtum is now easily available all over – in fact, you will likely struggle to find a street corner in Bangkok that doesn't have a toothless old woman hacking away at a papaya. Different regions have different variations on the classic somtum recipe – the regular Thai version includes peanuts, palm sugar and tamarind, while a Laotian style recipe prevalent in Thailand's most northeastern provinces throws in pla rah, gourami fish that has been left to rot in fish sauce – an acquired taste to say the least!
Spicy somtum is often eaten with bite-sized deep fried chicken or pork pieces and northeastern sticky rice or vermicelli noodles, dubbed "Isaan spaghetti." For authentic somtum and a variety of other northeastern dishes like laab (a flavorsome salad made with minced pork, chicken or catfish and lots of fresh herbs), head to Soi 18 on Sukumvhit Road.
Thong Sai E-Sarn Food, Sukhumvit Soi 18, Bangkok (evenings only)
Satay – Meat skewers with a coconut peanut sauce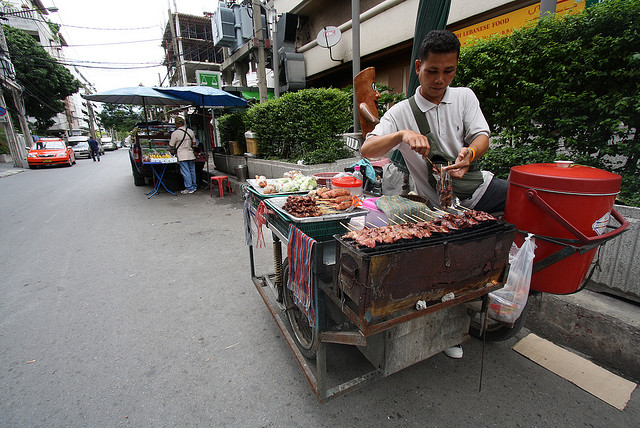 Satay is where it's at when it comes to comfort food – simple skewers of pork, chicken, beef or seafood. Served with a creamy peanut sauce made with plenty of fresh coconut milk and a sharp, vinegar-dressed salad of chilies, cucumbers and onions that cuts through the fatty meat and the coconut. Sniff out the satay from the whiff of the smoking charcoal over which the meat is cooking, often on nothing more than a makeshift metal grill tray.
Try the pork satay at the Many Friends Restaurant on the corner of Samsen Soi 5, in Bangkok's Banglamphu area – about a ten-minute walk from the backpacker haven of Khaosan Road. Expect to pay in the region of 35 baht ($1.10) for 10 skewers.
Many Friends Restaurant, Samsen Soi 5, Bangkok (daytime only)
Pad thai – Thai-style noodle fry-up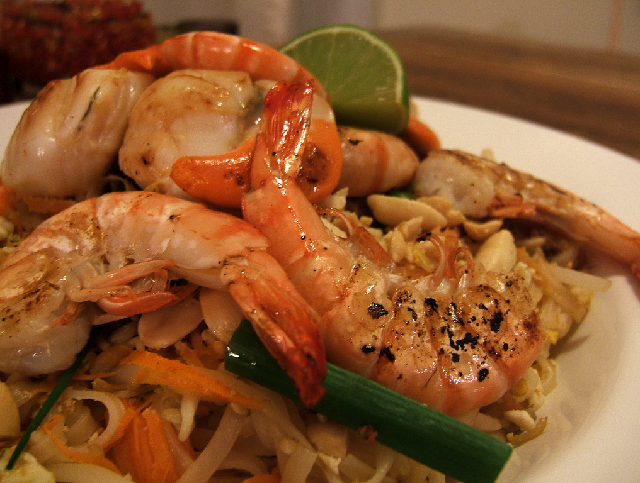 Pad thai might be internationally recognized as the national dish, but all too often – both in Thailand and abroad – the mediocre versions that are turned out just don't do justice for what, when cooked properly, can be a sensational experience. Essentially translating as a "Thai fry-up," good pad thai should be a non-greasy concoction of noodles stir-fried with meat, seafood or tofu, egg, fish sauce, chili and beansprouts.
A stall in On Nut, a fair way out of the very center of the capital, is the only place I will eat pad thai in Bangkok. In the middle of a night market close to Tesco Lotus, two older women serve up the best version that I've ever had. Big, fresh, juicy king prawns get thrown around in their massive woks with thin rice noodles as they conjure up a dish fit for a king, evidenced by the long queues of people waiting to get their hands on this treat, which is pleasingly served in a rolled up banana leaf rather than a bowl – eco-friendly to top it all! For me, the real winning ingredient in this version of the famous Thai dish is lots of freshly squeezed lime, and then some more wedges thrown in for good measure. 35 baht ($1.10) gets you a generous portion, 45 baht ($1.45) for "special" size (ask for piset).
On Nut Market, Bangkok (evenings only)
Check out the following resources and articles to help plan your trip to Bangkok:

Photo credits: beebah, Jessica Spengler, Kojach, all others courtesy of the author and may not be used without permission.