Visiting Thailand presents an array of diverse, fascinating options, from lush jungle sojourns to immersion into Buddhism and other venerable aspects of Thai culture. However, most tourists only see the surface aspects of Thailand: go-go girls, beach resorts, shopping malls. It takes persistence and pluck to get behind that plastic facade. I completed two independent tours of Thailand, a motorcycle journey through the northeast, and a hitchhiking trek through the south just a few months ago. Here is a summary of lessons I learned about wandering off the beaten track in Thailand.

How to get around: motorcycle, hitchhike, bus, plane
Most tourists stick to buses or planes to get around Thailand. Air Asia has excellent deals in Thailand. Planes and buses are fine if you're on a tight schedule and don't want the hassle of being creative or interacting with locals. However, if you want to get off the beaten path, one of the easiest ways is to try a different method of transportation.
Train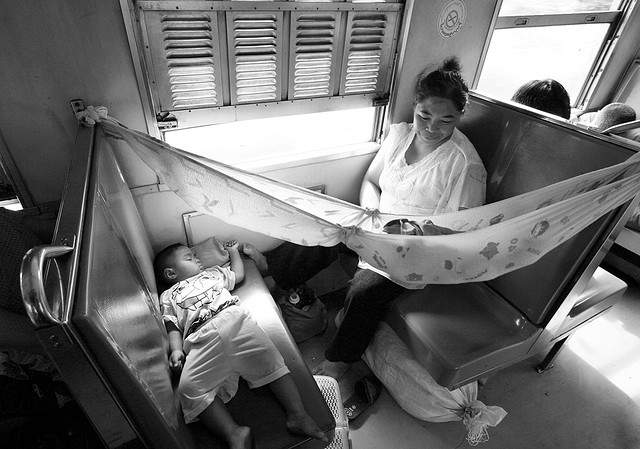 A convenient, comfortable train network runs throughout Thailand. From Bangkok, you can take a train north to Chiang Mai, northeast to Vientiane, Laos, or south toward Phuket, Malaysia, and all the way to Singapore. Perhaps the greatest annoyance from taking trains in Thailand is having to deal with aggressive touts who cling to you like fleas as soon as you enter train stations. Just ignore them and head straight to the ticket office or buy your train tickets through a travel agency for peace of mind. Never ever lose your cool with tourist touts trying to make some commission from you. Be polite and firm, or even humorous if you can muster it! Bear in mind the difference in income between your country and Thailand, and understand why people are so desperate to get your business. Who knows – in the next life you may very well find yourself on the other side of the karmic fence.
Pack snacks and drinks for long train trips. You'll find a lot of opportunities to make new friends on trains, so it helps to carry snacks that you can hand to your neighbors as convenient ice-breakers. Should you accept snacks or drinks from strangers? Tough call, given the recent poisoning cases of female backpackers in Vietnam and Phi Phi Island. If you do refuse food or drink (I once adamantly refused to partake from a bottle of alcohol that had been passed halfway around a bus packed with drunken Colombians while hitching a ride on a tour bus out of a desert) just make a polite excuse; saving face is well understood.
Motorbike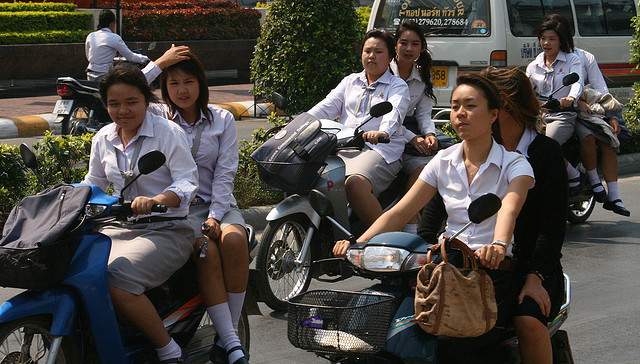 A more adventurous method of getting around Thailand is by motorbike. The vast network of highways and dirt roads around Thailand are paradise for motorcyclists. I bought a spanking new 110cc motorbike for $400 USD in Vietnam, rode it from Saigon/Ho Chi Minh City over to Siem Reap, Cambodia, then across the Cambodia/Thailand border to Bangkok. From there I headed through northeast Thailand toward Laos and then to Hanoi. The bike was of such inferior quality that every two days I had to stop at a roadside mechanic to get a new repair done on it – spokes, flat tires, broken rack, you name it. Once I ran out of gas in the countryside between Bangkok and Laos and had to beseech a teenage Thai girl to tow my heavily-laden bike with her little 50cc moped to the nearest village. She spoke no English and I couldn't speak Thai, but we figured it out!
If you do decide to motorbike through Thailand, you can rent a motorbike in tourist destinations like Bangkok or Phuket. Alternatively, you can buy a motorbike and then sell it again at your end point, whether inside or outside Thailand. You can also bring your motorbike from your home country, or from a third country, as I did with my motorbike from Vietnam. If you buy a bike inside Thailand and try to ride it into surrounding countries, you may face restrictions on maximum engine size; Vietnam, for example, has had restrictions on bringing in motorbikes with engine capacities exceeding 250cc.
When riding a motorbike from Cambodia, Laos, or Vietnam into Thailand, the insurance requirements are more stringent in Thailand, so you will have to purchase Thai insurance. That's problematic, because you'll have to leave your bike at the border and then take a bus or taxi into the closest Thai town to buy your insurance, then return to the border and present the insurance papers to the border officials. Alternatively, you can pay some money to the officials to have them go into town to buy the insurance for you. Either way, plan on taking your time as you make your way into Thailand. In terms of road safety, the drivers in Thailand tend to be safer than in Vietnam or Malaysia, and on par with Laos and Cambodia.
Hitchhiking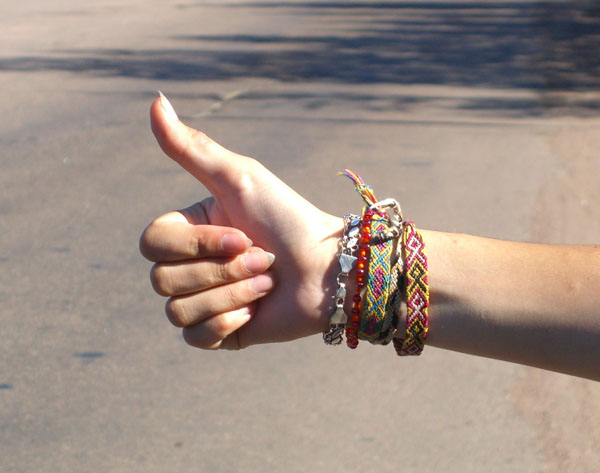 Hitchhiking is rare among Thais, but foreigners get around fairly easily. Police may try to discourage you by picking you up and dropping you off at a bus station. This happened to me and also to a young Russian woman who was hitchhiking in the opposite direction as I was going. We both just walked out of the station and back out to the highway to continue hitchhiking. Drivers will often try to buy you food or drinks at rest areas. I try to buy something for my drivers to exchange in return. Thai people are generally eager to interact with foreigners, and you will be impressed with their kindness. As with anywhere else, Thai drivers take a big chance when they pick up hitchhikers, so expect some wariness on their part, unless you speak great Thai and can ease their concerns right away. Little token gifts help to ease tension. Start out as early in the day as you possibly can – that will keep you out of the hot sun, and hitchhiking in the dark can be almost impossible. Buy a map (around $3 USD) from a gas station or bookstore to orient yourself as you hop from truck to car to pickup.
Conversations with drivers can be real eye-openers, assuming you can negotiate language barriers. Among my most edifying and memorable rides: an airport immigration official who filled me in on the  the activities of foreign mafia; a high-ranking Thai military official-cum-businessman; a female bookstore manager in Hua Hin; a thickly-muscled, heavily-tattooed truck driver barely in his twenties; a duo of party-girls in a pick-up truck which had its rear seats swapped out for a set of massive loudspeakers.
Where to sleep: camping and couchsurfing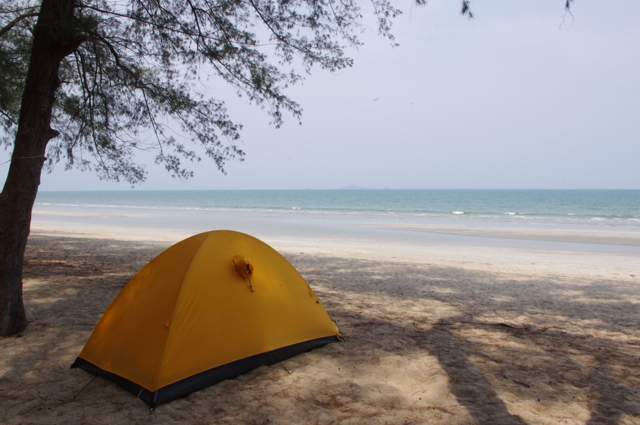 For budget-minded nature lovers, Thailand is camping nirvana. The countryside is dotted with well-maintained national parks, where you can pitch a tent for an extremely reasonable $1–5 USD. Bigger parks have facilities to rent tents and other camping equipment. Outstanding camping can be found in Khao Yai in the northeast and Ko Tarutao marine park in the south. Both places offer excellent wildlife viewing opportunities, rent out tents, and sell food at cafeterias. The stir-fried dishes in Ko Tarutao are a fabulous bargain, considering the remote setting – it's a rough half-hour boat ride ($10 USD) to get to Ko Tarutao from Pak Bara on the Thai mainland. Hat Wanakon is a little hidden gem of a national park located halfway between Phuket and Bangkok, just off the main thoroughfare, Highway 4. After getting dropped off at the entrance, you'll have to hike for 2 miles to get to the beach and camping area. You can camp on the quiet beach among whistling pine stands and dine at the high quality canteen. There is no internet for guests here, though, so you'll have to walk or hitchhike out to the nearest town, Prachuap Khiri Khan (20 miles one way) to get your email fix for the day.
Apart from rustic nature camping, you can find couchsurfing opportunities around Thailand – not as easily as in Malaysia, but easier than in Laos. Part of the difficulty comes from surmounting the language barrier. Once you find a place to stay, Thais can be easy-going and informal. In one memorable apartment in Bangkok, I shared floor-space with a hedgehog that slept under the kitchen sink.
What to eat and do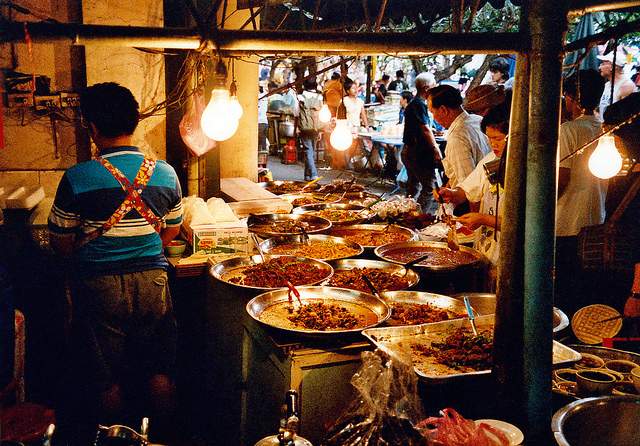 Not only is Thai street food remarkably cheap, Thai cuisine is regarded as one of the world's healthiest fares, since a great array of fresh vegetables and fruits are consumed and meat portions tend to be small.
Once you've satisfied your tummy, there are activities galore to keep you occupied. The southern islands are renowned for scuba-diving, snorkeling, kayaking, and trekking. Ko Tarutao is a good place to kayak and trek, but make sure to secure your food from wily macaques.
Since I'm a fan of Argentine tango, I made sure to scope out Bangkok's lively tango scene at the Elefin Cafe, Sukumvit soi 1, BTS Ploenchit station.
If you have some time, you can teach English at a YMCA or vocational school/mission. I toured a Catholic mission in Bangkok that provided invaluable housing and vocational skills such as hairdressing and doll-making to single mothers. The sister in charge explained to me that outsiders with extended time to spare were welcome to help out.
The more you clamber out of your comfort zone, the richer your Thai experience will be. Hopefully these tips will get you started. Let us know what adventures you encounter in Thailand!
For more information on traveling in Thailand, check out the following articles and resources:

Photos by: enricod, Akuppa, Oksidor, Drozd, all others courtesy of the author and may not be used without permission