The Camino de Santiago is a web of ancient paths across Europe, all leading to the holy city of Santiago de Compostela, Spain. The most famous and popular route is the 800km Camino Frances beginning in the French Pyrenees and continuing west across Spain to Santiago. There's evidence that parts of this pilgrimage pre-date Christianity, but now it is usually walked in the name of Catholicism. Today it is sought out by pilgrims for many reasons, from religion, spirituality, outdoor recreation, and in some cases just the desire to drink a lot of wine.

"So, what brought you to the Camino?" – a question asked at any time of any interaction with anyone you meet on the Camino.
---
I was turning 30.
The past year had been a fairly rough one. It was my goal to end my twenties seriously; to bid them good riddance in some sort of ceremonial fashion and lay them to permanent rest. Those reckless, ill-advised, naïve, and naughty years had been fun, but often left me feeling less-than, unaccomplished, regretful… wasted.
Moreover, I was sick and tired of the drama of my twenties; the impact I was allowing these years to have on my inner being and the way I perceived my place in the world. They were always hassling me, reminding me, taunting me with their mistakes and blaming and doubt. I often felt I was falling faster and faster into this dark abyss of adulthood, haphazardly grasping at any branch of meaning or ledge of control over my unraveling, un-rooted life.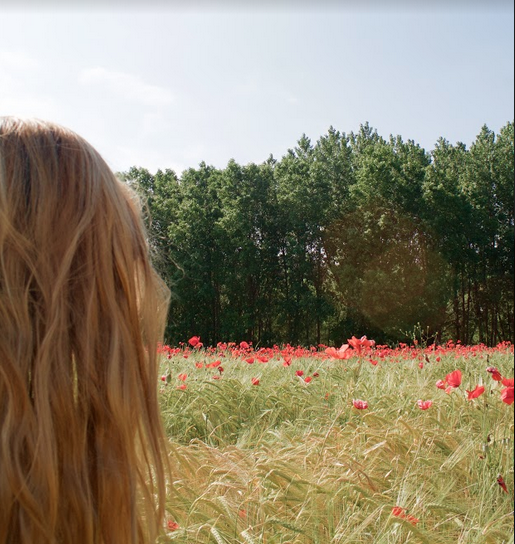 A month before my birthday, I started thinking that maybe I didn't want a party this year. Maybe I didn't want to get drunk on free shots in stilettos I would ruin halfway through the night with an onslaught of friends and photos with blurry recollections and #dirtythirty captions. Okay, maybe a part of me kind of wanted that, but much stronger was the desire to start the year off clear-headed. I figured I could start there, a celebratory change.
So, what gives me clarity, I asked myself? Nature. Exercise. Solo travel.
I supposed that walking 800km across Spain would give me about a month of these three elements in which to attain the clarity I was after. Not to mention that hiking the Camino de Santiago was one of the longest standing adventures on my travel 'to do' list. The pilgrimage, simple in its requirements yet daunting in its entirety, has been a century-repeated remedy for the sinners, the seekers, and the strange.
Embarking on this pilgramage, not for holy or religious reasons but for my own, seemed like the most responsible thing I could do for myself.
My life also happened to be lined up in such a way that I was fortunate enough to have the time and the means to do something significant like this. In one way, you could say I was unemployed, homeless, at an existentially conflicted romantic standpoint – perpetually anxious, slightly depressed and utterly confused about where to go next. In another way, you could say I was floating fashionably between jobs, geographically in temperate Barcelona and Mallorca in the south of Spain before the Super-yacht season kicked off, and ready for adventure. Bored of drinking cava and eating olives every day with my handsome boyfriend, I thought I'd give a hiking across the country a whirl for fun before getting back to work on a floating multimillion dollar toy.
However you want to look at, I decided to go for it.
A week or two later, I'd rustled up enough information and supplies to do it and made my way to the darling French town of St. Jean Pied du Port, the starting point for hiking the Camino Frances. I bumbled through the motions with my small backpack of essentials and before I could really wrap my head around what I was doing, I was doing it.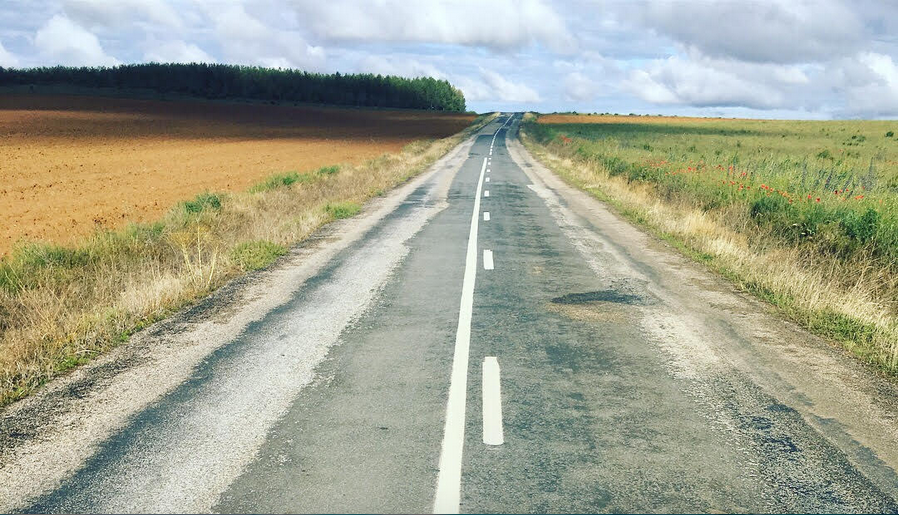 Here is an excerpt from my journal on the first day:
"My state today – physically ill, perhaps just an extended hangover from too many hotels, restaurants, bars, and siestas. Completely unprepared, unorganized, groggy and tired. In need of alone time and downtime. Emotionally on edge, so much feeling at once. Concerned I won't find the answers I am seeking. Worried this walk won't change me. Worried I'll always be worried. Exhausted from worrying. Pretty certain my shoes are going to f%$# my feet up pretty bad and I made the wrong choice there. Aware that lying ahead are many adjustments to my comfort, I'll be adapting again to being on the move. Aware of the pain I am going to feel from the physical aspect and the internal frustrations. Feeling awkward, withdrawn from others. Feel like I need this."
One tradition on the Camino is that you bring a shell with you, tied onto your backpack usually, signifying your pilgrimage. It's an ancient symbol representing the Saint and now is the official symbol used to mark the trail. The shells are everywhere, in the ornate cathedrals and churches, decorating the houses in the villages along the way and attached to the backs of the hundreds of thousands of pilgrims setting foot on the path every year.
For me, the shell represented the memories, mistakes, mishaps, melancholy and melodramatic baggage about myself I no longer wanted to feel affected by. I wrote inside of it, "the shell I shall shed." I would carry it with me throughout the journey and just before I reached the destination of Santiago, I would leave it behind.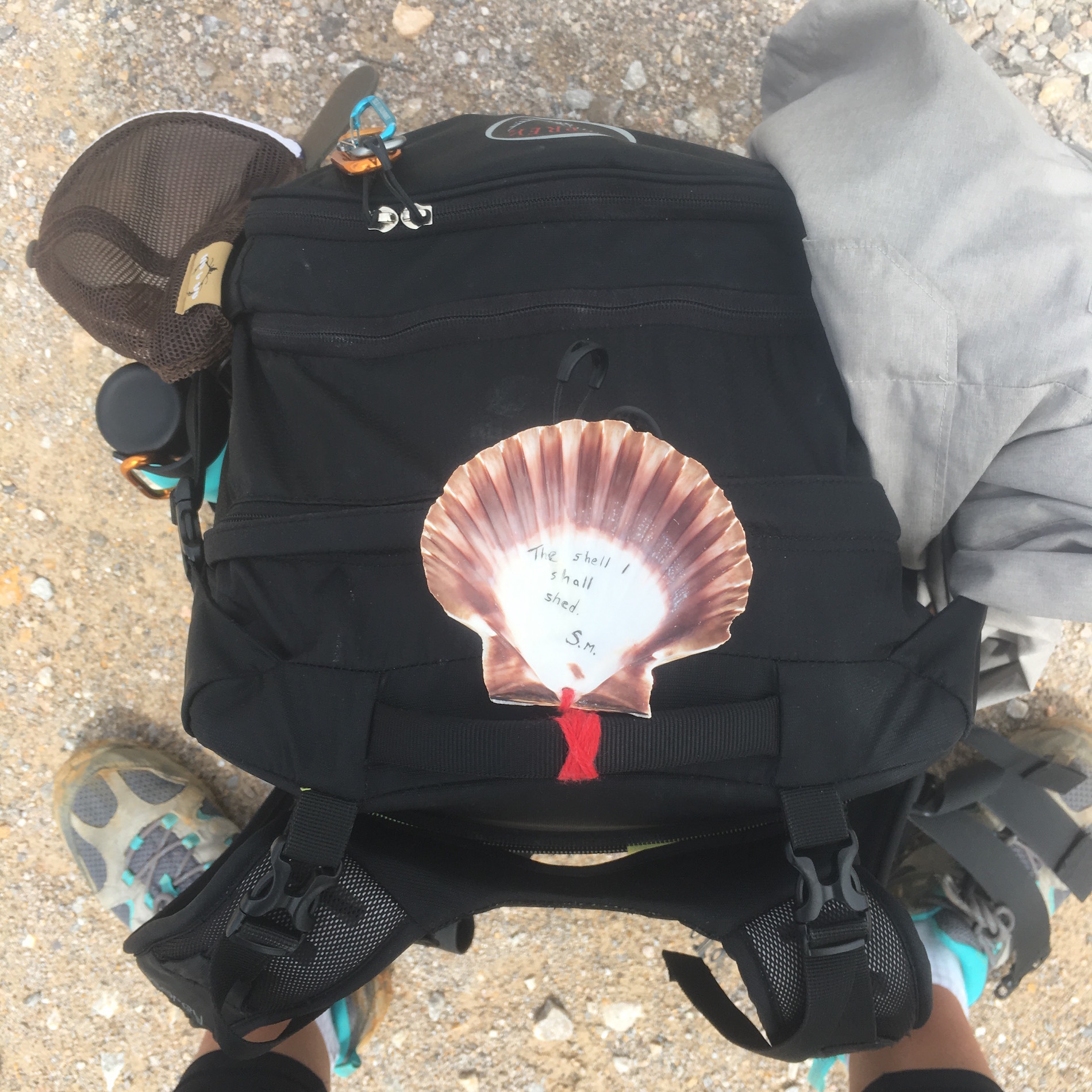 Starting my Camino
I walked one step at a time, basically uphill for seven hours over the stunning French Pyrenees and into Spain the first day. I'd come without expectation of the views and the tangible aspect of the journey, and was blown away by the beauty. It really was something special, physically shaking me awake.
I trekked on through Basque country, through small forests with lore of witchcraft, opening my eyes for the first time to the history and diversity of culture within the country. I marveled at vineyards that stretched as far as I could see and to my utter shock and delight, I drank from a free wine fountain that happened amidst them one morning like a miraculous poof, you're welcome, you have 2 wishes left fantasy come true from a Genie. I admittedly had way too much fun for a couple of nights there with friends I quickly made in a whirl of excitement and celebratory achievement, waking up the next morning in less than ideal shape for a 30km hike.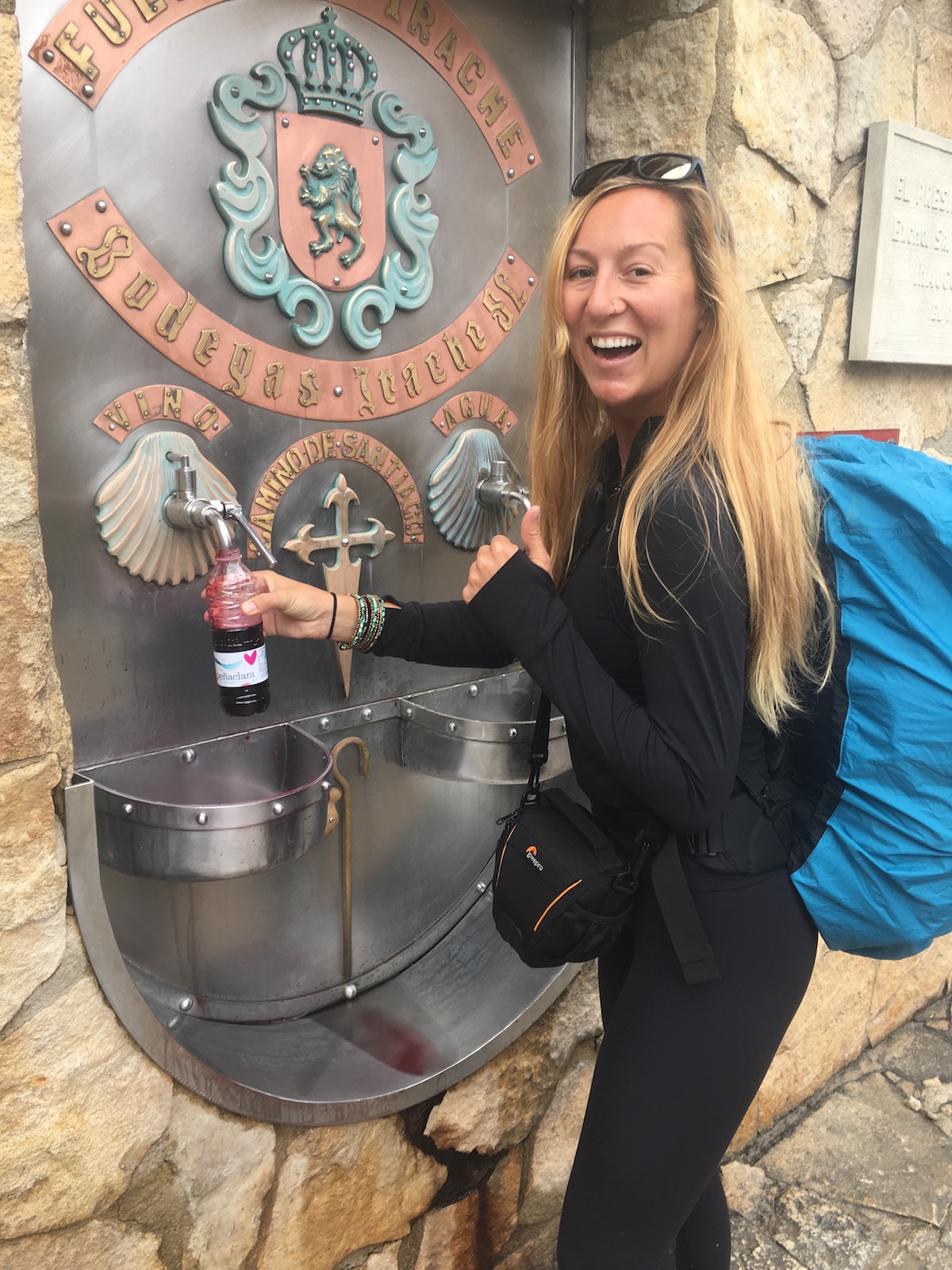 I limped into towns and shabby 'albergues' (the traditional accommodation in basic mixed dormitories) and cursed the weather, cursed the hairs on the shower floor, cursed my drenched, exhausted self for coming on this stupid walk in the first place. I slunk into private rooms I hadn't budgeted for some nights just to ease my aching meniscus and mind. I popped huge foot blisters, bought a knee brace, lathered myself in Tiger balm and started an Ibuprofen regime. I cried about things I hadn't thought about in ages and tearily sighed away some of the heaviness that I'd come here to release.
An excerpt from my journal halfway into the Camino:
"Same hamster wheel. Remembering, judging, justifying, confessing, obsessing, analyzing, wondering. Talking out loud. Trying to meditate but getting pulled away by darkness and what ifs. Itchy. Bed bugs or mosquitos? Bugs keep flying around my face, have actually swallowed some. Bugged. Started asking myself questions. Like a child – but why? Why? Just keep asking it…"
I tackled my demons as they came up, sometimes winning, sometimes losing, and sometimes just surrendering. I discovered that surrendering was actually better than conquering.
I meandered along in awe through fields of red, yellow, ever-changing wildflowers and wheat. I let the vast open space with singing birds and critters emanate its essence around me, gently suggesting a sweet, peaceful song of acceptance.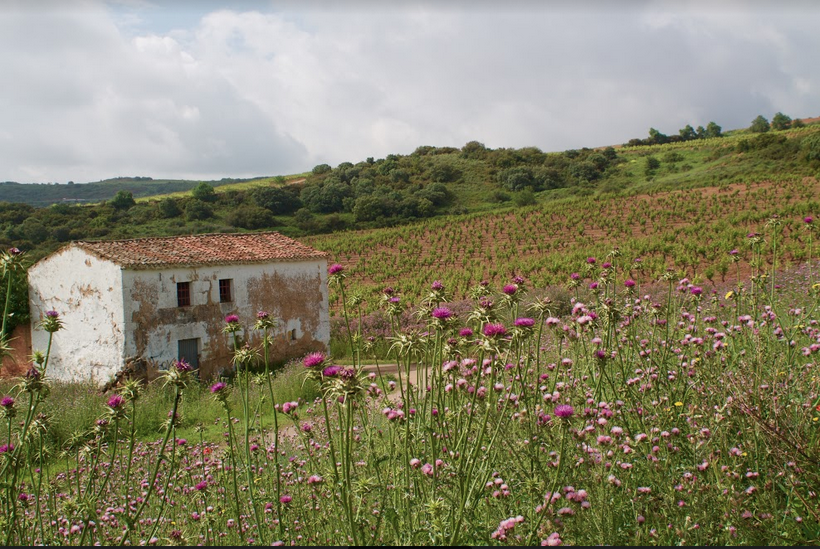 I spent hours walking and chatting with people I would never normally interact with. I learned about opera, about repression in modern day Ireland, about infidelity, about tragedy, love, loss, God, gay rights, AA, and the Australian army. I took videos of scintillating beetles and hopped over snails. I heard stories that gave me perspective, that made me laugh, that shined a light on all the good I am blessed with. I helped others and they helped me. I doused my head in "magical water fountains" that allegedly cured all ailments. I happily tucked into the legends of the Camino, the local wines and the strange culinary delicacies each region provided. I wandered respectfully into a few churches and listened for a short while to the foreign services while observing the extraordinary architecture and faces of the people in the pews.
The community of pilgrims provided comfort, understanding, listening ears and entertaining voices.
There were testing situations and people poking at my patience and shoving at my boundaries, but we all experienced this in different ways and everyone could relate. However deep in my head or distracted by my aches and pains I became, the little shells and yellow arrows marking the way reminded me just often enough to look up, stay present and keep moving on. Every once in a while I would remember, "Oh yeah, I'm walking across Spain right now. That's actually pretty cool."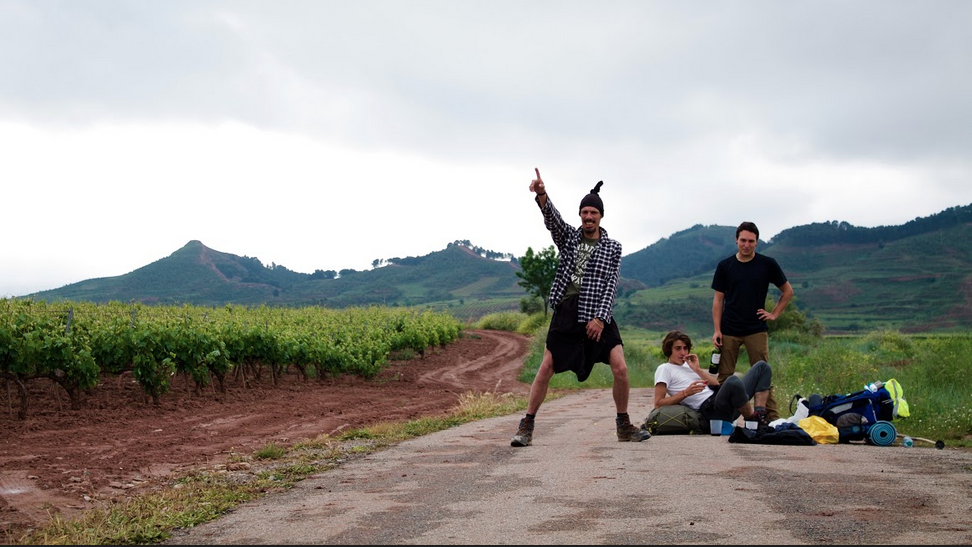 I charged ahead with podcasts and music inspiring my strides and sparking ideas. I settled into sweet solitude. Words poured out of me. Energy from the earth invigorated me and strengthened my bond with it all. At times, as I have only experienced as a child or when deeply in tune with my place in the world, I felt I could communicate in a way with something more that I couldn't define and didn't need to.
I spotted a snow-capped mountain range on the horizon one day and just days later, on a cool misty morning, found myself crossing over it. I actually 'hike-danced' uphill on a blazing hot afternoon and consciously felt the purest, happy, radiant energy beaming through me and grinned.
Sometimes I simply felt the urge to run or sing, so I would.
I looked at my reflection without a speck of make up and rarely even a comb through my knotted locks of hair and I felt beautiful. I rambled on with my little backpack through weeks of heavy rain, thunder, lightning, hail, dewy mist, many bright, muggy monotonously overcast days and finally in the sun that eventually embraced and kissed my weary-but-okay pilgrim body.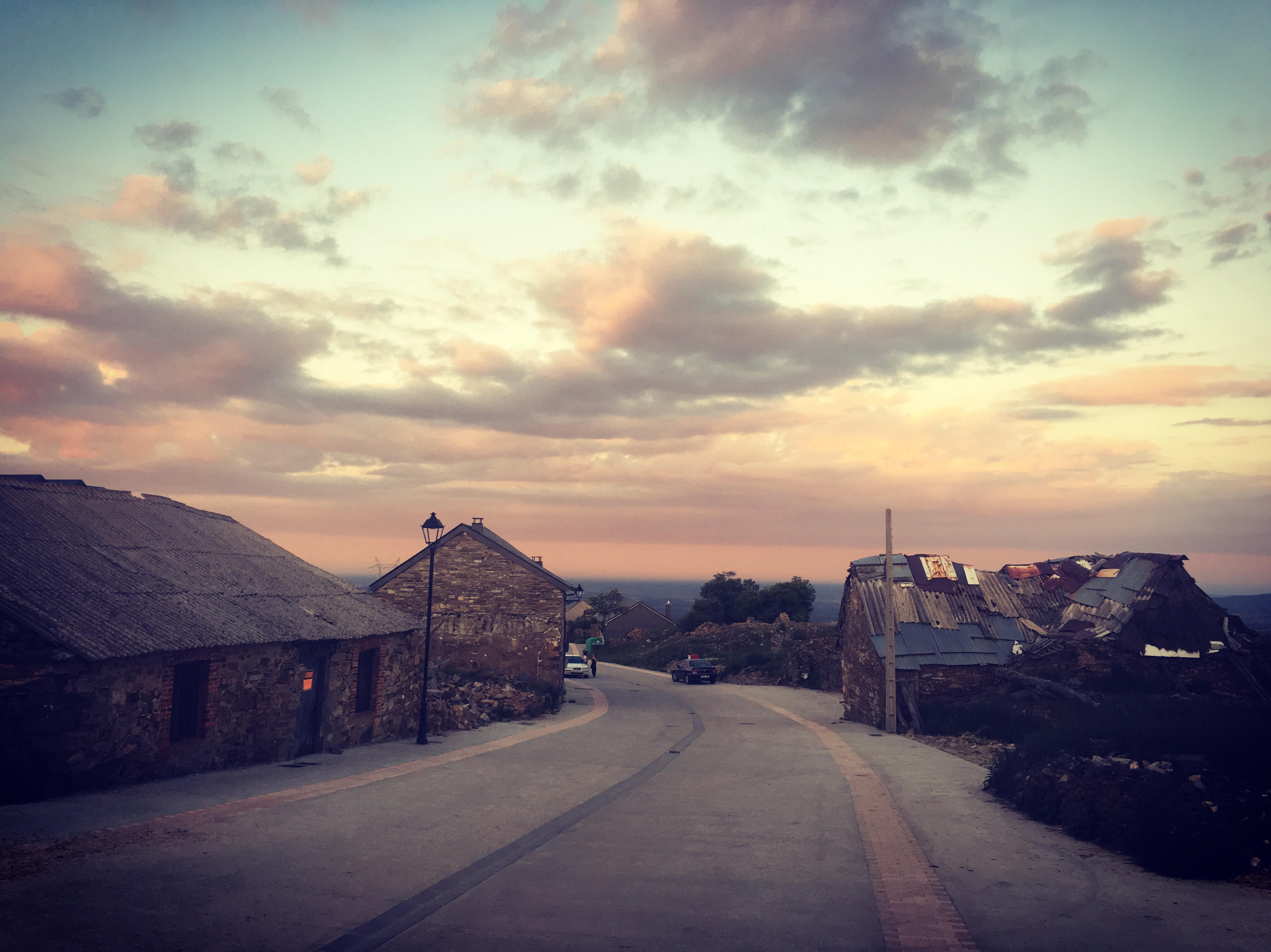 I even met a dog who had run away from his domestic home in Barcelona and after several attempts by strangers contacting his owner to retrieve him, was granted the freedom to reach Santiago if that's what his little puppy pilgrim heart desired. A traveling hobo had sort of adopted him and lovingly named him "Perrogrino," a Spanish play on words dog (perro) and pilgrim (perogrino). I was thrilled to find out that Perrogrino made it to Santiago not long after me, and was actually presented his very own Compostella (certificate) to honor his pilgrimage. This is by far one of the best things I have ever heard of and I hope this dog shares his story to other aspiring 'perrogrinos' around the world.
They say the first week that you hike the Camino is all about the body – externally finding your way, figuring out the waypoints, the routine, what works for you and what doesn't. The second week is spent in your head – and this is the toughest part.
It coordinates with the long, flat prairie-like Meseta where the destinations seem more distant, the small hamlets are few and far between and you feel very small under that big open sky.
The third week is the heart and soul of it, the harmony of the body and mind. A sense of accomplishment, capability, and ease starts to kick in. Ideas form. Gratitude takes the helm and aims your vessel at an angle into the waves that somehow don't seem as big and bumpy anymore. Or you just start hike-dancing.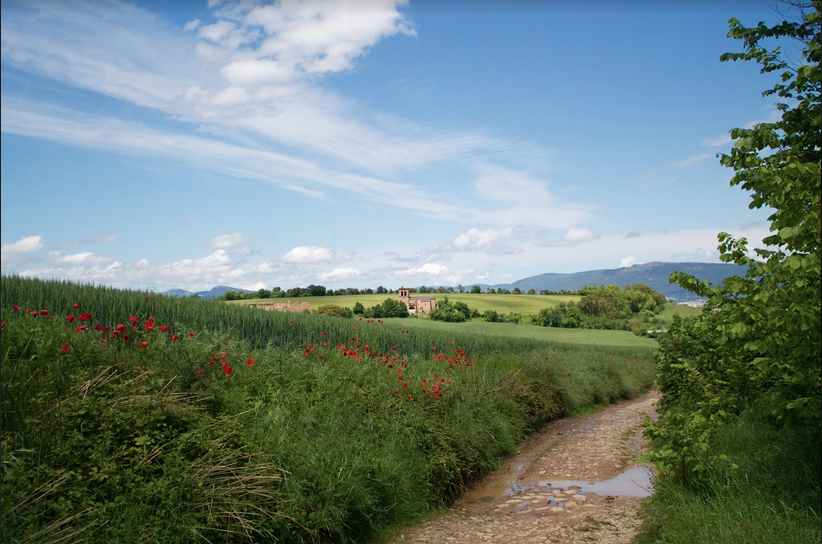 There's this tip I heard on the Camino about your backpack:
"Don't carry your pack, wear it, and it will feel a lot less heavy."
You could say the same about whatever weight it is you have on your back and shoulders. Once you've shifted it around enough and accepted that it's a part of you, it's a lot less of a struggle and you can move forward much more easily.
My experience was different than that of those who were seeking an escape from work or their daily routine. It was different than that of those who were on their first big trip on their own, reveling in that wondrous freedom that consumes you on your maiden journey away from home. It wasn't about being in a group of friends and adjusting myself around the connection and company of them. It wasn't about the hiking, the distance traveled or fast how I did it. It wasn't a lot of things, including the guaranteed, ultimate life-changer that many people imagine it will be. The experience is completely different for everyone, just like life in general.
But it WAS important. Without the people I met there, I wouldn't have found the right questions to ask myself. Without the solitude, I wouldn't have heard my own answers.
After I turned 30, instead of flipping off my twenties without looking back, I kissed them goodbye.
I laughed as I remembered some of the hilarious, ridiculous times I'd had and people I'd met, some of whom I'm still close with. I recognized that, given my nature, the wild in me is surely not over completely. I accepted that although I have a few regrets, as most of us do, I have endless opportunities for change. I thanked my twenties for their stories, their friendships, their hard work that has allowed for so much travel, and their unconventional lessons that have made me uniquely who I am now.
Maybe no matter how far we roam in this outer world, if we don't explore the many 'Caminos' that intricately lay within ourselves, we don't truly go anywhere at all. I believe the bravest of us all is he who dares to travel within himself.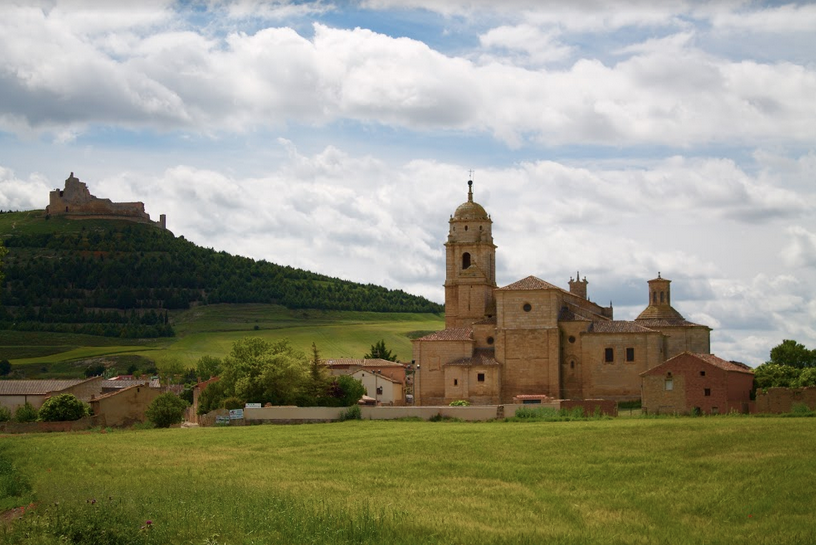 Here is an excerpt from my journal on the final day of my Camino:
"I tiptoed out of the room hugging my unzipped backpack and holding my breath and slipshod things in the dark so as not to wake up the slumbering house of pilgrims. Fiddling with ancient cast iron locks and bolts on doors and gates, I was free under the stars in the cool night before dawn and filled with the exhilarating element of escape. Walking along in breathy wonder, I began to awake, to feel, to enter a dark, noisy forest. The light from my headlamp flickered and fell as I stumbled over a large stone, catching myself with my hands on the ground. A little fear, a little clumsiness as I picked myself up and entered the unknown."
I clutched my steel water canteen, swinging it in blundering practice as I whistled with wavering confidence. I heard howling, wing flaps, crickets, frogs, sticks snapping, branches brushing in the wind and my feet crunching through the trail. This was exactly what I wanted on my last stretch to Santiago, to revisit the darkness, the uncertainty, the fear, and surrender.
I had risen before the sun and was setting out to conduct my own special ceremony.
Not one of Compostelas, cathedrals or churches. No, a sacred place in nature, a symbol of this journey for me, a final sentiment at sunrise for new beginnings, for peace, for growth, for change…
The morning grew brighter, louder with people, promptly tapping their eager hiking poles past each other, jabbering and worrying aloud in multiple languages in big groups. It was annoying for a while, thinking how these hoards of humans who had taken a bus here or only done a portion of it were disrupting the peaceful quiet of the morning. They would probably push ahead in line to receive the Compostela, crowd the streets in their neon matching tour gear and taint the glory that the rest of us had earned.
They were excited though, and although I felt my annoyance was justifiable, it was not a competition on who walked further, faster or quieter. Accept. Adapt. I let them pass ahead of me and veered off the path in search of my place for this 'ceremony' I had decided I was going to conduct somehow. I'm not sure where I got this idea, and I didn't know how it was going to go but I knew I needed to do something.
The trees would begin to dwindle as I approached the much-awaited city, so I took my chance in a eucalyptus forest I approached next. I found an alternate trail and stopped at the tree that stood out most to me. It was a tall and twisted tree; it's paper-like bark peeling away in a consistent state of renewal, revealing smooth, sturdy wood beneath. The leaves smelled fresh, their oils famously used for cleansing the passageways. In front of this tree, but from its own roots, sprouted a new one, small with only two branches so far, completely green.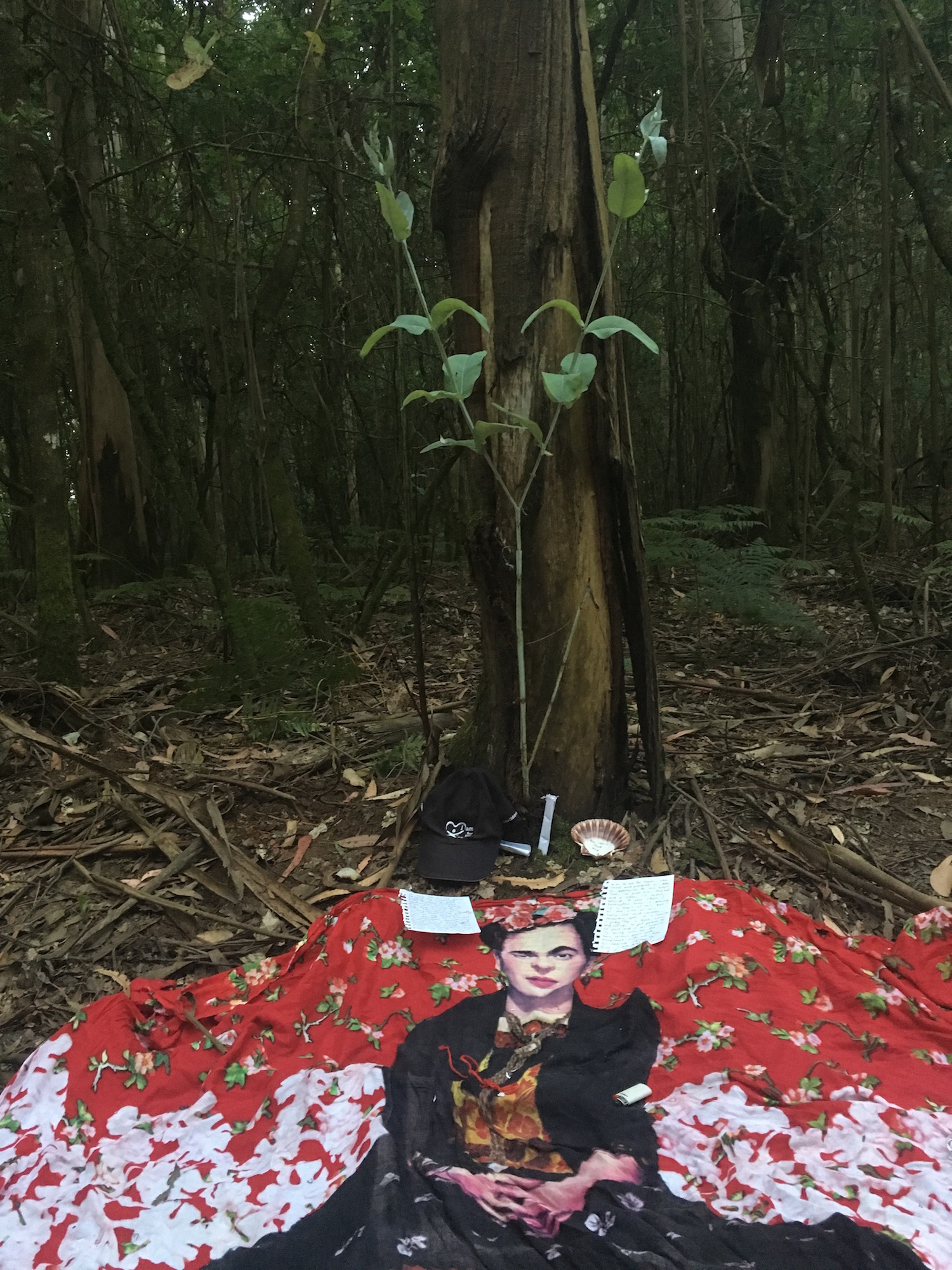 I laid out my Frida Kahlo sarong in front of them, a representation of strength, resilience, unapologetic individuality and creativity, I thought. She felt to me like a supportive guide or an overseer as I knelt on the thin, soft material over the crunchy leaves and dirt.
I took a lighter and burnt the yarn that tied my scallop shell to my pack. Severed the cord.
The shell now seemed like just an idea, a skewed perception of myself that was casting its shadow on the parts of me that needed light to grow.
I placed it between the Old tree and the New tree on the soil and kissed it. Then I found a sad poem I'd written on the Camino in tears one day, desperately hoping for relief from the heaviness of its content. I tore the poem out of my journal, satisfied, rolled it up next to the shell, and stuck it in the dirt.
This was enough. I closed my eyes in meditation, prayer, thought – whatever you want to call it. I opened my eyes after just a minute; it didn't need to take long. It felt good knowing it was important, not wasting time judging or feeling embarrassed or doubtful. I didn't stay hung up on what I was leaving behind; I'd spent enough time weeding through the shadows of the shell. It didn't need re-visiting. I looked up at the treetops and the sky, now blue in the full morning and thought,
"The opportunities for my joy and love are endless. Whether I end up an old lady with long silver hair, turquoise rings, and tokens, in a small home filled with maps, books, and stories… Whether I end up married to someone I love for the rest of my life that inspires and fulfills me…Whether I have children and a home full of life and family… Whether I end up rambling on my entire life, touching many souls, with multiple soulmate contracts, leading me to just seek out new stories and adventures. Whatever it is, I am okay with it. I will never be without joy or love. Here's to a cold beer waiting for me at beautiful, ever-changing sunsets, a hot cup of coffee for every earned sunrise, and an infinite amount of people in this world to share them with. Here's to whatever comes next.
That was it.
I packed up Frida and left the rest behind, finding my way back to the initial trail. I traversed through the tours of people, putting in my headphones and listening to heavy rock and blues as I grooved on.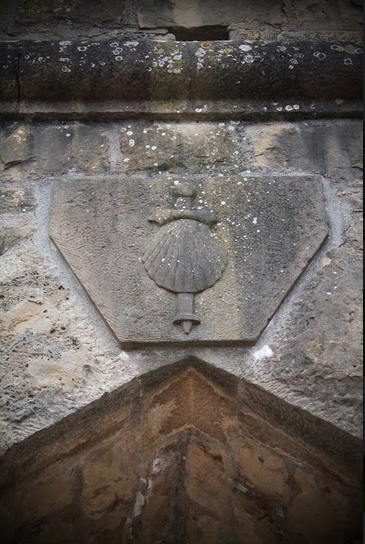 I felt happy knowing how far I'd come. I felt grateful and amazed for the peace in my body and mind that had finally come. Fear bubbled up that it might vanish; slip away but I reminded myself it would now be my base. Whether or not I veered away from it, as naturally we do, I was determined to keep it within reach. I thought regular thoughts, casually planning my next few days, wondering what Santiago would be like, noting the pains in my body, hunger in my belly and blue skies above.
Coming at last into Santiago hours later, I was listening to Paul Simon and although I had blisters on the soles of my feet, I could relate to the girl with Diamonds on the Soles of her Shoes.
Rather than filthy with mud, sweat, squashed bugs and cow turd, they were worthy and sparkling with energy, experience, and achievement. They'd tread the same earth that millions of people had over centuries, with the same hopes, regrets, grit, exhaustion, and quest carrying their souls. Whatever it is that keeps people coming across the unknown, I felt a timeless connection to them; I felt that. And when I looked up from the ground and caught a glimpse of the famed Cathedral down the street, the time was 11:11 and the song Paul Simon sang was now "Spirit voices."
I made a silent prayer to myself, of gratitude and promise for the peace. I did not break my stride. I walked straight to the pilgrim office and received my Compostela while the hoards were in the special pilgrim mass. I would go to mass the next day. Today was for me.
I found my humble, hot hotel and plopped down on the shabby yet comfortable and private bed, dropping my pack on the floor. The bed squeaked, I exhaled deeply and my stomach growled. I said aloud to the empty room,
"Well. I've walked across Spain. Now what?"
And I took a shower, threw on the cleanest of my clothes, and went for a beer.