When you think of Switzerland a few things might come to mind: Swiss cheese, Swiss chocolates, Swiss watches, Swiss cows….the Alps, alphorns, skiing….and oh yeah, expensive, expensive, expensive.  Switzerland consistently tops the lists of "most expensive countries in the world" thanks to a strong currency, high cost of living, and high taxes. When it comes to cost, the country just can't compete with budget-friendly locales around the world. But that doesn't mean budget travelers should cross it off their lists.
Going in off-season, hosteling, couchsurfing and camping are all tried and true ways to save money in any country, but you can still cut costs in Switzerland even if you're not willing to make such sacrifices for your wallet. If the rugged beauty of the Alps, the charm of chalet-filled towns, and the slightly sweaty smell of fondue are calling you to visit but you fear you can't afford it in the style you want, check out these tips for saving money on a trip to Switzerland.
Pick a home base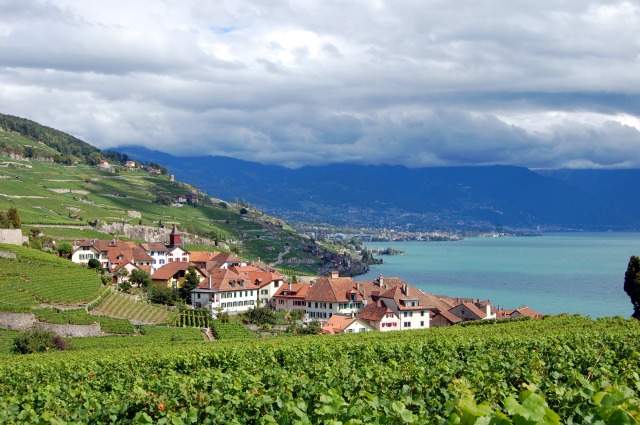 Switzerland is small. How small? Well, it's 15,942 square miles,  216 miles east to west and 137 miles north to south. It's roughly the size of the US states of New Hampshire and Vermont combined. In more practical terms: a train from Zurich in the northeast (the main hub for flights from the US) to Geneva, in the far southwest of the country, will take about three hours.
For a traveler who prefers to pick one or two regions and make day trips, Switzerland is a dream come true. Its compact size and incredibly efficient train system make exploring on day trips a breeze. In less than two hours you can go from Basel to Bern, Montreux to Neuchatel, Zurich to Lake Thun. Even Lucerne to Lugano, near the Italian border, is just 2.5 hours by train. Pick a location central to your areas of interest and then plot out day trips into the surrounding area.
It's easy to find a dorm room in a hostel for $30 US or less; privates range from $40 to $80 per room. But if you want a bit more comfort and less communal bathrooms, you won't be priced out of options. HomeAway.com and AirBnB.com list several apartment and home rentals for under $600 a week, or about $85 per night, definitely a bargain compared with the average cost of a basic hotel at $200 a night or more. Many are willing to negotiate discounts for stays of a week or longer, giving more opportunity for savings, and if you're staying put for more than three days, you can buy your groceries in bulk instead of day-by-day, which can help you save a bit more.
>> Compare prices on hostels in Switzerland
Buy a Swiss Pass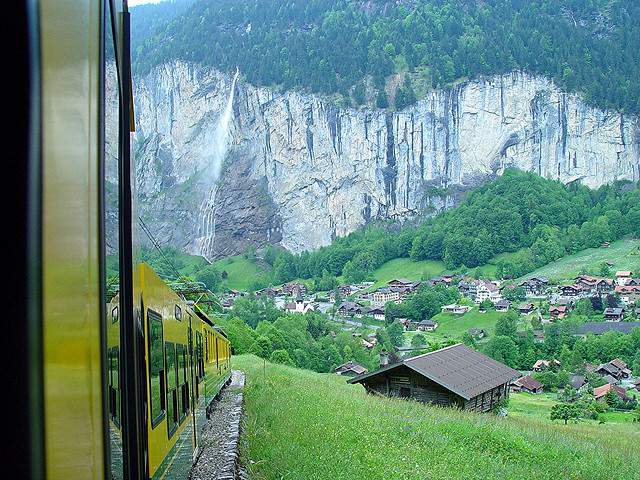 So you've mapped out one or two home base locations for your trip and are beginning to plot out the many day trips you'll take to eat fondue, see the sparkling lakes, hike, taste Swiss wine, and snap photo after photo of Swiss cows lazing in the fields, the Alps rising behind them, the gentle clank of their bells echoing all around you. But in order to do all that, you need to get around, and here Switzerland's train system makes it easy and painless – the trains are clean, comfortable, efficient, and couldn't be easier to use. You can plan in advance and compare prices. There is an online schedule available, as well, and have confidence that your train will be on time. It's not just a cliche; Swiss trains are always on time. And the schedules are coordinated among that major routes so that you'll rarely have to wait more than 20-30 minutes for a connection.
Unless you're going far off the beaten path (and even then, research your options and compare costs), it's unlikely that you'll need a car. The country's network of trains, cable cars, postbuses and ferries is set up so that there's a public transport option available in every single square mile of the country. The one problem with Swiss public transport: it's not cheap.
If you plan on riding the rails (or the buses) more than a few times while on your trip – and chances are you will – it's well worth the cost to invest in a Swiss Pass (not available to residents of Europe, the UK, Morocco, Turkey, or any of the countries of the former Soviet Union) . The Swiss Pass offers free and unlimited transport on the Swiss travel system, including trains, buses and boats, for a set number of days. And children under 16 travel free with a paying adult. Choose a pass for 4, 8, 15, 22 days or one month of consecutive travel, or one for 3, 4, 5, or 6 days of consecutive or non-consecutive travel within one month.
For an adult, 2nd-class, 8-day consecutive pass, you'll pay $391, which breaks down to about $50 per day for transport. If you're staying put or only taking transport a few times, it may not be worth it. But if over the course of those eight days you were planning to travel every day, it's definitely worth comparing the cost. Even if the cost of transport with or without the pass seems the same, consider the other perks.
For example, if you were to travel from Zurich to Geneva and then take three nearby day trips, travel from Geneva to Interlaken and take three nearby day trips, and then take the train back from Interlaken to Zurich, you'd pay about about the same (within $50 or so) with or without the pass, depending on where you went each day.  But in each of those destinations, you might want to visit a museum or historical site, or take one of Switzerland's many mountain railways or cable cars. And the costs for those add up very quickly. With the Swiss Pass, you get free admission at over 400 museums and sights, 50% off city walks, and  a 50% discount on cable cars and mountain railways, like the famous Junfraujoch. Without the Swiss Pass, that train ride will add an extra $200 to your transport costs. With the pass, it's $100.
So before you make a decision on the Swiss Pass, compare the costs of all your transport and activities and then see how it stacks up to the cost if you bought the pass. In most cases, the Swiss Pass will be a wise investment.
>> Get more tips for traveling by train in Europe
Self cater, shop the markets, and eat and drink locally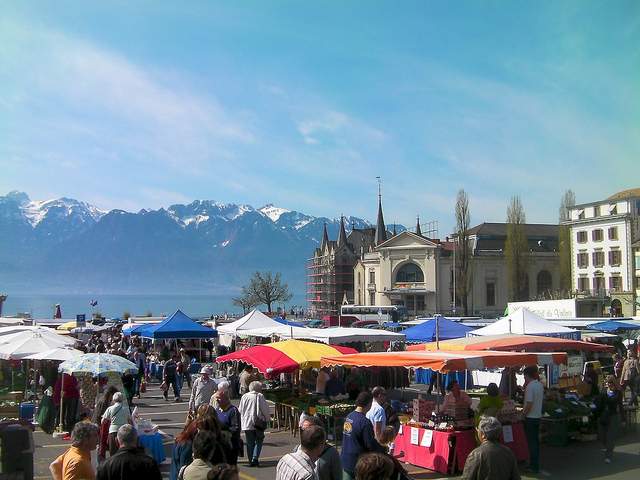 Dining out in Switzerland is expensive, with an entree in a mid-range restaurant going for about $30-$50 US. Even a Big Mac at McDonald's will set you back about $8 US. But you're in Switzerland. You can do better than that.
Just as it has three languages, Switzerland's cuisine also comes in three variations. There are the French influences seen in the fondue, steak with mushroom sauce, and butter-fried local fish; the German influences seen in sausages, potato Rösti, pretzel bread, and Älplermagronen (a mac and cheese dish of noodles, cheese, cream, bacon and sometimes onions and apples); and the Italian influences seen in the polenta and saffron risotto served in Ticono. Eating local can help you save a little, and it's worth it to scrimp a bit on some meals so you can afford to try these traditional tastes. Make lunch the main meal of the day and you can try them for less, as many restaurants offer special lunch menus with 2-3 courses for under $20. Cheaper options like street food (grilled sausages, doner kebaps, and burgers), sandwiches and pizza do exist, but the lowest-budget option will be hitting the local grocery store or market.
There are open-air markets all over Switzerland; in the summer the markets  in some towns like Vevey  and Gruyeres are particularly fun because they become folkloric markets. In addition to the local produce, cheese, meat, sausages and bread for sale, you'll find vendors in traditional folk costumes and the sound of alphorns. In Vevey, the Saturday market experience also includes some liberal wine sampling; buy a glass for 5.50 CHF (about $6US) and you can refill it until the market closes.
At markets or grocery stores like the ubiquitous Coop and Migros, you can make a hearty lunch for two out of some sausage, cheese and bread for around 10 CHF, or grab a nice bottle of Swiss wine for 5-10 CHF (if you're not picky you can find bottles for 4 CHF or less) and find a scenic spot to picnic. You don't hear much about Swiss wine outside of Switzerland but that's not because it's not good; it's because the production amount is so small that there's nothing left to export. There are three main wine regions in Switzerland – in the west near Lavaux, in the south near Ticino, and in the northeast outside of Zurich – so drink what's local.
>> Learn more about culinary experiences not to miss in Switzerland
Take advantage of what's free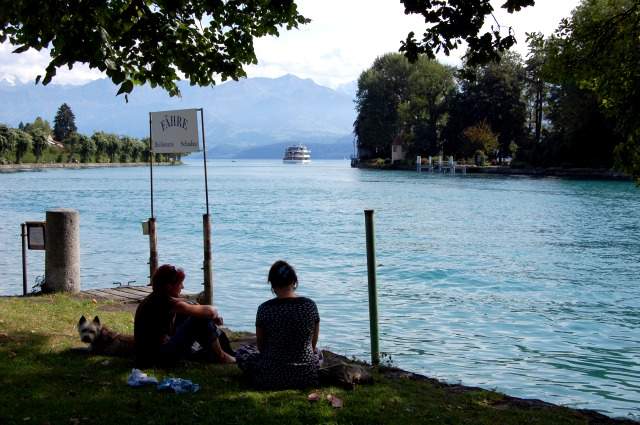 Yes, dining, drinking, lodging, transport, museums, and activities like skiing and mountain biking are expensive in Switzerland. But the country's number one appeal – its beautiful natural setting – is totally free. Hiking in the pristine Alps, walking from picturesque village to picturesque village, and swimming in the clear lakes of Switzerland costs nothing and could easily keep you busy for weeks.
There are over 60,000 kilometers of hiking trails in Switzerland. There are 440 hikes, which are clearly sign-posted with the time it takes to complete them,  1484 lakes, 140 glaciers (including the longest in Europe) and 48 mountains higher than 4000 meters (about 13,000 feet). And they're all free to explore. Switzerland Mobility offers free maps and resources to help you pick a route based on your interests and fitness level, and if you have a bit more cash to spare, they can help arrange for luggage transfers and bike rentals
Many Swiss museums are free, as are cathedrals and other historic sites. With the Swiss Pass, you can also get free admission to over 400 museums and attractions that do charge a fee. And of course, simply walking around the towns and cities like Basel and Zurich, sitting on the bank of the river in Thun, or wandering through the vineyards in Lavaux is free of charge. Even the water in Switzerland is free. Nearly every town has a public fountain that spouts cold, clear water direct from the Alps to your bottle.
>> Check out ten more ways to explore the world for free or read about more of the world's best hiking spots
Switzerland is certainly not a budget destination by any means, and travelers accustomed to prices found in Southeast Asia, South America, and Eastern Europe may be shocked at the high prices. But Switzerland is not as insanely expensive as many people believe and it is possible to reduce your costs without reducing your enjoyment of the country.
By picking a home base and doing day trips with a Swiss Pass, eating and drinking local products from the market, and taking advantage of Switzerland's free attractions, you can plan a trip to this pricey destination for much less than you might expect. And with beautiful views around every turn, crystal clear lakes and rivers, delicious food with French, Italian and German influences, and thousands of miles of hiking trails to explore, Switzerland is worth pinching a few pennies for.
Read more about making a pricey trip a little less expensive:
Train photo by cogito ergo imago,  market by tm-tm, all others by the author. I was a guest of the Switzerland Tourism Board, and most of my costs were covered,  but my opinions are my own.