For as long as people have been wishing on stars and enjoying the glow of a well-tended fire at night, flashes of light have caught our attention. As kids in New York we'd hope for a late departure from the local park to see if we could catch fireflies right at dusk, with any luck in a jar with holes punched in the top so they could flash all night long next to our bedsides, or at least until our parents snuck in and set them free.
But it's not only fireflies that glow, or emit phosphorescent light. Any living thing that produces luciferin emits bioluminescence (glowing light produced by a living thing), and the classes of living things that do so are varied. There are 2,000 different kinds of fireflies, or lightning bugs, glow worms (actually a gnat larva), more than 70 kinds of glowing mushrooms, jellyfish and other creatures of the deep that emit light into the dark night, and that you can catch a glimpse of if you time your trip just right.
[social]
Fireflies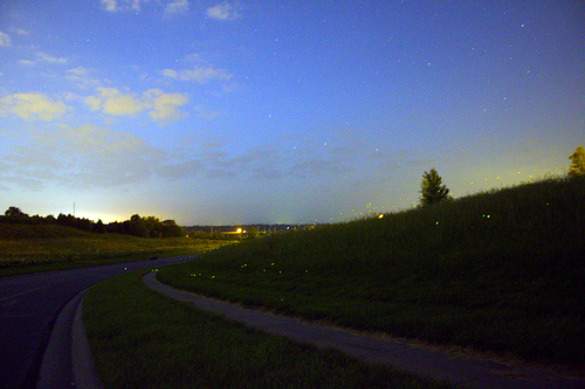 Fireflies seem to like dark, damp places, and first begin their twinkly flight around dusk. Some years there are more, some years fewer, and you if you grew up or live east of Kansas, chances are you have your favorite spot for firefly peeping. But how to assure a really good firefly sighting?
While several flashing lightning bugs can impress, those looking to crank it up a notch choose the synchronous fireflies of the Great Smoky Mountains National Park in Tennessee in early June each year. At this site for a couple of weeks every year, a unique set of fireflies (Photinus carolinus) actually synchronize with each other and flash either in pulses or waves of light for up to six seconds at a time.  Trolley service from Gatlinburg brings viewers to the Elkmont trail head for firefly viewing, and that trail is closed to vehicular traffic at night during prime firefly watching season.
A similar spectacle takes place all-year round in Kampung Kuantan/Kuala Selangor Malysia, which is about an hour's drive from Kuala Lumpur, where many visitors come to see the kelip-kelip (twinkle in Bahasa Malaysia) by boat. They light up the foliage by the side of the river. Do your part by not using a flashlight or by covering it with red cellophane so as not to confuse the fireflies.
>> Look for Malaysia adventure tours
Glow worms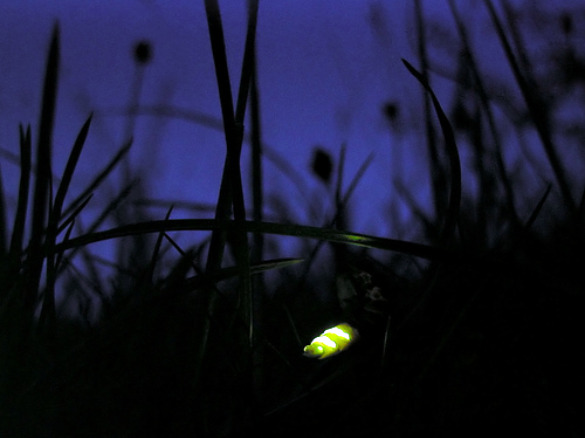 Glow worms, or the larva of a specific kind of gnat, can be found in damp caves in New Zealand and Australia. The most famous spots for seeing them are Waitomo or Te Anau in New Zealand or Springbrook Park in Australia. The worms excrete long strands of slime which they use to ensnare their prey, and pale green dots illuminate the cave's walls and ceiling, making it look like an eerie night sky.
There are two main places to see the glow worms in New Zealand – Waitomo, a settlement  about 2.5 hours' drive from Auckland, and Te Anau, which is about 2.5 hours from Queenstown, New Zealand on the South Island and is often used as a stopping point on the way to Milford Sound. Waitomo also offers many caving adventures, while Te Anau is a great jumping-off point for many fine fiordland tramps.
The glow worms can be visited any day of the year, during the day or in the evening at both locations.
Many other sites in New Zealand, particularly its damp caves, have glow worms as well. By word of mouth you can find them, including a set that sparkles in a tree root system just outside of town at Franz Joseph (of glacier fame) on the South Island.
In Australia, a 2.5 hour drive from Brisbane, or less than 20 miles from Mudgeeraba, is Springbrook National Park, where you can walk through the forest to check out more glow worms. The worms seem to like moisture, and the park website says its best in the rain– just bring an umbrella.
>> Search airfare to New Zealand
Mushrooms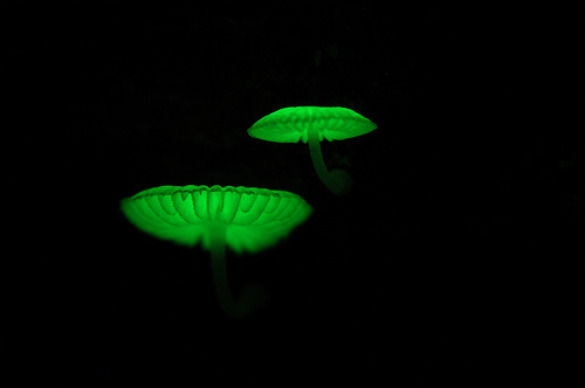 Unlike glowworms, which can reliably be found in certain caves at any time of the year, the location of phosphorescent mushrooms is variable, and they glow for just a few days, often just after a rain, so they can be hard to catch. Varieties such as the North American jack-o-lantern mushroom glows orange, and at least one blueish green variety glows in the Amazon basin, but knowing exactly, reliably where and when to see mushrooms is tricky at best.
They tend to grow on certain types of trees, at specific times of year following the rain. For instance, from June to September in Japan's Wakayama prefecture, a glowing mushroom sprouts from fallen chinquapin trees. A local mycologist (mushroom expert) can point you in the right direction, but what was a hotspot one day may be completely dark on another, depending on the weather.
For those who need a more sure-thing, Springbrook National Park in Australia (see glow worms above) keeps a habitat of phosphorescent mushrooms alive at all times of year, and you can combine a visit to them with a visit to their glow worms.
It's also possible to purchase some glowing mushroom spores to grow at home, though the mushrooms themselves are toxic, and require some special care. Try sporeworks to purchase both glowing and non-glowing mushroom-starting spores.
>> Look for travel deals to Japan
Jellyfish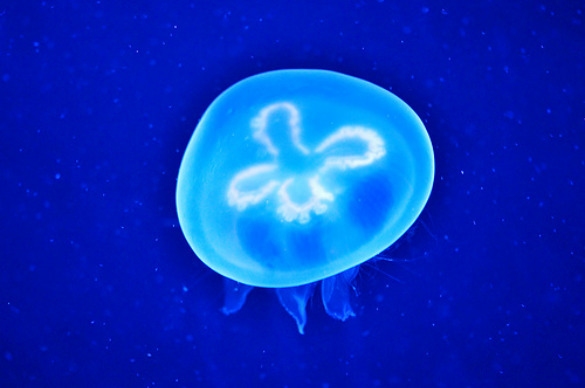 Although you may have seen what appeared to be glowing jellyfish in aquariums all around the world, there is actually only one known species of jellyfish that emits its own light, which is the crystal jellyfish. Other apparently-glowing jellyfish tend to be cleverly lit and backdropped to make them stand out against their surroundings. The crystal jellyfish is found in the Pacific, off the coast of California through Washington to the Bering Strait. These are among many glowing creepy crawlies in the ocean, like the viper fish, which exists at depths beyond which sunlight penetrates.
Seeing these creatures in their natural habitat is difficult at best, and in cases of deep sea creatures, is practically impossible. Many aquariums will have their version of glowing and light-reflecting creatures of the sea, and in truth, standing behind glass and in a cozy museum is probably more pleasant than diving into the inky depths to try to catch one anyway.
Try the Vancouver Aquarium in Vancouver's Stanley Park or your local aquarium for an up-close glimpse (and photo ops) of jellyfish. Jellyfish are not easy to cultivate and care for, but there is a cottage industry surrounding that, too, should you feel so inclined, though start-up costs are steep.
>> Read more about things to do in Vancouver
Dinoflagellates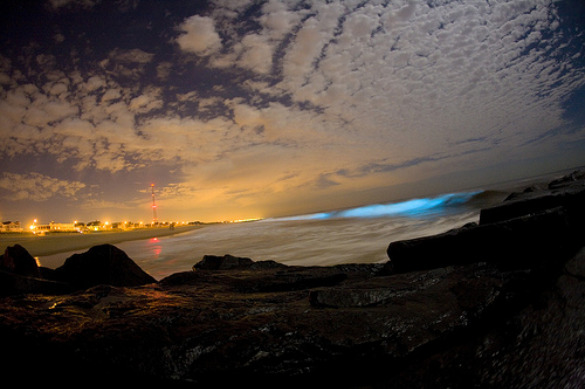 In Puerto Rico, two bays, on Vieques at Puerto Mosquito and at Las Croabas lagoon in Fajardo produce a pale greenish silver light when the water is disturbed. The entity to blame is a tiny dinoflagellate, which lights up when it feels pressure, like that of an oar, or of a human swimmer slicing through the inky water.  Trips run most nights of the year but are best with a new moon at either of these bays. You can enjoy the spectacle from a larger boat kayak, or dive in headfirst (or feet first) to make light angels in the water by moving your arms and legs.
Fajardo is about an hour and fifteen minute drive from the San Juan Airport, and from here you can visit the Las Croabas site, or continue on by ferry to Vieques, which is another hour and fifteen minute ride.
Landlubbers and those for whom a trip to Puerto Rico is not in the cards can also follow news reports of red tide to try their luck for a ghostly nighttime show. It turns out that the toxic algal bloom that causes water to take on a muddy color during the day (the red tide), often brings with it an overpopulation of dinoflagellates that glow phosphorescent green at night in the breaking surf. Set up a long exposure and tripod and watch the waves come in.
>> Find hotels in San Juan, Puerto Rico
>> Why you should add Puerto Rico to your round the world trip itinerary.
Museum Options
And for those of us for whom traveling the world to spy little glowing things just isn't an option, you might want to check out the exhibit at the Museum of Natural Sciences in downtown Raleigh, North Carolina for the first ever museum exhibit on bioluminescence, from June 21 to September 12, 2010, called Glow: Living Lights.
Learn more about natural wonders of the world:
Read more about Eileen Smith and check out her other BootsnAll articles here.
Photos by: davedehetre, timo_w2s, ATKR, Tambako the Jaguar, catalano82