If camping is the edgy survive-off-what-you-can-carry adventure, then glamping is the polished upgrade that suits adventure seekers, thrifty digital nomads, and comfort travelers alike.
All services are covered – this means no hassle or stress; solely the quiet of nature and the best parts of traditional camping: seclusion, a clear sky, and a campfire.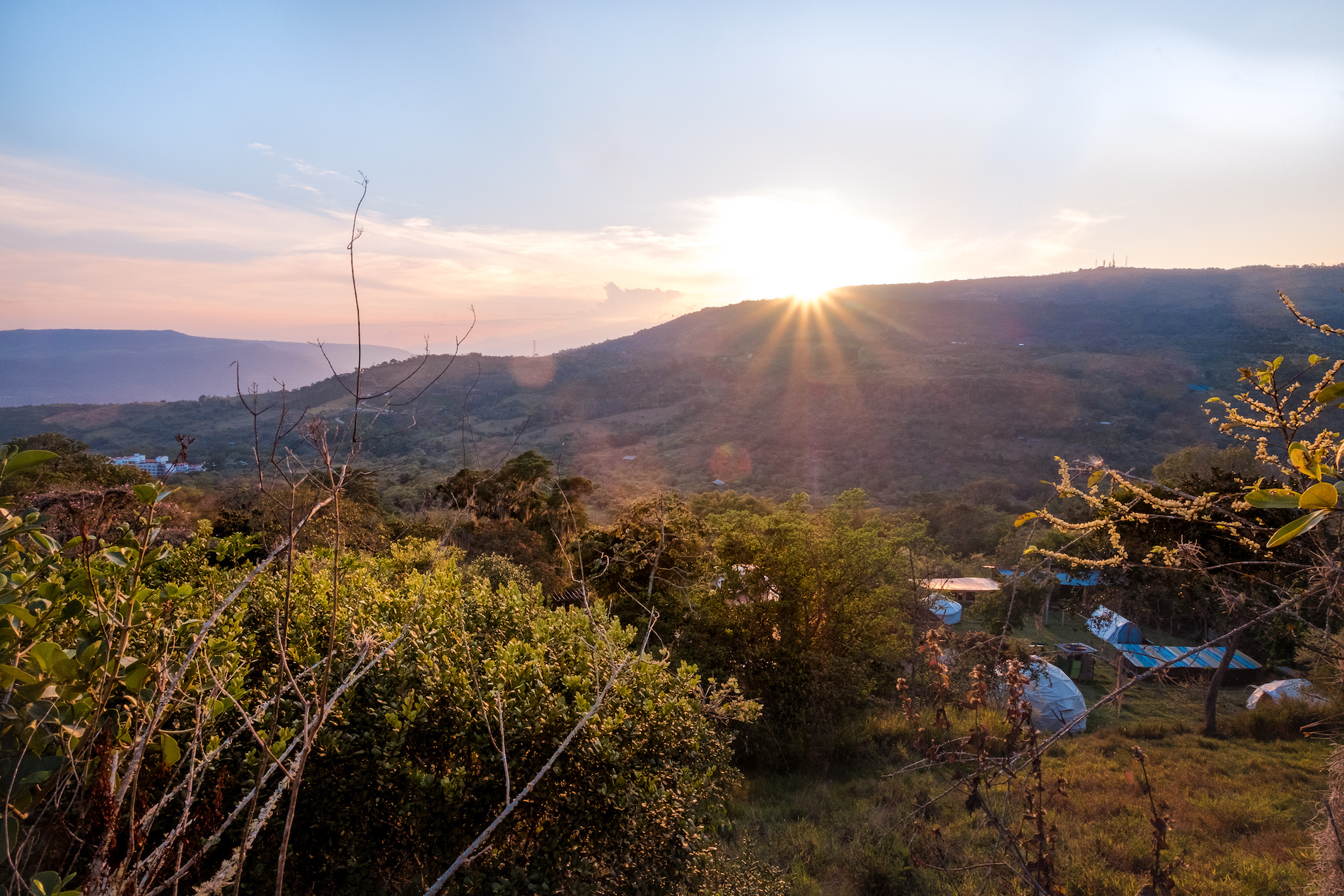 Photo by La Pacha Hostel
As glamping is well established in the US, South America aims to follow. With a skeletal glamping network, locations survive primarily off word-of-mouth recommendations, making the experience of glamping all the more intriguing for travelers looking to leave the hotel and head into nature. Websites like ioverland.com and apps like Maps.me enable travelers to discover campsites and hostels, but the opportunities in South America are still limited.
While traveling in Colombia, we were lucky to find La Pacha in San Gil.
La Pacha is a glamping site advertised on Hostelworld. High in the Andes mountains, we fell into the relaxed mode of life in the country and enjoyed the chance to camp without having to pack it in and pack it out.
"We just like camping," says British co-owner Justin Kirkham. "Because there's something about camping. You're outside. It's just cooler… You're more in nature than if you were in a house. And the circular structures (yurts) as well are cosmic."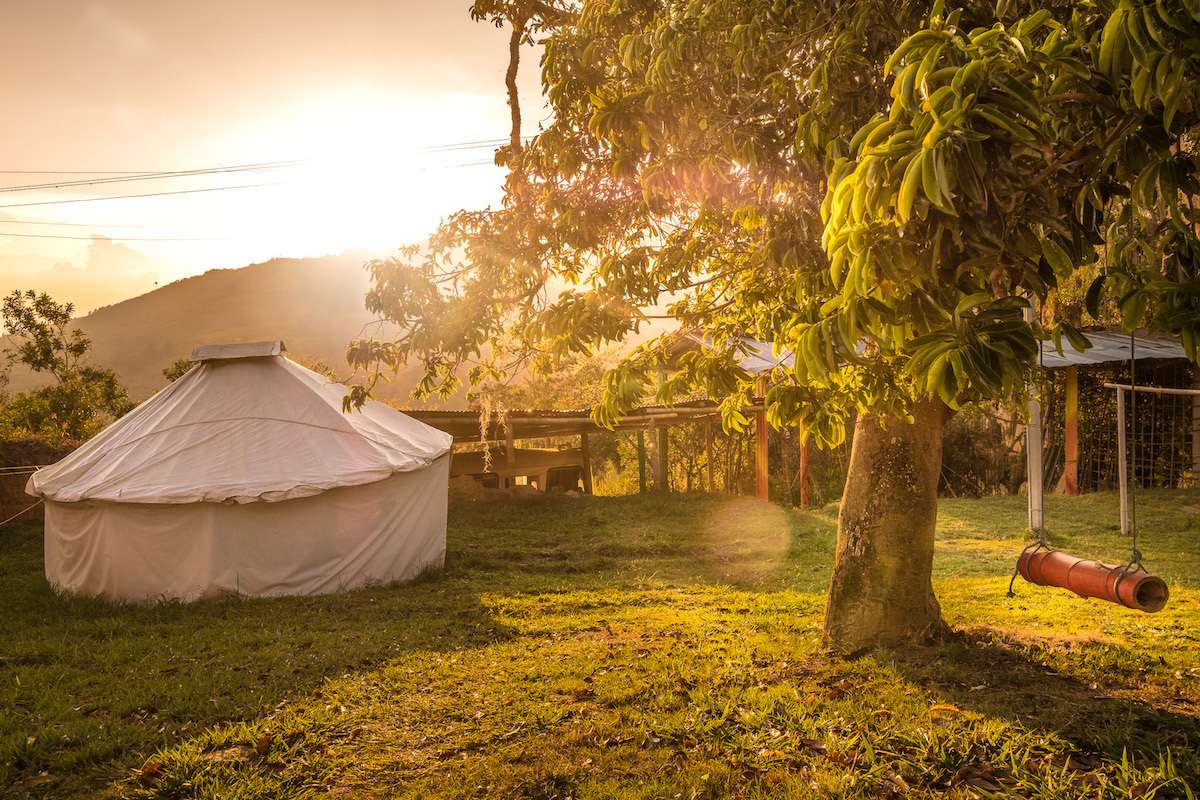 Photo by La Pacha Hostel
La Pacha, meaning mother earth in Quechuan, threads the best of both the natural and the civilized worlds. Kirkham and his wife and business partner Andrea Rodrigues have worked toward self-sufficiency to welcome like-minded adventurists and creatives back into nature.
"We chose the name because I thought of people coming here and connecting again to mother earth," says Colombian native Rodrigues. "We are on an island full of trees and stuff so you can hear lots of noises in nature. You can be a part of that and connect with mother earth."
La Pacha hostel is located on about one and a half hectors of the 35 hector coffee farm in which they rent space to live and to run the hostel. The campground consists of four handmade yurts, a converted gypsy wagon, a sheltered area for tent camping, an elevated hammock, two outdoor bathrooms and showers, a community kitchen, and two campfires surrounded by hammocks.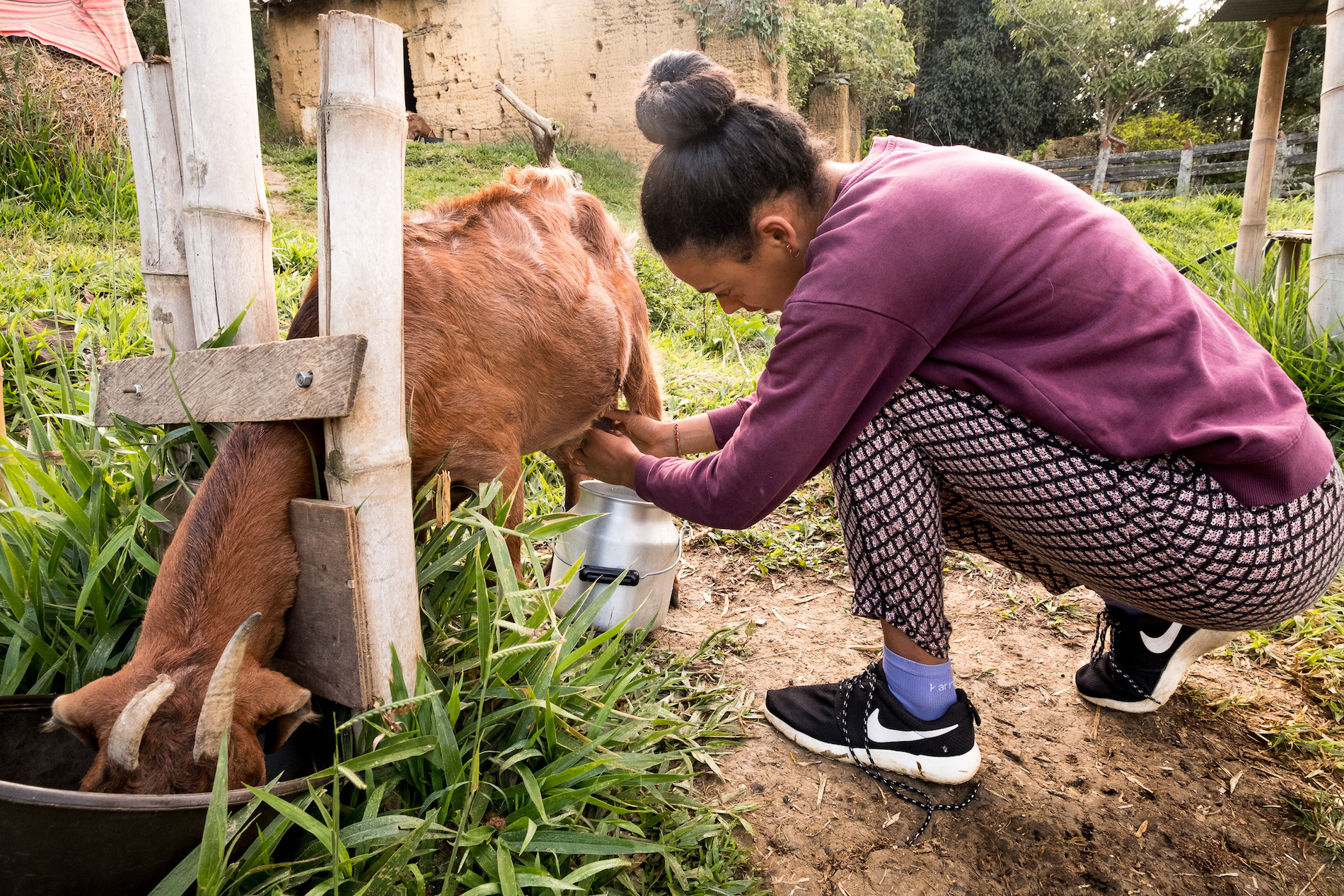 Photo by La Pacha Hostel
They've refurbished a local city bus from the '80s to serve as an iconic hangout, complete with a free library, board games (including everyone's favorite – Catan), and a plethora of free movies, music, and television series. While bunking down in the old bus, you can enjoy the company of all the hostel pets: cats Zombie and Quasimodo, and three goats, including Isidora, the dairy goat.
The hostel is well on the way to becoming self-sustaining.
They have an organic garden, coffee plants, they use solar energy, they recycle and compost.
"I would love to be at the point where I don't have to go anywhere," says Rodrigues. "You just don't find organic food in Colombia."
Kirkham says the consciousness isn't quite there for Colombians outside of the big cities. La Pacha exceeds the reaches of Bogota, located in San Gil where environmental awareness is growing because of alternative villages like Barichara (merely 20 minutes over the mountain from La Pacha) where sustainable tourism is thriving. San Gil is dubbed the adventure capital of Colombia for its outdoor activities—belaying down waterfalls, bungee jumping, rafting, spelunking, mountain biking and paragliding—the thrill-seekers keep flooding in.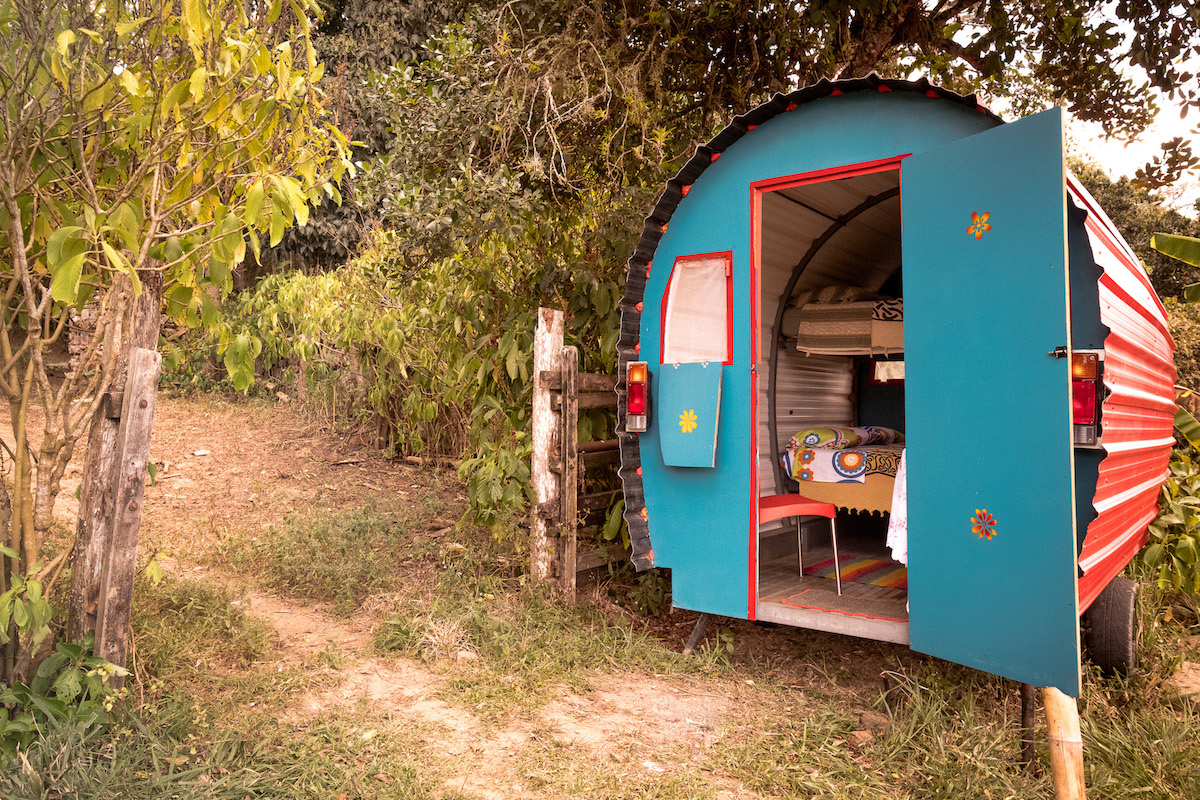 Photo by La Pacha Hostel
"I think what's good about this hostel or having somewhere a bit out of town, is it's a little bit difficult to get to. Although we get fewer guests, you get a certain type of guest who is a little bit more adventurous," says Kirkham. "Adventurous people who want something a bit different, especially people who've been traveling a lot. A lot of the hostels are very similar and so (La Pacha) is something different. It's a bit remote, but it's still homely…people are very comfortable here."
La Pacha is a gentle collision of everything you expect in a hostel: entertainment and community wrapped up in lush greenery and progressive energy. The initial draw of this stay is its distance from everything—central to the area, but embedded out of town.
Getting to La Pacha is simple when you can make your way to San Gil, about six hours north of Bogota and twelve hours south of Santa Marta.
But location is merely a mark on the map. The real secret behind La Pacha's reputation is the teamed duo: Kirkham and Rodrigues.
"We're not exactly glamorous here," says Kirkham with a chuckle, "but we're comfortable."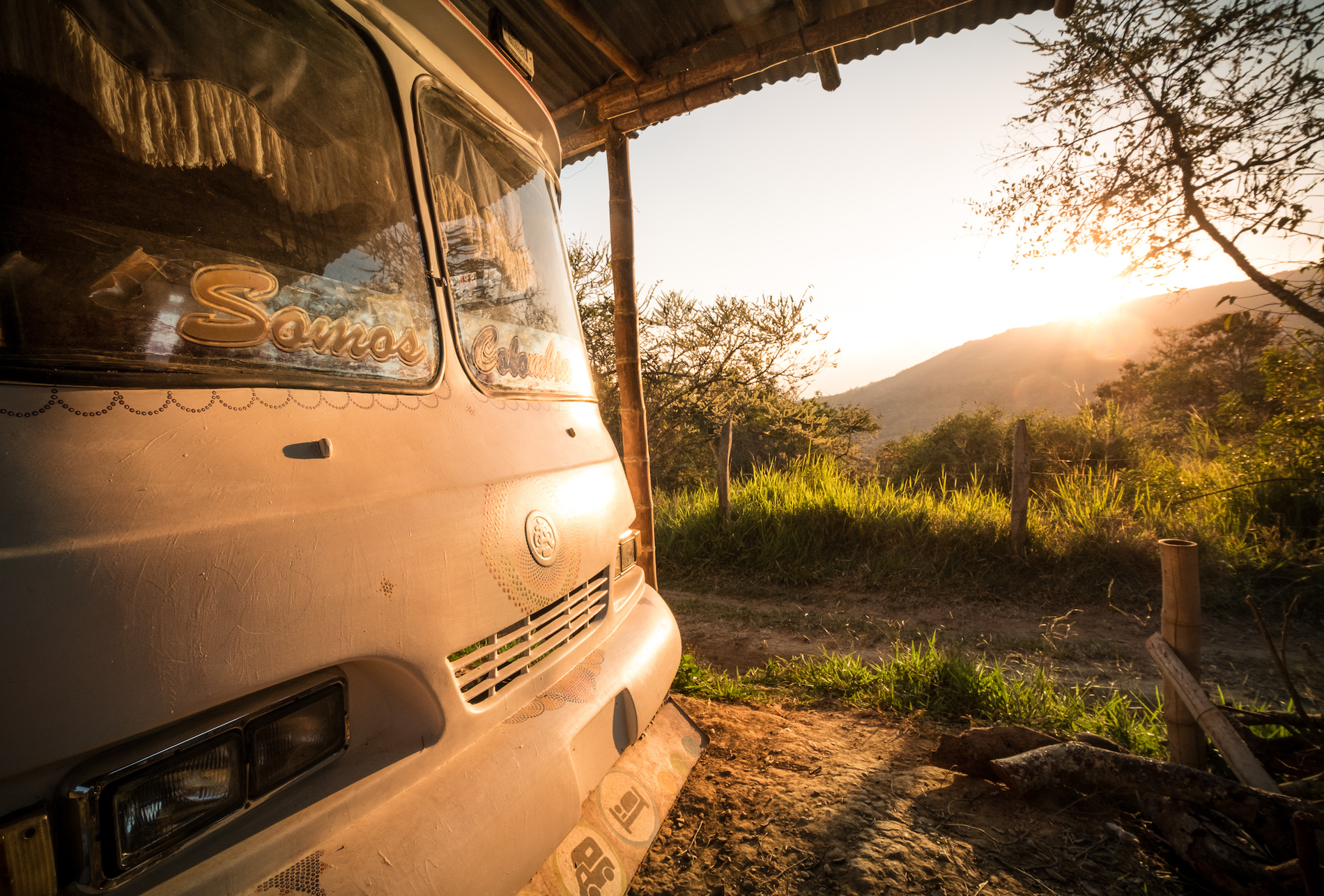 Photo by La Pacha Hostel
The warmth of these two individuals is an irreplaceable assist to La Pacha. Upon arrival, you'll be openly greeted and fully equipped with every detail about the hostel, San Gil, and things to do. Although they've recited this bit for five years, several times a week, sometimes multiple times a day, their welcome is still genuine. They're enthusiastic and attentive to each guest.
"You can come here and relax," Rodrigues says. "There's no pressure to do anything. Take a break from the outside world, and you can rely on us to look after (you). We do it with pleasure."
Kirkham and Rodrigues have built a home on the quiet farm for their two children, Inti and Sami, nurturing them socially as they grow up around a rotation of new faces. One of their social activities is their family style meal: food in the middle of the table while visitors share food with their neighbors. Most famously, they host an Indian buffet several times a year for the locals from Barrichara and San Gil to attend alongside hostel guests. The feast of seven curries, chutneys, and chapatis takes days to make from scratch.
The La Pacha mentality builds upon giving back, both to one another and to Mother Earth.
They plan to move towards more organic food, less waste, and more recycling as they use garbage for creative projects and building materials. The couple also collects money for charities. They support local elderly neighbors who can no longer support themselves, they donate food and money to a local orphanage, and they contribute to a human rights group called Justice For Colombia.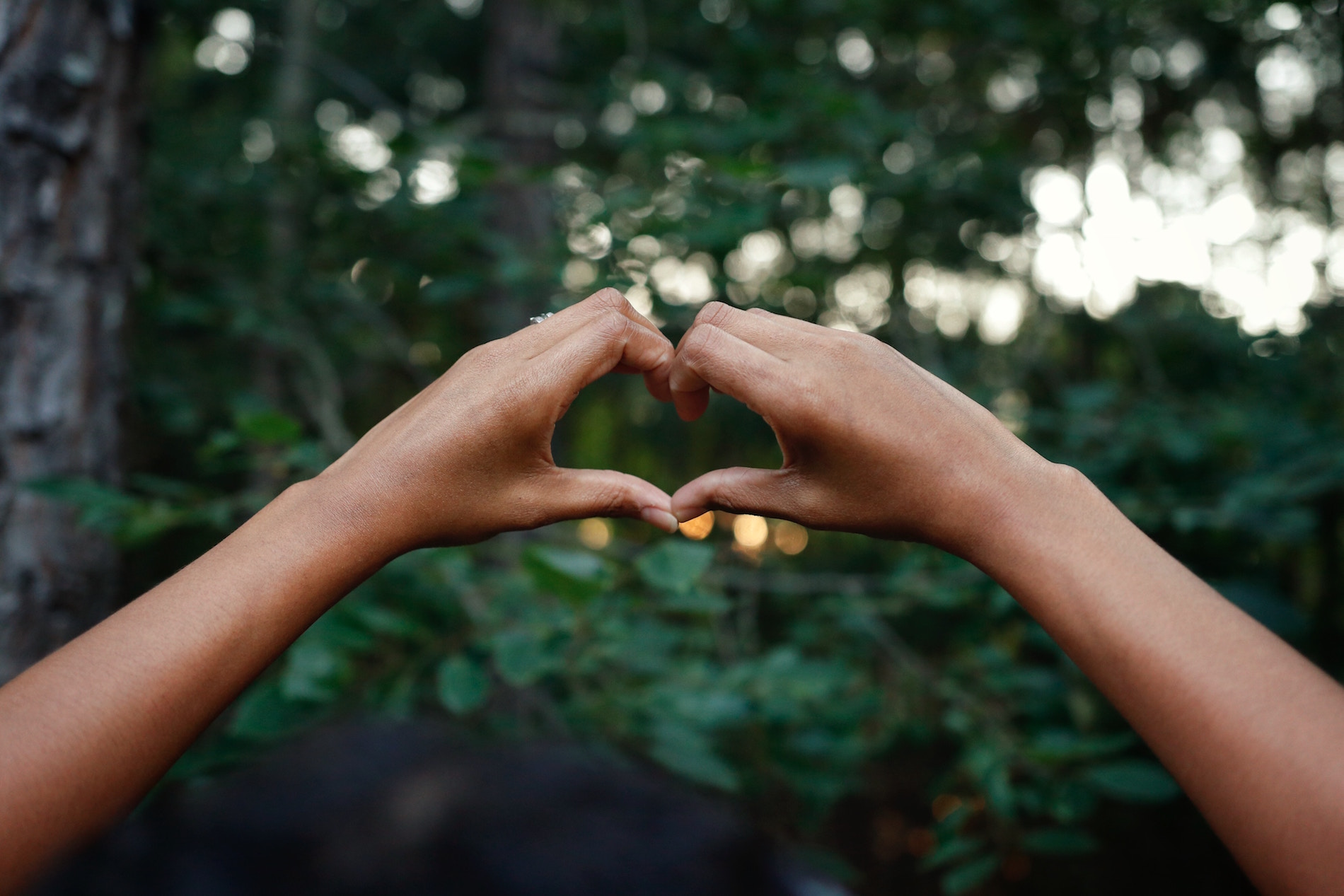 Photo by Arif Mills on Unsplash
"We give people an option to donate to a local charity or a human rights charity, and we try to educate (guests) a little bit," Kirkham explains touching on Colombia's controversial history. "There is stuff going on, and you (the tourist) wouldn't even know it, but it's good to know. So we try to educate people without bringing them down too much… Colombia is an amazing place, but it does have a dark side."
San Gil is safe, that's evident when walking the streets, and La Pacha offers a comfortable place to observe Colombia as a whole. The hostel is a relief for travelers looking to change scenes from the big cities of Bogota and Medellin—an opportunity for relaxation and reflection in the Colombian countryside. As a family, they've sacrificed urban luxury to create a slice of personal paradise, but their genuine kindness and willingness to share with others makes this glamping adventure worth the stay.
If you're looking for a glamping experience in Colombia, be sure to look up La Pacha and get in touch with Kirkham and Rodrigues.
"We all belong here," Rodrigues says, "and that's what matters."