I've heard a lot of people talk about the importance of living alone in your twenties, and they couldn't be more right. Studying abroad is like combining living alone with solo travel. While I had to fend for myself when I was sick or injured, I had the freedom to do whatever I wanted, whenever I wanted.
I was twenty-one and finishing my last semester at university.
With the help of transferred high school credits and extra classes during the spring & summer semesters, I'd managed to finish my degree in Creative Writing in four years. I had worked 2-3 shifts a week during the semesters and full-time during the holidays, amassing a decent amount of cash. It helped that I had completed my undergrad in my hometown and lived with my parents through all of it.
I was faced with the major decision of what to do with my savings now that my time at university was coming to an end.
Either I would pursue graduate studies, or, if I didn't get accepted into the programs I wanted, I would move out of my parents' house and buy a car.
At this point, I had been in a relationship for seven years. That's a lot for a twenty-one-year-old. And while I was just about to graduate, he still had another year to go. I considered working full-time and waiting for him while he finished his studies, but the thought depressed me. I wanted an adventure. Although I didn't know it at the time, I needed to move out, leave my hometown, and live on my own.
I felt slightly disillusioned by grad school.
I attended an English Literature & Creative Writing conference with three friends in Regina, SK, and after walking through the minuscule downtown area and listening to the department head beg us to join their graduate program, I felt slightly disillusioned by grad school. I couldn't imagine living in a city like Regina. I would rather kill myself, I thought (sorry Regina).
A professor of mine told me that the location of the school is just as important as the program, if not more. If you're going to school for writing, then you'd better be somewhere that inspires you to write.
It was like a lightbulb went off in my head.
I was reading the Outlander series at the time (don't judge me), so when an associate professor mentioned the University of Edinburgh in Scotland, I immediately looked up the school to see if they had a Creative Writing program (not a lot of universities do). They did – a one-year Masters program (I learned later that all Masters degrees in the U.K. are one year). I was soon telling everyone I knew about the illustrious alumni of the university, how the campus looked like Hogwarts, and how J.K. Rowling herself still lived in Edinburgh. I was sold.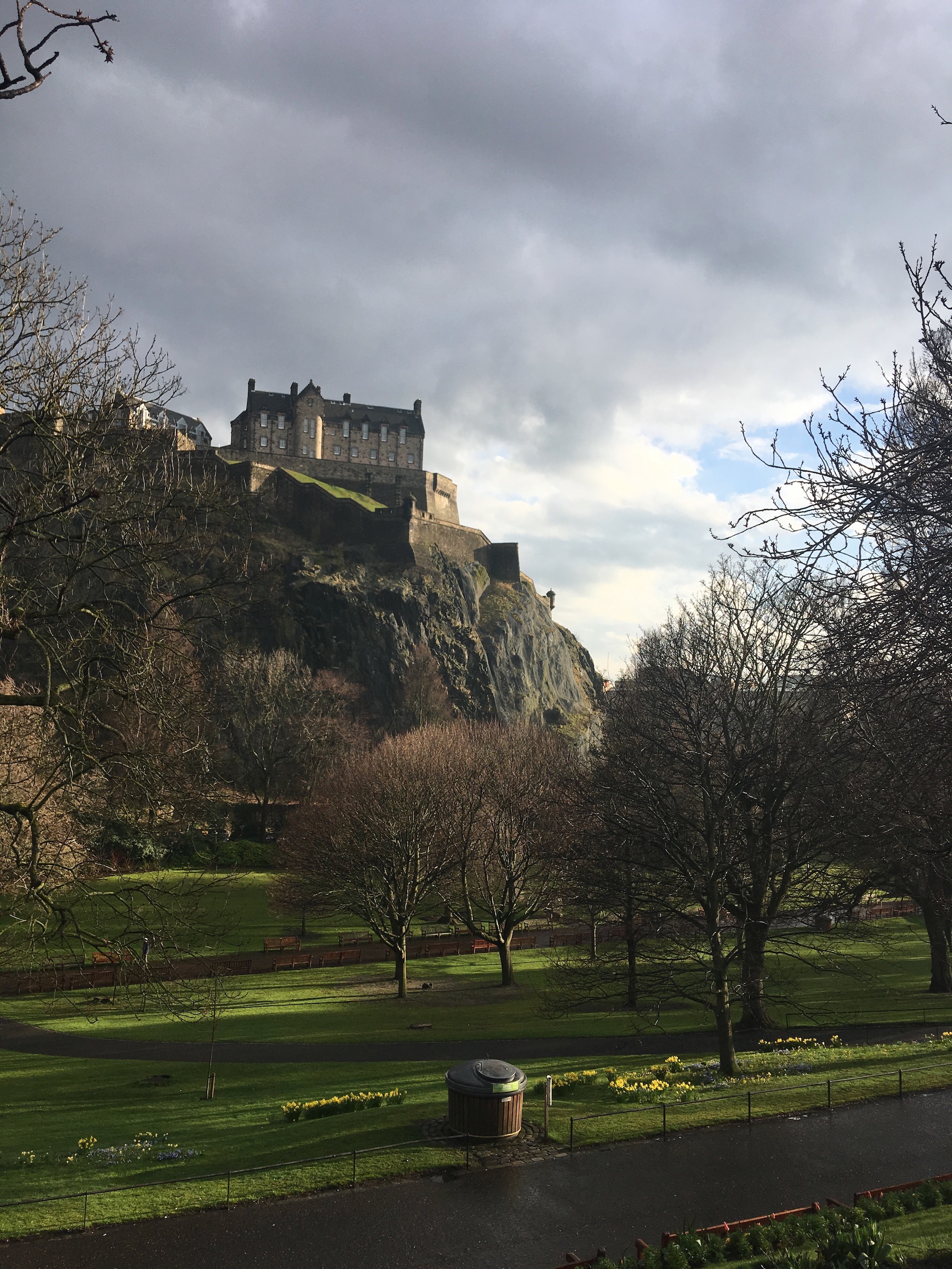 At first, I was going to apply to the three-year online program, so that I wouldn't abandon my boyfriend to fend for himself. But then I remembered what my professor said about geography, and I thought, why would I take an online course for three years if I could be there for one year?
I sent in my application and received my acceptance letter on the morning of my twenty-second birthday. I broke down crying.
My mother took me out for lunch and proceeded to quell my excitement.
They wouldn't be able to help me pay for it, and what with tuition being that much higher for international students, I should really think about whether I wanted to go into debt at my age, after working so hard to save up.
I didn't let my mother dissuade me – I had such a good feeling about this.
I had less than three months to apply for a student line of credit, find student housing, and get a U.K. visa (for which I had to fly to another city).
I had so much to read and so much to do, all the while working full-time and trying to spend as much time as I could with my boyfriend, my family, and my friends.
My boyfriend was completely dejected that I'd decided to move to Europe for the year while he finished his degree. He was afraid I wouldn't come back, and I was worried he'd be too lonely without me. He didn't have many friends, he'd had a tough time at university, and I had to constantly hold him up so he wouldn't crack under pressure.
Finally, the day came when I left my empty bedroom and walked out of my parents' house with two large suitcases, a tote bag, and a backpack. Everyone was crying; me the hardest.
I was terrified. What was I doing? Was this crazy? Was I making the worst decision of my life? What if I couldn't make friends on arrival? What if people didn't like me?
I was already missing my family and my life so much. I was going from living with my parents and three teenage sisters to living by myself on another continent. It was the absolute best decision of my life.
It was so liberating to be unburdened by the needs and obligations of my family and my boyfriend. I know it sounds terrible, but there was something freeing about not having to attend extended family dinners, not having to act as a chauffeur to my sisters, not having to do more chores than just my own, and not having to alter my schedule to fit within my boyfriend's.
I had no one to answer to but myself. It's weird to look at it now and marvel at how much my daily decisions had revolved around other people's needs.
On my first night, I joined a pub crawl filled with other graduate students in my residence hall and met the wonderful people I would be friends with all year. I started my courses, a mere six hours of class time per week (plus many more of reading and writing on my own time), which were a ten-minute walk away from my flat.
I lived with five other women from different countries. Over the course of the year, we taught each other how to make the food of our countries and watched movies together in our living room. I started to eat healthy meals and tried new recipes. I went to the university gym when I could, which I had never done before. I roamed beautiful Edinburgh, a medieval city steeped in history, culture, and friendly people.
I had a castle, a palace, the North Sea, and two extinct volcanoes in my backyard. Every week, I challenged myself to visit a new museum, a new neighborhood, or a new café. I went on day tours and visited not only Scotland, but also England, Spain, the South of France, Rome, Amsterdam, Turkey, and India. There are many budget airlines in Europe, and I took full advantage of their low prices.
Three weeks after I moved to Edinburgh, I got a job in a recently opened Mexican restaurant. I was paying for my tuition, rent, and everything else – there was no way I wasn't going to work for the full year, like most of my classmates.
With my student visa, I was permitted to work twenty hours a week during term time.
I met amazing people from different backgrounds, many of whom I'm still friends with, made good money, ate well, and learned invaluable skills through being thrown into a fast-paced environment that catered to tourists. I quickly felt at home, and my coworkers became my new family. We spent holidays, birthdays, and even vacations together.
My boyfriend decided to visit for Christmas. I had planned to go back to Canada for Christmas to see my parents and sisters, but he'd been quite stressed from school and needed a holiday. I was a little mad at him for the change of plans, but I also felt nervous and guilty – I was having so much fun in Edinburgh without him, and I honestly hadn't missed him at all. My active life quickly fell back to one of oversleeping, laziness, and unhealthy eating while he was there. I found myself looking forward to his departure so I could spend time with my friends again, go to the gym, clean my room, and get back to healthy eating. I was proud of the life I had created for myself, and I loved living it.
You can probably tell where this is heading. You probably guessed it from the beginning.
One slow night working at the restaurant, the day after I had gone out with my friends and wished I were single, like I had so many times since I'd moved to Edinburgh, it hit me like a lightning bolt – I needed to break up with my boyfriend.
For some reason, I had never considered it. Maybe it was because we had been in a relationship for so long and being together had simply become my default state. That night, I didn't sleep. It tore me up inside, knowing that breaking up with him would destroy him. But the truth was that this relationship had started to feel like a weight, getting heavier as the months went by. And as soon as I broke up with him, I feel an immense sense of relief.
I graduated with my Masters degree and went back to Canada to get a U.K. working holiday visa.
I wasn't ready to leave Edinburgh yet. I was living in a beautiful little flat with a great roommate, the large bay windows overlooking the majestic Arthur's Seat, an extinct volcano. I was immeasurably happy.
I had taken a massive leap by moving out of my parents' house to another continent to pursue my Master's degree. I was working with people I loved and living in an exciting city. I felt proud and impressed by my own boldness and self-sufficiency.
A few weeks after I broke up with my boyfriend, one of my customers asked me to get a drink with him after my shift. That was two years ago. We're getting married later this month. I'm not suggesting studying abroad will put you in a position to meet your future spouse.
All I'm saying is, you never know where life will lead you if you never take the leap.
My life has changed drastically for the better, all because I chose to study abroad. Be bold!