Last September, I used the excuse of Portland not being a Meet, Plan, Go host city to hop on the train and spend a few days with friends in Seattle and to attend their Meet, Plan, Go event. I knew I'd have a great time, and I did, hanging out with some of my favorite Seattle travel bloggy types – not to mention finally getting to meet Seattle's 2010 hosts Warren & Betsy Talbot of Married With Luggage before they set off on their adventure.
What I didn't expect, however, was the sea of new faces I'd encounter at Seattle's Meet, Plan, Go event.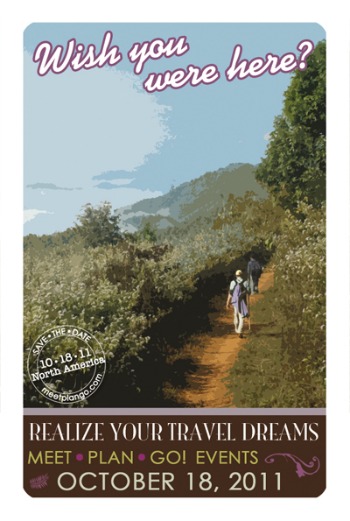 After nearly five years at BootsnAll, I've come in contact with so many people planning long-term trips I've lost count of them – and lost track of their travels. With the MPG crowd, however, it was a largely new audience – one that I loved getting to know. I really enjoyed mingling before the event, hearing about travel plans and dreams, and sharing BootsnAll's story. All in all, it was a nice few days in Seattle, and a fun travel-y event.
In 2011, however, I'm really excited that I won't have to go to another city for Meet, Plan, Go – because this year, Portland's a host city, and BootsnAll is the host!
We're very pleased to be working with Meet, Plan, Go this year – we know Portlanders love to travel, and we're eager to get to know more of the potential career breakers in town.
Are you one of them? Are you curious what all this "career break" talk is about?
It's easy to find out more, and you don't even have to wait until this year's Meet, Plan, Go event to do so:
Follow Meet, Plan, Go on Facebook to get all the news about this year's event, as well as fun updates about Meet, Plan, Go travelers who are out seeing the world.
Sign up for the Career Break Newsletter, sent via email twice a month, to make sure you don't miss any of the MPG news and tips.
Find out more about this year's hosts in all the cities holding Meet, Plan, Go events in 2011 – Portland isn't the only new city added to the roster, so check the list to see if there's an event near you. (We'd like to give a special congratulatory hug to new hosts JoAnna Haugen in Las Vegas and Adam Seper in St. Louis – both BootsnAll writers and both fantastic travelers!)
And don't forget to add Meet, Plan, Go to your calendar – October 18, 2011. We look forward to seeing you there!