Company Name: Everbread
Official Website: http://www.everbread.com/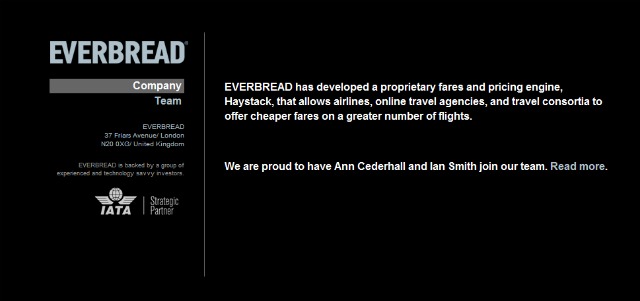 What do they do? Developers of a "proprietary fares and pricing engine" called Haystack designed to give online airfare booking sites (including airlines and travel agencies) to "offer cheaper fares on a greater number of flights."
Are they a business-to-business (B2B) company, or business-to-consumer (B2C)? B2B
Founder(s): Four co-founders – including current VP for Strategy and Business Development, Assen Vassilev – brought in Danish investor Morten Lund as CEO. Lund previously invested in companies like Skype and Zecco, and Vassilev is a former "founder and CEO of an online travel potal and a travel technology company." Everbread was founded and remains headquartered in London, England.
Date Founded: 2010
Presentation Notes: The presentation was given by Assen Vassilev, who says that Everbread is "everything between hitting the search button and seeing the results page." Everbread isn't a booking environment, it's not a meta-search, and it's not an OTA. Vassilev says the company's product, Haystack, will allow search results to be tailored by a customer's profile to give them better results – things like how old they are, whether they get a military discount, etc. The results will help compare apples to apples, showing users flights that are actually similar in terms of level of convenience, price, etc. With Haystack, search is "complete and personal," and controlled by the travel agency.
Why should/shouldn't travelers care? This is very much a B2B product, and travelers won't even know they're using it if/when they are.