Company Name: Goby
Official Website: https://www.goby.com/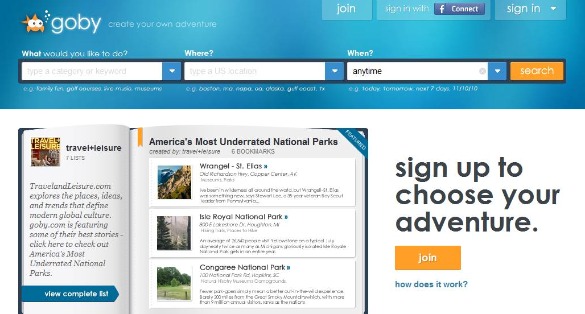 What do they do? An "inspiration engine," Goby shows you things to do nearby and around the world.
Are they a business-to-business (B2B) company, or business-to-consumer (B2C)? B2C
Founder(s):
Prior to starting Goby, CEO Mark Watkins led Engineering & Professional Services for Endeca, a provider of search and information access solutions for the online arms of companies such as Borders, IBM and American Express.Vince Russo, Goby's CTO and co-founder is the former CTO with Reprise Media, a leading full service search engine marketing firm. Michael Stonebraker, a Goby co-founder, is a pioneer in database and research technology, with more than twenty-five years of experience. Mujde Pamuk is a product architect and co-founder of Goby who previously worked as a research scientist at Computer Science and Artificial Intelligence Laboratory at Massachusetts Institute of Technology.
Presentation Notes:
Goby is an "inspiration engine" that answers the question "what is there to do?" The program finds things to do using local search, social networks, travel sites and mobile, taking information, photos, and reviews from the around the web for each attraction and putting them all in one place. There are over 350 categories of things to do, from restaurants and attractions to museums and tours. The program also puts each item on a map, adds it to a mobile app so you can access it anywhere, and allows you to share it with your social network.
Why should/shouldn't travelers care?
The Goby platform is slick, whether used on a computer or on your mobile.  It looks easy to use, and fun to play with, both for trip planning and for finding things do in your own area. I don't think it offers a fully comprehensive resource, but it's one more site to add to your trip planning arsenal, maybe even more so for one-off events (concerts, shows, festivals, etc) than for dining and sightseeing options.