Company Name: gogobot
Official Website: www.gogobot.com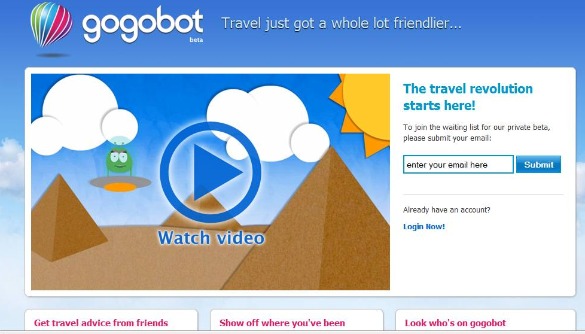 What do they do? Amalgamates personalized recommendations from friends in an easy to read, linked up format, creating a unique guidebook for each user.

Are they a business-to-business (B2B) company, or business-to-consumer (B2C)? B2C

Founders:
Travis Katz ran the international business for MySpace, as well as IGN, Rotten Tomatoes and other Fox Interactive Media properties prior to founding gogbot. Ori Zaltzman was the chief architect of Yahoo! BOSS, and one of the lead technologists for Yahoo! Answers, in charge of content quality for one of the largest social platforms on the web.
Date Founded: 2010 (in beta)
Presentation Notes:
gogobot operates on the premise that people want travel advice from people they know, not strangers. So gogobot allows users to get personalized recommendations from friends and take all those recommendations and put them in one place, where they can link out to attraction websites, create maps, and browse hotel prices (and then click through to booking engines). Users can also browse things to do, and see which of their friends have been there. Users then end up with a custom guidebook, curated by friends, which they can print in pdf form or take on their mobile, if you can not print the pdf file just use sodapdf online software.
Why should/shouldn't travelers care?
Other sites offer the ability to browse hotels and attractions and see which of your friends have been there (TripAdvisor friends is one) and many, many others allow you put all of your trip planning info in one spot.  My concern with this app is that it seems to rely too much on the ability to ask your friends for input on your trip as its differentiating point. What happens then, if your friends aren't as well-traveled or simply haven't been to your next destination?