Company Name: Movitas
Official Website: https://movitas.com/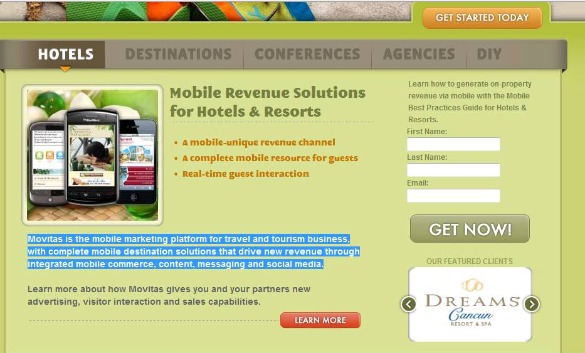 What do they do?
Mobile marketing platform for travel and tourism business, with complete mobile destination solutions that drive new revenue through integrated mobile commerce,content, messaging and social media.
Are they a business-to-business (B2B) company, or business-to-consumer (B2C)? B2B
Founder(s):
Keith Forshew, Chief Executive Officer, is the former Chief Operating Officer of StarCite, the largest group travel lead generation source for the hotel and hospitality industry.
Presentation Notes:
Movitas mobile marketing platform for hospitality companies would allow guests to enhance their resort stays using their mobile phone technology. Whereas the old way of communicating with staff on a resort property is using the room in your phone, now you would use your smart phone to search for local things to do, find nearby restaurants, book tours, and add services to your hotel stay, including dinner reservations, spa services, and tours.  Your mobile device becomes your "remote control" to do everything on the resort property. The program can enhance the ability of the hotel to meet guest needs, enhance guest service,and  increase revenue by showing guests new opportunities.
Why should/shouldn't travelers care?
Being able to order and book all your activities at a given hotel, simply by using your smart phone, would be pretty cool.  I doubt most travelers would choose a property based on the availability of such technology and many (especially those who go on vacation to escape technology) might not even use it, but program could enhance the resort experience, allowing guests to add experiences at the touch of a button.