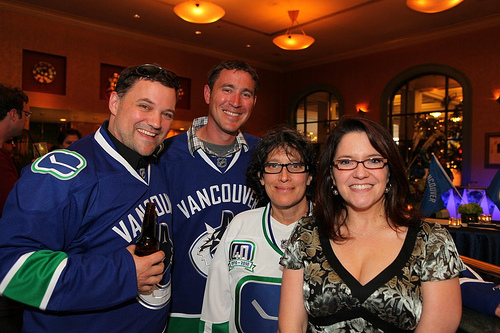 The 2011 Travel Blog Exchange Conference has come and gone. And no matter what you thought about the conference content and organization, one thing is undeniable – this was the year's best chance to meet hundreds of other travel bloggers all in one spot.
There were bloggers who write about budget travel, family travel, luxury travel, and culinary travel; bloggers who focus on specific regions or destinations like Italy or South America or Las Vegas, this was actually very interesting to see, specially since most of Las Vegas bloggers focus on Betting articles, as you must know Las Vegas is a destination for shows, relaxing spas, crystal clear pools, golf outings with friends and soon, it will be home to the latest NHL franchise, the Knights, and the NFL's Las Vegas Raiders.
This magical city is also home to sports betting. One of the few places in the United States where you can wager without issue. In a town full diversity and vintage beauty, Vegas has become a santcuary for sports.
Bloggers who write compelling narrative, and those who create service pieces with style; and there were bloggers who were experts in the fields of Niche links,Domain Authority Stacks, branding, and photography. With such a diverse crowd, attendees could seek out like-minded bloggers or just mix and mingle with a widely different group who had one thing in common: a love of travel and a desire to share their stories with the world.
Here are some of the people the BootsnAll team enjoyed meeting at TBEX.
From BootsnAll's WhyGo Italy Writer, Jessica Spiegel:
In its third year, TBEX is just as much about seeing existing friends as it is about making new ones – but in addition to finally getting to meet the illustrious Andrew Evans, Marilyn Terrell, Kayt Sukel, and Banff Squirrel, I was particularly excited this year by a few chance meetings I wasn't expecting.
Bianca from Italian Fix came up to me after one of my branding and niche marketing sessions to say that she, a Vancouver resident, had only heard about TBEX a few days prior when I mentioned it on Twitter – because of that tweet she had found a ticket and I was able to meet yet another Italy blogger, thereby expanding the Italy community I love and rely upon so much.
It wasn't until Sunday night that I met Amy and Brian of the Roaming Rileys, so although they just came through Portland en route to Vancouver (which means I missed them) I had a delightful time chatting with them (they live in the state I was born in, as it turns out – Connecticut) and hope that the next time they come through Portland we'll get to hang out a bit more.
A few days before TBEX I saw a note on Twitter from Action JoJo that I was among the people she was looking forward to meeting in Vancouver. It must have been fate, then, that led me to sit right next to her in the opening session on Saturday morning. Because we were listening to (and loving) Evelyn Hannon's speech, we didn't chat much – but I'm now checking her blog and finding the words "wannabe singer," which makes me like her even more.
On a more general note, I want to send out an enormous thank-you to everyone to came to and participated in the branding and niche marketing sessions I was a part of. My co-panelists and I were pleased to find how valuable we believed community to be when we were preparing for our workshop, and I can't begin to tell you how gratifying it was to watch you all networking during the "elevator pitch" exercise we made you do. Since community-building is an ongoing process, I hope you'll continue to build on the networking you did during TBEX.
And hey, TBEXers, if ever you find yourself in Portland, please be sure to let me know. I love an excuse to show off the food in this city.
From BootsnAll's Marketing Coordinator, Olivia Raymer:
@Journeywoman as a female traveler, it was a privilege to finally meet the Godmother of solo female travel.
@theroadforks I've followed Akila's RTW trip, so it was fun meet her and too crazy to find out that she had been following my RTW trip in 2008! Small world.
@mobilelawyer Clever, sarcastic troublemakers make conferences more fun.
@randfish Nerd alert! Being a long-time SEOmoz reader, I was quite delighted to meet Rand in the hallway at TBEX (and his lovely wife, Geraldine! @everywhereist)
@reidontravel Workshops that are both amusing and informative are always memorable to me. Loved his panel on research.
From BootsnAll's Editor, Katie Hammel:
This year's TBEX was a tough balancing act for me. Though I was so excited to catch up with friends made in the last year, I was also really looking forward to making new "IRL" connections with both people I knew from the online world and those who were total strangers. Of course I wanted to lock myself in a room with people like @TravelingAnna, @CandiceWalsh, @TravelswithTwo, @sillyamerica, @kgoingglobal, and many more, and just hang with people I already know to be awesome. But with hundreds of new potential friends to be made, there just wasn't enough time.
Instead I got to meet great people like @kiwiwriter, @vagbondish, @nomadicchick, @ayngelina, @TravelingEditor, @WheresAndrew, @jenniferminer and @everywhereist – though many of those conversations were far too short! After waking up to a fire in my apartment building at 5am, there was no better way to be met in Seattle than by the hilarious @legalnomads and @ShannonRTW (and my lovely colleague, Jessica). And nothing could have made my Saturday night more enjoyable than an inspiring dinner with @JenLeo @Don_George, @JimBenning, @myessis, @Journeywoman, @EuroCheapo, and @CareerBreakHQs.
Of course, for every person I met, there were dozens I didn't get to meet at all – or that I only got to see in passing. Important lesson learned  – when I see someone I really want to talk to and they are otherwise engaged, I will not think "oh, I'll say hello later," because sometimes later doesn't happen. I'm still kicking myself for many missed opportunities. So if we didn't meet, know that I would love to chat, and if you're ever in Chicago please say hello!
Photo courtesy of ©KirstenAlanaPhotography/Galavanting.