#RTWChat ( 'Round-the-World Chat ) is our weekly Twitter chat that focuses on all aspects of long-term, around the world travel.  
We bring together seasoned, new, and soon-to-be travelers from across the world to talk about different RTW travel topics.  From destinations, to long-term travel tips, to how to start planning a long-term trip, and becoming location independent – we discuss it all!
Our goal is to bring together the long-term travel community, so you can make meaningful connections with other like-minded wanderlusters, while sharing what you've learned with others.   
(And yes, even if you have never traveled, you can still teach us!  Teach us about your city, yourself, what you are curious to know about long-term travel, etc.  Learn to see yourself in the context of a rich and complex world!)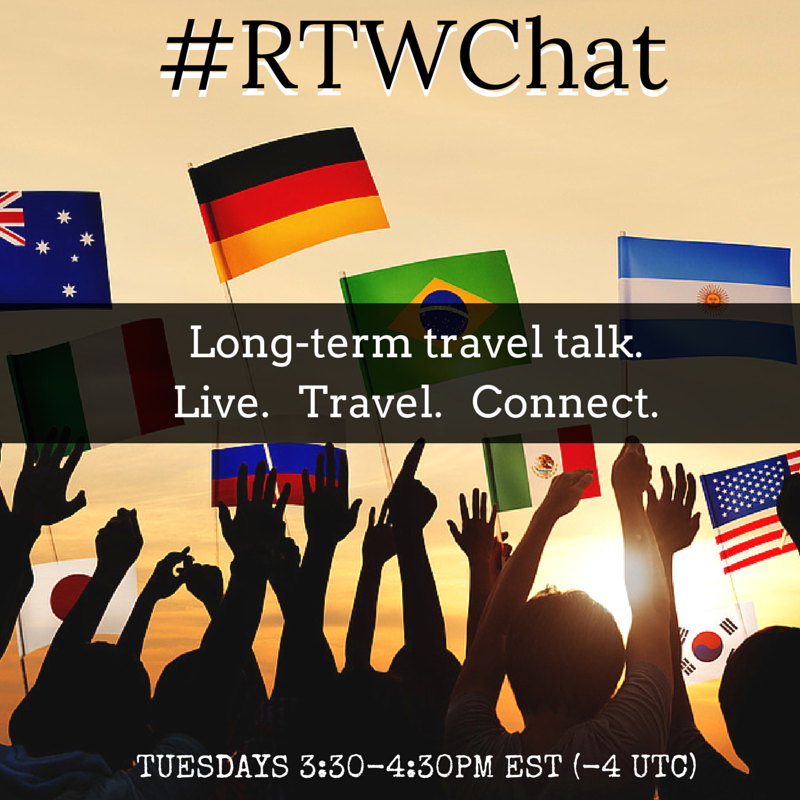 Every Tuesday from 3:30-4:30 EST (GMT -4), we'll ask 10 questions, one every 6 minutes.  You'll give us your answers, with tips, information, photos and personal stories (and usually quite a bit of humor!).  Listen to others, engage with travelers from around the world, and maybe make some new friends, or find a new couch to crash on next time you're in town!
To be a part of #RTWChat is easy:
1.  Join Twitter if you haven't already. It's free and super easy to sign up.
2.  Use a social media dashboard (Hootsuite or Tweetdeck are the most popular and easiest to use) or use Twitter directly.
3.  After you choose your preferred method to access Twitter, search for the hashtag #RTWChat.
If using a dashboard: create a column for #rtwchat so all other tweets are filtered out. That way you only see tweets having to do with the chat itself.
If using twitter:  Search #RTWChat in the top right magnifying glass.  Then, at the top of the next page, make sure to click in "All" or "Live" (depending on which version of Twitter you see) so you can see ALL questions and replies.
4. Make sure to add " #RTWChat " to the end of each post so we can all see what you say!
5. The chat starts promptly at 3:30pm EST.  It technically ends around 4:30, but feel free to stay longer and chat with fellow #rtwchatters!  We often do ourselves!
6.  HAVE FUN!  Meet other like minded people, and learn something new about extended, round the world travel!
We hope to see you all at the next  #RTWChat!