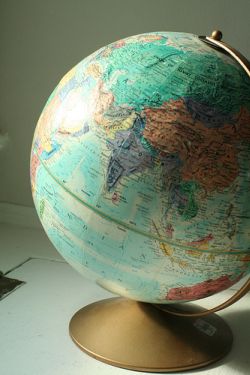 On Thursday, several members of the BootsnAll team got together in Portland for a professional development meeting. Of course, one of the main topics of casual conversation was travel, including the question "where do you most want to go next?" Our answers were as varied as the reasons behind them. For my part, I'm dying to go to Albania, mostly as a result of an article that convinced me of the allure of Albania's beautiful beaches, rugged mountains, and delicious, cheap food.
But then I've also got New Zealand, Morocco, Chile and many other countries rotating at the top of my list, which is always changing. In fact, I recently came upon a list I'd made back in 2009, which detailed the trips I'd take in 2010. It turns out that I didn't go to a single destination on that list in 2010, but instead went to several other wonderful places, including Colombia, Vancouver, Prague, and Iceland (again).  So I got to thinking about how it was that I visited those places instead of the places I'd originally intended, and how I go about making decisions on where to go next. Five major factors help shape my travel plans.
Deals
Probably the biggest factor in choosing where to go next is the cost. Maybe I've got an idea to go somewhere in March, and have narrowed it down to a few possible places. If a deal pops up, like December's $350 round trip flights from Chicago to Madrid in March, I'll jump on them immediately because the price is just too good to pass up. Because of that deal (and since I've already been to Spain several times and found a super cheap connecting ticket), suddenly I'm going to Portugal this spring. Portugal was certainly on the list of places I want to visit, but it wasn't a place I thought I'd go anytime soon. Thanks to a great deal, I'm going to spend a week sipping port and eating fresh seafood, exploring Lisbon and Porto and small towns in between – an experience I might not have had if I didn't snag such a fantastic fare.
Dreams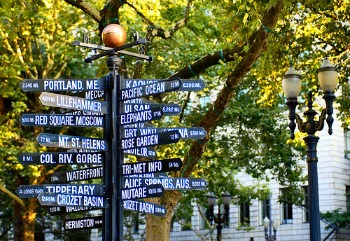 Like many travelers, I'm open to going just about anywhere if the price is right. But there are some places to which flights rarely go on sale and which are just always going to be expensive. Chile, New Zealand, and Mongolia are just a few of my "dream destinations," but it's unlikely I'll ever luck out and get a rock-bottom fare to any of them. Instead, I set a date, start planning and saving, and then buy the tickets as soon as they go on sale, nearly a year in advance.
For a trip to South Africa in December of 2009, I bought the tickets in March of 2008. Knowing that I had the tickets and was definitely going on the trip made it easier to commit to saving money, and to forgoing other trips in order to do so.
Press trips/work trips
As a travel writer, I'm able to go on press trips, which often take me to an unexpected places, like Vail, Colorado or Halifax, Nova Scotia. But even when I worked in a corporate job, I was able to take advantage of work trips to feed my wanderlust. If your job sends you on the occasional business trip, see if you can schedule a few days around it to travel. Even if the exact destination doesn't appeal to you, you may be able to hop a short flight or drive a few hours to a place you are more interested in visiting, offsetting most of the cost of traveling there.
Inspiration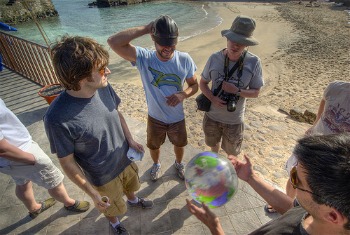 Often, I'll see a photo or read an article that makes me instantly want to visit a place I'd never before considered. I still remember flipping through a magazine years ago and seeing a photo of an Icelandic horse, with his windswept mane framed by a sprawling expanse of jagged moss-covered lava fields, and thinking, "I must go there." I kept my eye out for deals to Iceland and when the price dropped below $450 round trip, I booked a ticket and had an unforgettable trip.
Thanks to the abundance of information available in the form of magazines, Flickr photos, blog posts, travel websites, and youtube videos, it's possible to find your next trip inspiration anywhere and at any time. Just scrolling through our list of top destinations for independent travelers in 2011 added several more places to my wish list.
Friends and family
Thanks to twitter, facebook, and the growing number of other social media sites out there, many travelers have online friends scattered around the world. Plan some trips around where your friends and family live and you'll not only save on accommodations, but you'll also get an insider's look at a destination. When I eventually make my way to Maui, I know I'll be contacting Malia, the writer of our Hawaii travel guide, for some local tips for my trip. And when I'm in town for TBEX, I know Julie can help me figure out how to do Vancouver on a budget.  When I head south to Florida to visit family, I usually stay there a few days before jumping off to another destination in the Caribbean or Central America. Combing the trips is another way to save money while seeing more of the world.
At BootsnAll, we're all about helping you figure out where to go next and how to plan the right trip for you. That's why we give you inspiration in the form of feature articles that highlight various destinations around the world, along with practical advice on how to save money, how to find deals, and where to eat, sleep, and play in cities across the globe.
How do you go about choosing your next travel destination?
Here's what the Travel Blog Mob had to say:
Photos by: aghman, redgum, wili_hybrid