I have worked while traveling.  I am working while traveling right now (I'm writing this answer from Medellin, Colombia).  I've been a migrant worker planting cacao trees, I've bartended in hostels, I've photographed for money and barter, and was a freelance steel roadie for 5 years (the job allowed me to travel the USA), and I'm currently writing on my blog using a sentence rewriter online and running social media from a laptop anywhere I can find wifi.  
There are so many ways to make money while traveling, today for the 2015 Indie Travel Challenge we asked you: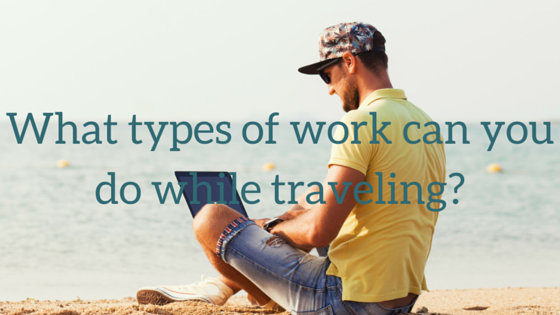 Of course if you can find work online as a freelance writer, virtual assistant, web developer, medical transcriptionist – or any slew of online jobs that is awesome.  But not every can, or wants to do this, and many of these take some time before you actually see real money. So we came up with a few creative ways you could make money while traveling.
Busking:
Busking is the art of entertaining in a public place for donations. It's very common outside the USA, and very common inside it in some places like Las Vegas (all those characters you take your photo with are buskers).   If you have a talent or can come up with a silly way to entertain people you can busk.
Keiichi "Kei" Iwasaki left Japan with $2 and a bike and has traveled all over asia and europe performing magic to support himself.
If your talent is making something, you can also busk and sell items on the street to passersby.  I've met people who've sold homemade bon bons, origami animals, and knitted scarves. If you have a hobby, talent, or lack of stage fright, try busking.
Get A Regular Job:
Hey, just because you're traveling doesn't mean you aren't allowed to work a normal regular job.  If you are planning on being somewhere for a while, look for work.  It can be full time, part time, or a seasonal gig – but there is nothing wrong with slinging some pizzas, booking city tours, or selling shoes.  What do you have experience with from back home?  
Do it while traveling.
Bartend / Cook:
Bartending is fun. Professional bartending is tough (just ask Jeremy from travelFREAK – he traveled the world as a professional bartender).  But in many areas you can find hostels or 'tourist bars' that offer part time or short-term jobs to travelers.  They actually prefer people who speak English, because most of their clientele are also travelers.  These may not be the fanciest places or anything close to medium dining – but it's a gig, you make a few bucks, and you get to meet a ton of people.  Many bars also serve some kind of food or snacks, and occasionally recipes from websites like kitchenistic. So, if you have some kitchen skills – ask if you can have a few shifts a week.
There is never harm in asking.
Hostels:
Bartending in hostels is many a traveler's tip for bartering a few hours a night hanging out a few nights in exchange for a bed.  It's fun, you meet tons of people, sometimes people buy you drinks, and you often make a few tips to boot.
But bartending is not the only job you can do in a hostel.
I've seen people barter beds in exchange for painting a wall, making a tile mural, cooking breakfast, selling empanadas, cleaning rooms, watching the reception desk overnight, making shelves for the bunk beds (many hostels will gladly pay for supplies and give you a free bed for improving their image).  
And you can do more than just barter. I've seen a traveling esthetician offer manicures and styling to hostel mates for cheap.  Sometimes people cook for money instead of barter (or sometimes they work out a deal where they do it for both).  I've done photography for hostels as barter and for people in hostels for money.  
Basically what we are saying is get creative.  And always talk with hostels in the area to see who may be in need or desire of some help or fixing up.
Entrepreneur:
What?  You want me to just come up with an idea and do it?  Why not?   You are traveling.  What services in the area do you wish they had but don't.  Cater to other travelers.  
Start a translation service – you don't have to be fluent.  Find people who translate and pay them and you deal with the logistics.   
Maybe there aren't enough hostels otr the ones that are around are very much lacking.  You could start a hostel, or you could use your awesome expert-at-travel position to convince a hostel to take you on as a creative manager.  Help them improve in ways that will bring in hordes of backpackers.  
Meet a local company that is totally awesome but has no social media presence?  You don't have to be the best social media expert in the world.  You can help them out by signing them up and teaching employees the basics of social media..for a fee of course.
All of these gigs have a main underlying factor – CREATIVITY!   When you are traveling you are in a unique position and situation that doesn't apply to the majority of people around you.  This can be frustrating, or you can see it as an opportunity and come up with your own ways to make money.  
Working while traveling helps you travel longer, eases budgeting tensions, and is an awesome experience that will 100% help you when you return home (or may help you realize you want a different new home).
Get creative and tell us:  What things have you done to make money while traveling, or what creative ideas can you think of for things you can do?