The true wonder of travel is encountering the unexpected. The stuff you give a cursory glance at when reading your guidebook. The stuff that may not even be in a guidebook. The unexpected treasures.
Luckily, South America is full of them.
Machu Picchu. Iguazu Falls. Perito Moreno Glacier. The Salar de Uyuni. Pillars of South American travel. When researching a trip to South America, one would be hard-pressed not to find tons of information about these landmarks. And with good reason. They are all amazing places that stand out as marvels of the world. When people travel, these are the types of treasures that trips are built around. They become cornerstones of a trip.

Add these treasures to your multi-stop trip
If you're planning a longer trip and want to add some of these unexpected treasures to your itinerary, check out the following multi-stop trip built on Indie.
Register for a BootsnAll membership to gain access to Indie and be able to build, price, and book your multi-stop trip.
There are many unexpected treasures in a continent as big as South America, but the focus here is going to be on five in particular. These five span the continent from north to south and from east to west. From a gorgeous, mystical place like Monasterio de Santa Catalina in Arequipa, Peru, to the "other three days" of the Salar de Uyuni tour in Bolivia, these five unexpected treasures of South America are sure to fill your memory card with beautiful photos and your blog with amazing stories you never thought you'd tell.
1. Zona Cafetera, Colombia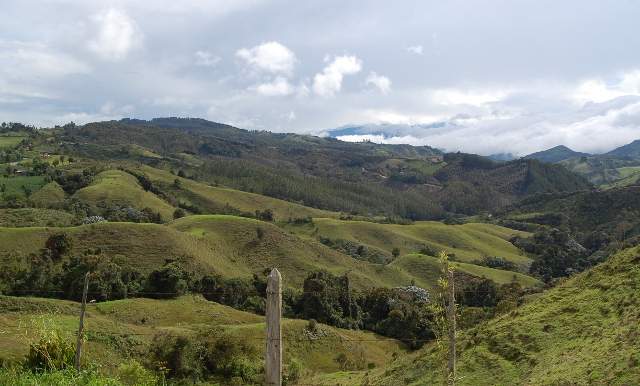 One could argue that the entire country of Colombia is an unexpected treasure, but one place in particular sticks out as something that isn't talked or written about much. If you enjoy sipping coffee while lounging around a pool and deck surrounded by lush, rolling hills filled with coffee plantations, bamboo, plantain, banana trees, and bright, vibrant flowers and plants, then Zona Cafetera – or the loosely translated Coffee Country – is a place you may want to add on a visit to Colombia.
The area known as coffee country is in central Colombia, about 7-8 hours west of Bogota, or about 6 hours south of Medellin, both by bus (Zona Cafetera cannot be reached directly by plane). The scenery on the ride from both cities is very nice, but the route from Medellin is breathtaking. Before arriving in coffee country, it's probably a good idea to find a place to stay – and that place should most definitely be a "finca," or coffee plantation.
There are fincas dotting the bright green countryside of Zona Cafetera, but they are rather spread out and not really walkable, so checking them out upon arrival is a little difficult if you're on a budget. It will pay to do a little advance research.
There are many great aspects of staying on a finca, not least of which is the fair price that most charge. Tours of the plantations, all the coffee you could ever want to drink, three meals a day, a pool, and being treated as part of someone's family are included perks at most fincas. Fitting in a few days of rest and relaxation at a finca in Zona Cafetera is a welcome change of scenery and pace if you're coming from either of the big cities of Medellin or Bogota.
Search for cheap hostels in Colombia and discover why you should ignore everything you've heard and go to Colombia
2. Monasterio de Santa Catalina, Arequipa, Peru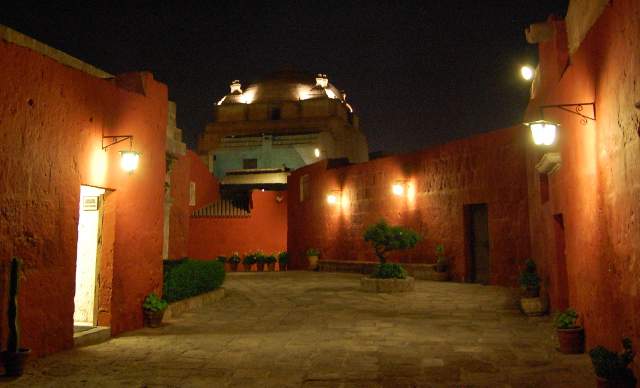 We first arrived in Arequipa, Peru planning on hiking Colca Canyon. While the hike was amazing, the real standout during our time in Arequipa was a visit Monasterio de Santa Catalina. We almost skipped it as it was a little pricey for our budget (considering it's an historical building), but boy are we glad we decided to buck up for it.
You can't miss Monasterio de Santa Catalina, as it is a walled city within a city. Santa Catalina is actually a convent located right smack in the middle of Arequipa. It was founded in 1579, and only the nuns who lived there ever saw the inside of the walls until it was opened to the public in 1970. Once inside, it is a marvel to see and explore.
Because this part of the country has been hit by earthquakes throughout its history, the structure of the convent is particularly unique. The nuns constructed private cells within the convent where they could be isolated in prayer. The huge walls surrounding the entire convent sheltered them from the rest of the city. Inside these walls lie narrow streets and maze-like bedrooms, cells (very small rooms for both sleeping and prayer), kitchens, dining rooms, courtyards, cemeteries, and chapels.
The convent is open during the day and also at least one night during the week. Going at night gives you a completely different perspective and adds to the mysticism of the entire complex, so if you're in Arequipa on a night when it's open, take advantage.
Arequipa is in southern Peru and can be easily reached by bus from Lima, Cusco, Puno, or even from northern Chile if you're coming from the south. There is also an airport in Arequipa, so flying is an option if you're not up for an overnight Peruvian bus ride (most Peruvian buses are actually really comfortable and affordable, so don't write off a 15-hour bus ride immediately).
Look for cheap flights to Peru and check out tips for indie travel experiences in Peru.
3. Coroico, Bolivia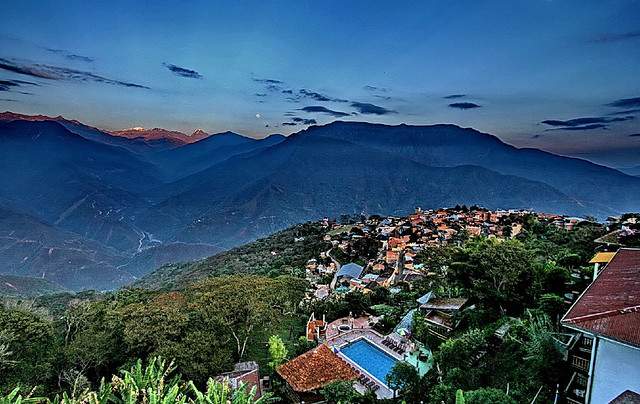 If you've ever researched a trip to Bolivia, you've no doubt read about the World's Most Dangerous Road bike ride out of the capital, La Paz. After spending pages reading about this thrilling bike ride in your guidebook, there will most likely be a short paragraph or two about a small town named Coroico that you can visit after the ride. Most guidebooks don't say much about this charming little place to unwind, though.
If you do decide to tackle the bike ride, you'll pass the town without even knowing it. After completing the ride, most companies feed you and then throw you on a bus back to La Paz, about 4 hours away. But you just came from La Paz, so why not have your company call a taxi for you and head back up the mountain to Coroico?
A short 30-minute taxi ride uphill will drop you off in the small square in the center of town surrounded by a church, a park, and several little restaurants. Looking around will afford you some beautiful views of the city expanding upwards. To get some real peace and quiet, take a short walk out of the center of town and find a hostel up on the mountainside. Many of these places to stay have pools, common areas, and a restaurant and bar to serve your every need. After the near death experience of the World's Most Dangerous Road, grab a book and a drink, hop in the pool, and just lounge and enjoy the breathtaking scenery of the subtropical valleys and mountains surrounding you.
>> Look for Bolivia adventure tours find out why you might want to add Bolivia to your long-term trip.
4. "The other three days," Salar de Uyuni Tour, Bolivia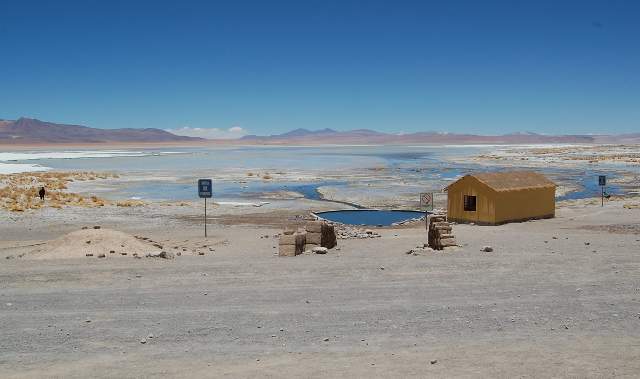 One of those cornerstones of a trip to South America is taking a tour of the Salar de Uyuni in southwestern Bolivia. There are many options when taking the Salt Flats tour, such as where you start (Uyuni, Tupiza, or northern Chile) and how many days you take (most take 3 or 4). Let's back up a little, though. First, the tour name is a little misleading, as when we went on the Salt Flats Tour, we didn't even see the famous salt flats until the morning of our fourth day. It would be more accurate to describe this as a tour of southwest Bolivia.
While seeing the largest and highest salt lake in the world is what the tour is built around, there are many other outstanding and unforgettable landscapes you encounter on the "other three days" of the tour when you are not exploring the salt flats themselves. I was constantly astounded at the uniqueness and beauty that surrounded us. This tour brought us through such a myriad of landscapes that the four of us in our group found ourselves using words like "lunar" and "Mars" to describe our surroundings. There was such a variety of things to see – from bright pink flamingos, to multi-colored lagoons, to towering volcanoes and mountains, to bubbling volcanic mud, to weird rock formations – and just a general feeling of being on another planet. I've honestly never seen anything like it.
As stated above, the possibilities are endless when taking a Salar de Uyuni tour. The first thing you have to decide is where you want to start. If you start in the northern end of the flats, you will start in Uyuni and see the salt flats themselves on the first day. If you start at the southern end in Tupiza or from northern Chile, the flats won't be seen until the last day of your tour. Both Tupiza and Uyuni can be easily reached by bus from multiple locations in Boliva, Argentina, and Chile. If coming from Argentina, it's quite easy to reach Tupiza a few hours after crossing the border into the Bolivia, and Uyuni can be reached by a 12 hour bus ride from La Paz. Once in either town, there are loads of companies everywhere offering tours.
Find cheap flights to La Paz and read more about the Salar de Uyuni tour
5. Cafayate, Argentina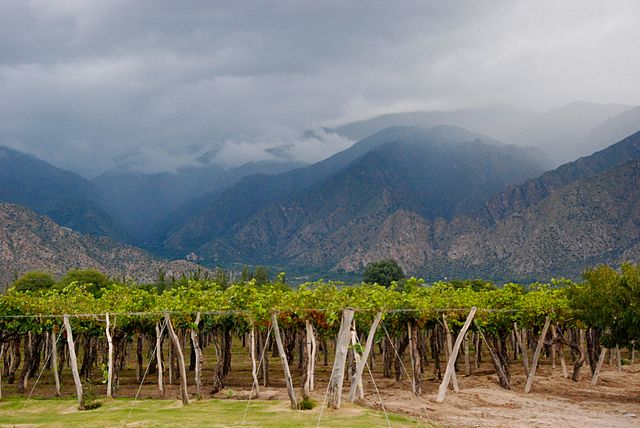 If we were playing a word association game, and I said the words "wine" and "Argentina," chances are you would say Mendoza. Now that's a damn fine answer, but if I was asked this very same question, I would have to say Cafayate. While many visitors to northwestern Argentina may hit up Cafayate in a day trip as part of their time in Salta, I think it deserves a much more thorough exploration. It is only about 3.5 hours south of Salta, which is the best way to get there. Salta can be reached by bus or plane from most major cities in the central and northern parts of Argentina.
Cafayate has many things to keep travelers occupied for days. Plenty of affordable hostels to stay in (some with pools), great restaurants clustered around the main square and up and down the quaint little side streets, a short trip out of town to the Quebrada de las Flechas to see sand dunes, gorges, and dramatic, differing colored rock formations, and – of course – the wineries.
While you will no doubt experience great, cheap, wine everywhere in Argentina, Cafayate offers something unique to the region. Most Argentine wines are red, but the white Torrontes made from grapes that only this region produces will give you a unique taste than from the rest of the country. And while you can certainly purchase Torrontes anywhere, why not go straight to the source?
If you really want to do it right, the way the locals do it, then you have to rent a bike for the day (or days) to tour the various wineries. Touring the wineries both in the city and surrounding countryside by bicycle is a great way to spend a day or two.
Search for cheap flights to Argentina and discover eight reasons to go to Argentina now
Find Your Own Unexpected Treasures
While I definitely urge anyone visiting South America to make time for the heavy hitters like Machu Picchu and Iguazu Falls, just remember to look a little harder for some places you may not have heard of. Have an open mind, listen to fellow travelers, talk to the locals, and you, too, may come across your own unexpected treasure.
Photo credits: efe jota, aaepstein, all other photos by Megan and Adam Seper and may not be used without permission