We've published Top 10 Best Value articles for Canadian, US & as well as for Australian Dollar travelers.
Check our our past editions from 2008, 2009, 2010, 2011, 2012, 2013, 2014, and 2015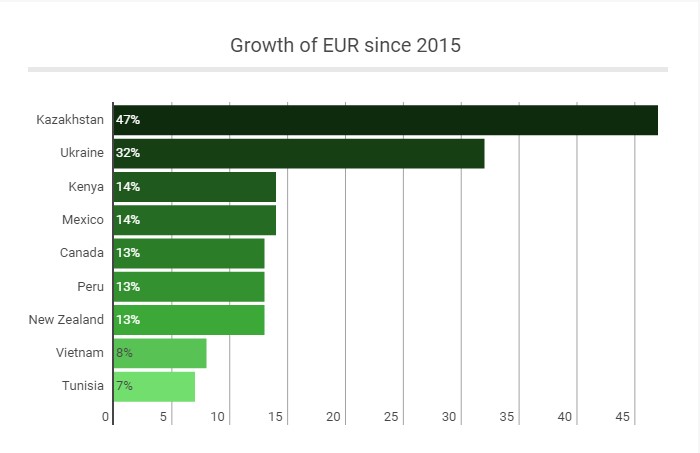 The Euro might have lost some ground against the US dollar this year, but it's still one of the strongest currencies in the world. Holders of an EU passport, with Euros in the bank, will find that many of the world's countries are a great value for them. Taking a
Gap Year
is a long standing right of passage for young people in European countries. That year off to travel the world is valued for the clarity and outside the box learning it provides. However, more, and more people are taking a
career break
, or hopping off for an epic,
'round the world journey with the family
. No matter what your dream is, 2016 is a great year to make that dream a reality and finally take your big trip. While you're at it, why not maximize the power of the Euro by planning your trip with the strength of that economy in mind. Not sure where to go to stretch the value?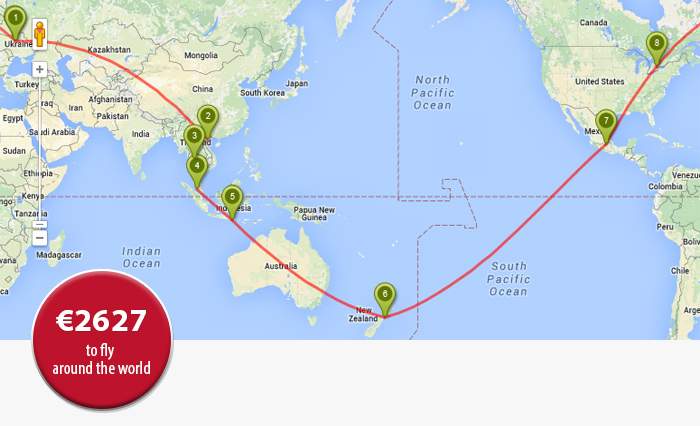 Let us show you:
Overland travel to Kiev, Ukraine to catch your first flight
Fly to Hanoi, Vietnam
Travel overland through Thailand and eventually to Kuala Lumpur, Malaysia
Next, hop down to Denpasar, Bali
Fly from Bali to Wellington, New Zealand
Fly to Mexico City, Mexico next
And then to Toronto, Canada
At last, fly back to Kiev before making your way home by land
Start wherever you are and plan an overland journey to Kiev. Take the train, take the bus, take your car and drive, even hitchhike if you like. Tour the gorgeous churches, visit Chernobyl, hike the breathtaking countryside. The Ukraine is a gorgeous country for intrepid travelers.
Fly to Hanoi, Vietnam. It's a great place to begin in Southeast Asia. Double check the availability of visas on arrival as the policy seems to change often. Order a hot bowl of Pho and celebrate the launch of your big adventure.
Journey overland through Vietnam, Cambodia and (or) Laos to get to Thailand, then turn south and head for Malaysia. Don't let your feet leave the ground. Soak in the sights and sounds. Travel slowly.
Fly out of Kuala Lumpur to Denpasar, Bali. Bali is a classic. Ubud is a great place to finally order green salads after weeks of plates of nasi goreng on the street. Find your peaceful place here.
Next, drop into Wellington, New Zealand. This country is a serious contender for the best place on earth for independent travelers. You've got to check it out. Hiring a camper van and hitting the roads is the best way to go.
From Wellington make the long leap to Toronto. Via Rail makes it easy to explore up and down the eastern coast of Canada: Ottawa, Montreal, Quebec City, even as far away as Nova Scotia. Don't stay in the city, take some time and find the real Canada.
Heading home, fly from Toronto. But not before you've explored the city, visited the country's capital, Ottawa, and taken a boat tour through the Thousand Islands of the Saint Lawrence River.
Total estimated cost for the flights for this trip? 2627 EUR.
1 EUR = 25 UAH (Ukranian Hryvnia)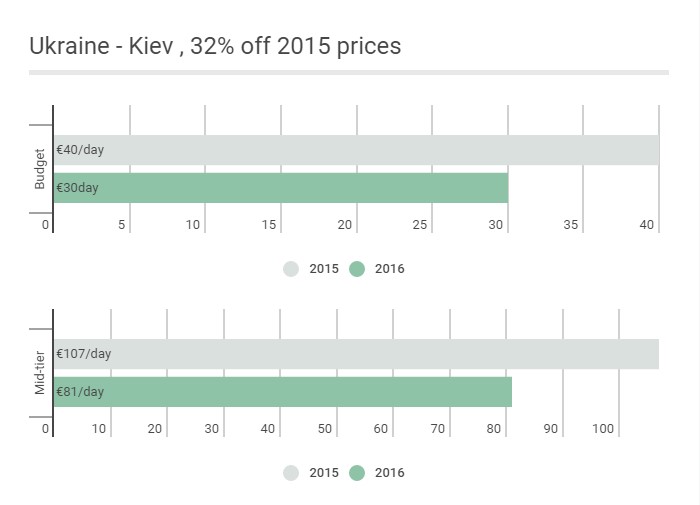 Kiev tops the Price of Travel European Backpacker Index for 2016. After last year's instability, Ukraine is recovering and is a fantastic place for independent travelers.
Be sure to spend a few days in spectacular Kiev. Hire a driver and take a tour of Chernobyl, complete with geiger counter. Set off into the countryside for some hiking. Spend some time enjoying the Black Sea at the historic port town of Odessa. Explore these five strange Ukranian traditions that you will love.
1 EUR = 2.21 TND (Tunisian Dinar)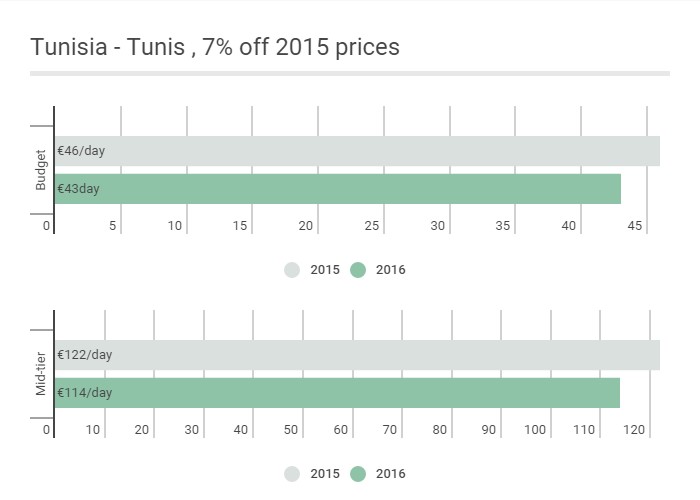 The dinar has gained slightly on the Euro this year but Tunisia remains a good choice for budget minded Europeans. With dozens of Mediterranean retreats and Roman ruins that are, arguably, better than the ones in Italy to ramble through, Tunisia is an inexpensive and somewhat exotic holiday for continentals.
If you've got more than a week or two for holiday, be sure to spend some time working your way down the Mediterranean coast and exploring the olive groves inland. The ruins at el-Jem are a gem. The sleepy town of Matmata (of Star Wars fame) will feel like visiting another world. And if you're lucky enough to be there mid-winter, the Festival du Sahara, at Douz, is not to be missed!
1 EUR = 1.51 CAD (Canadian Dollar)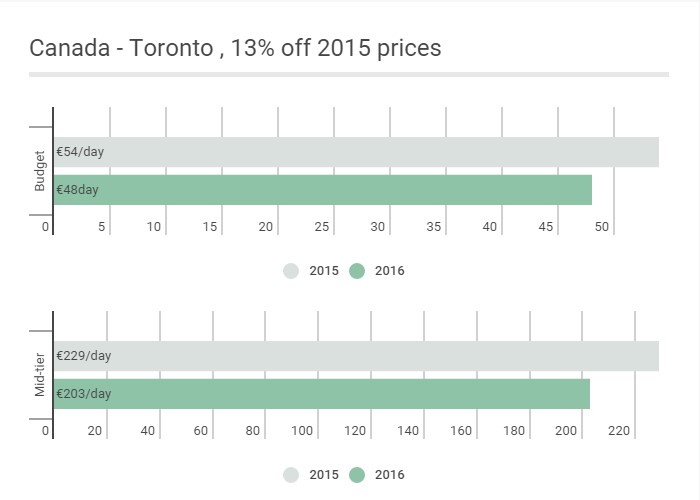 There is no better time for Europeans to visit Canada than now. With an almost 50% exchange rate, Canada becomes a first world budget destination. Cheap flights from major European cities to Toronto and Montreal make it almost worth a long weekend getaway.
There are more than 10 reasons to visit Canada now. It's home to some of the best skiing in the world, in the Rocky Mountains, at Banff. See the polar bears, at Churchill, and some of the greatest falls of them all, at Niagara. Feel the old world charm of the country's European roots in Quebec City, or dive even deeper into the indigenous history of Canada through the world class museums in Vancouver, Toronto (it's cooler than you think) and Ottawa. Discover indie travel in Canada for just $60 a day!
1 EUR = 18.76 MXN (Mexican Peso)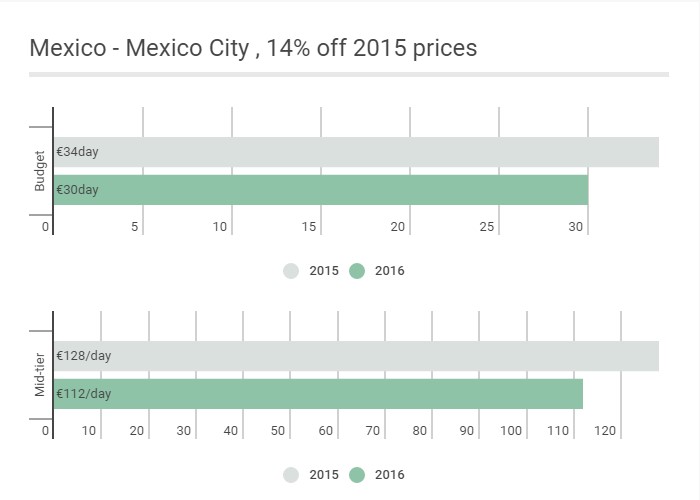 Mexico is always a good value for those holding first world currencies, but this winter it's a particularly good value against the Euro. With numerous mid-winter and spring break sales on beach resorts and all inclusive holidays, Mexico feels like a world away.
Beyond the question of whether Mexico is safe for solo travel (yes, it largely is) there are dozens of other questions about where to go and what to see. This is an incredibly diverse country that can't be neatly boxed within a two week visit. Mexico is more than just beaches, it's also bustling cities, amazing natural landscapes and a deep, rich, history that begs to be studied and explored. Ignore the myths, and take the kids to Mexico (or just yourself!)
1 EUR = 14939 IDR (Indian Rupee)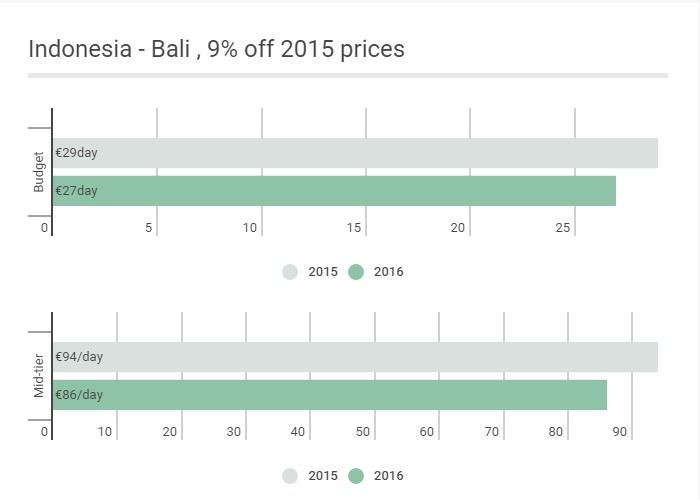 Indonesia remains a bargain destination once you get there. Flights are long, and not particularly cheap, but Bali is a beautiful place to warm up mid winter. If you're looking for someplace as far from Europe, in geography and culture as you can get, escape to the islands of Indonesia.
Bali, while inexpensive by European standards, is far from the best value in Indonesia. You could take a cooking lesson while you are there. Chase the dragon, in Komodo, explore exotic Sulawesi, or get off the beaten track and road trip Borneo if you want to branch out a bit.
1 EUR = 1.60 NZ (New Zealand Dollar)

For Europeans looking for a comfortable, yet exotic, "easy" destination, New Zealand is hard to beat. The exchange has remained great for Euro holders in 2015 and should remain promising into 2016.
Get started with the ABC's of traveling in New Zealand, be inspired by 7 stunning lakes on the South Island, and plan to stay for as long as you can. Maximize your time, value, and experience by hiring a camper van and exploring the back roads, if you're so inclined. Spend more time in Wellington than Auckland. Don't miss Christchurch's farmer's market, and splurge on the steamboat ride on the lake at Queenstown. Bungee jump if you must.
1 EUR= 3.72 PEN (Peruvian Nuevo Sol)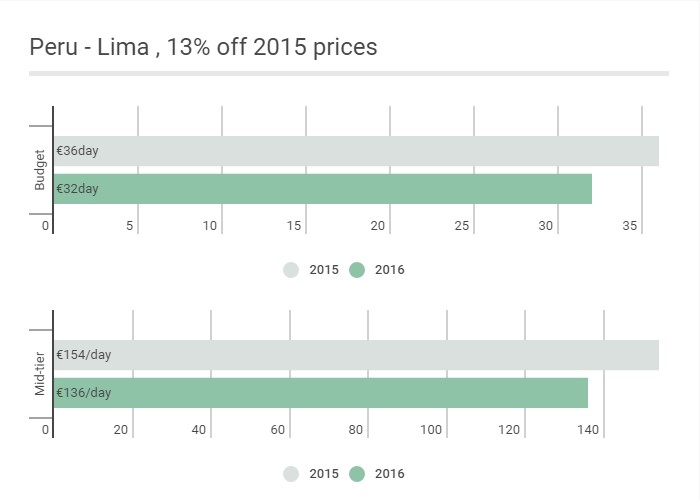 The Euro has gained nearly .10 PEN in the past year, adding value to an already affordable and amazing destination. With the Amazon rainforest, the ruins of Machu Picchu, ethereal Lake Titicaca, and some of the best trekking in the world, you really must add Peru to your 2016 bucket list.
Get beyond the well trodden backpacker trail in Peru with some of the hidden gems of the country. Rent a car and explore the Sacred Valley on your own. Don't let age slow you down, I took my mom to Peru this summer, after a 45 year absence, here are nine reasons Peru is fantastic for senior travel too!

1 EUR = 377 KZT (Kazakhstani Tenge)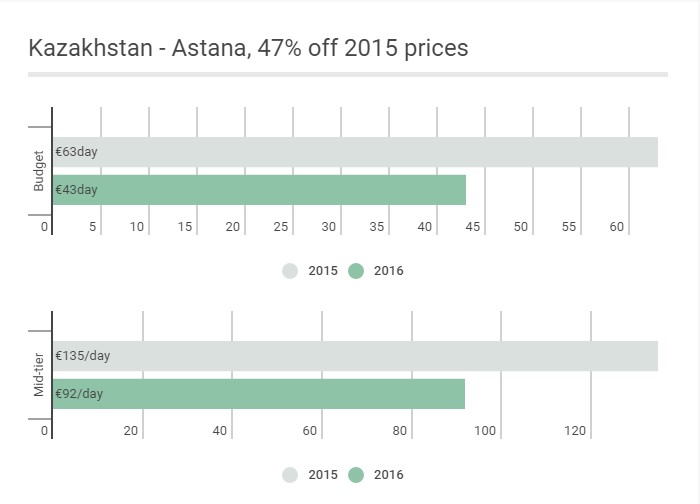 In August, the Tenge plummeted against the Euro when crude oil prices dropped and the government introduced a free floating exchange policy. Overnight, Kazakstan became a budget destination for Europeans. The KZT has continued to lose value against the EUR and it looks "good" for travel values into 2016.
Kazakhstan isn't a country that's on most people's travel radar. Why? Because it isn't easy and the tourism industry is emerging. Roughly five times the size of France, but with only about 17 million people, it's a country of contrasts. The people are highly educated (this is where the Russians blasted their rockets from) and yet the infrastructure is slow to develop. Discover how you can travel independently in Kazakhstan for $50 USD a day.
1 EUR = 1.12 KES (Kenyan Shilling)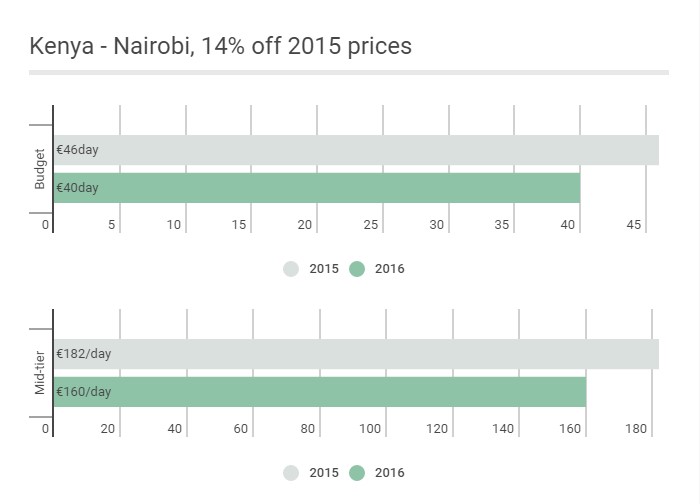 The Euro has gained slightly against the Kenyan Shilling this year, which means that those safaris are just a bit cheaper than they were last winter. Average indie travel in Kenya can be accomplished comfortably and safely for 50 EU a day. With safaris, expect to pay from 100 EU upwards, depending on the sort of safari you're planning.
Of course there is more to Kenya than the safari circuit. Spend some time exploring Nairobi. Consider getting off the beaten path and doing some indie travel around Kenya. Get your boots dirty and do some good working to save the endangered black rhinos, with Earthwatch. Make 2016 your year for getting your boots on the ground in sub-Saharan Africa. Kenya is a great place to start.
1 EUR = 24,730 VND (Vietnamese Dong)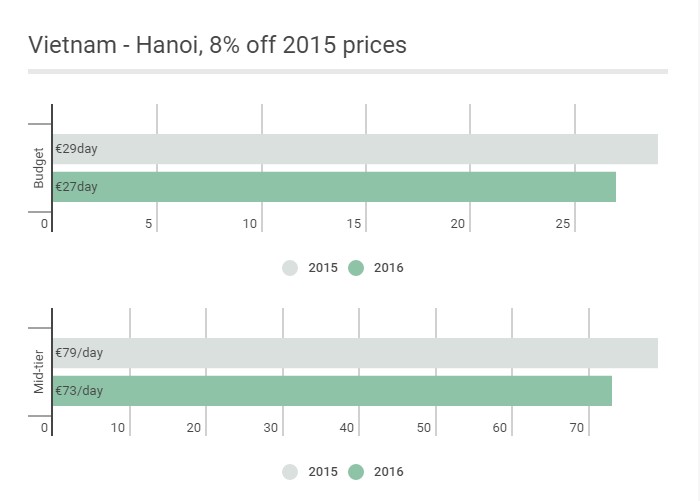 This is down from 26,050 this time last year, but Vietnam remains one of the very best budget destinations in Southeast Asia. Indie travel for less than 30 EU a day is very possible. The visa situation in Vietnam is often changing, so it's a good idea to research ahead of time what you need to get that arranged.
Once on the ground, Vietnam is a fantastic country for independent travel. It's a unique blend of communist ideals and capitalist advances. You'll find it a beautiful and sometimes frustrating dichotomy filled with people who are strong, resilient and full of life. The country is full of history lessons to be learned, sights, smells and flavors that are an assault to the senses. Don't leave without sampling a range of Pho dishes. Don't miss the lesser traveled Hue, and hang out at Vietnam's happiest beach town.
Source: We've used Numbeo to base our infographic estimates of overall cost comparisons of the individual countries.