Traveling is often about pushing yourself to your limits and living a little dangerously, which is why backpackers are increasingly challenging themselves to face their fears, break records, challenge their fitness and seek some thrills. Not satisfied with lazing on the beach, shopping and sightseeing, people are traveling far and wide to do something…well…a little more James Bond-esque. These action-packed, thrill-seeking, adrenaline pumping, death-defying activities are something to write home about…. if you survive!

Shark-cage diving in South Africa and Australia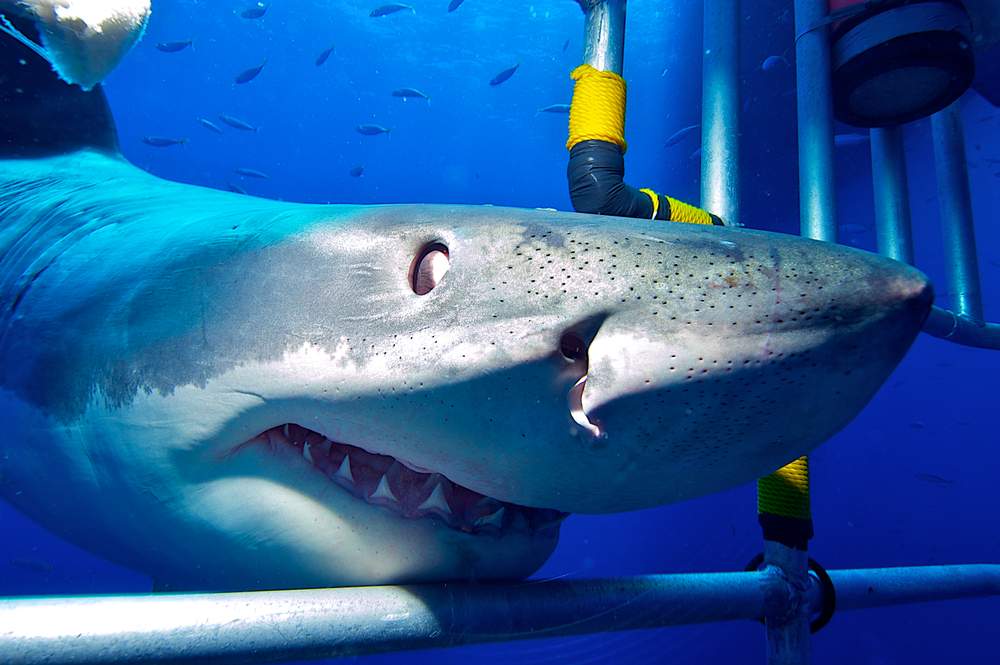 Most people, especially those who've seen the movie
Jaws
, hope they never see a Great White shark. Hear someone shout "shark" and swimmers usually start paddling as fast as they can. But those who seek to live a little on the edge and
get up-close-and-personal with one of the deadliest creatures on earth
, can. Shark cage diving can be done in the oceans off the coast of
Shark cage diving can be done in the oceans off the coast of South Africa (at Gansbaai) or in Australia where a boat takes you from Port Lincoln to the Neptune Islands. Bait is thrown into the water and then you wait for these deadly predators to follow the scent. The shark cage is lowered into the water and there is nothing to separate you and the sharks except the galvanized steel mesh cage with a viewing gap to get the perfect view of those shiny teeth.

Surfing the Jaws break in Hawaii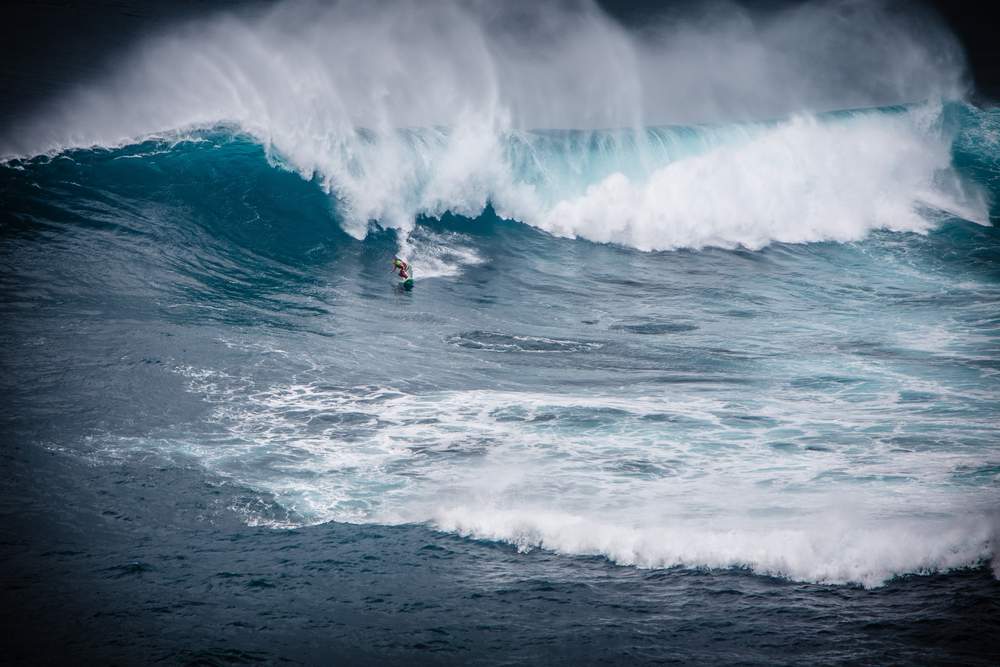 If you plan to surf one of the biggest waves in the world you'll need to be towed out there by a watercraft. Jaws is a big wave reef break on Maui Island,
Hawaii
and has waves which have reached heights of 120 feet that crash down at around 30mph.
The aptly named "Jaws" break is the home of tow-in surfing and has reached worldwide fame due to the photography and frequent filming of tow-in surfing legends.

Ice-climbing in the Rocky Mountains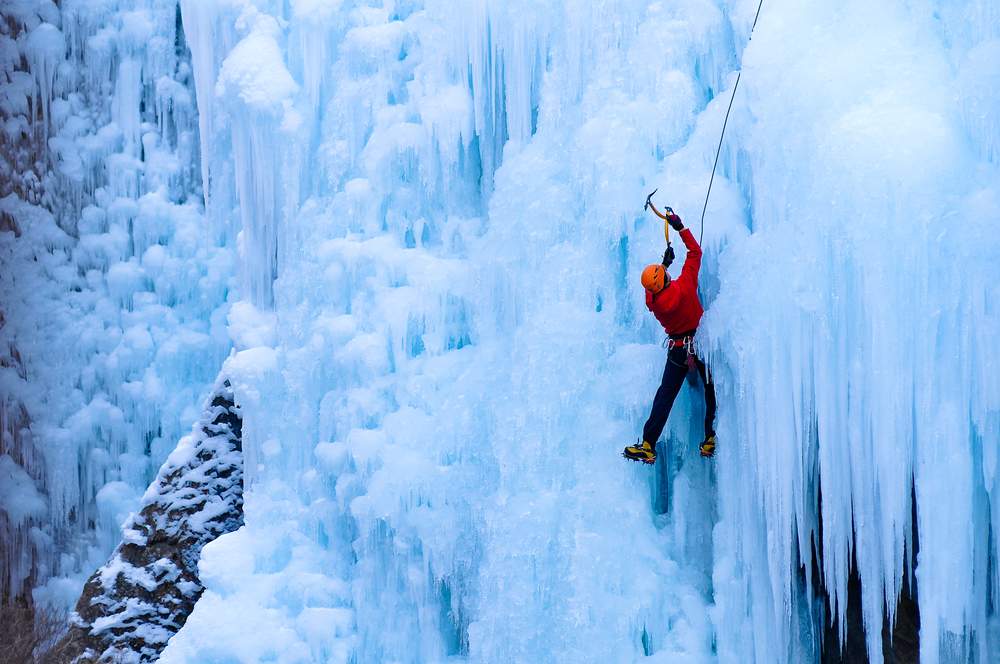 Ice-climbing is quickly becoming the new adrenaline sport for climbers who are bored with average rocks and who want something a little more fragile. Ice offers far more of a thrill, the risk of it breaking, the risk of an avalanche and the risk of getting hypothermia in the extreme temperatures.
Experienced climbers climb up frozen waterfalls and icefalls or mountains capped with ice for the ultimate thrill.

Rock-climbing in the Yosemite Valley
The climbing mecca of the Yosemite Valley is a haven for rock-climbing enthusiasts. The imposing El Capitan, Yosemite's granite wall rising 1000 metres above California's Merced River, is seen by many as the planet's most famous and greatest rock climb. .
Most climbers take around five days to make the ascent, while the quickest person to scale the wall did it in less than three hours.

High-altitude skiing in Alaska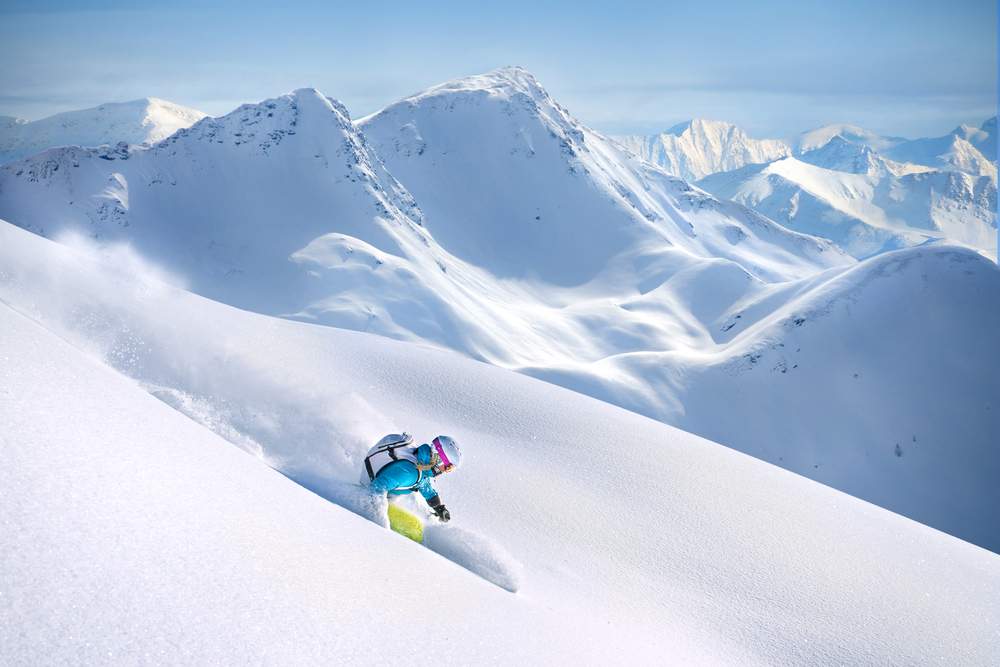 If you're a top-notch skier, take to the skies in a chopper and go heli-skiing to find completely untouched slopes and inaccessible peaks. The Chugach
Mountains in Alaska
is the best place in the world for helicopter skiing/boarding with slopes you have only ever dreamed of. You'll be dropped off by the helicopter on a remote peak 20,000 ft high with vistas in every direction.
Get ready for the most intense slopes you can imagine and the best runs of your life. Some heli-skiing packages include your own videographer to capture footage to create your own heli-skiing video.

Running with the Bulls in Pamplona, Spain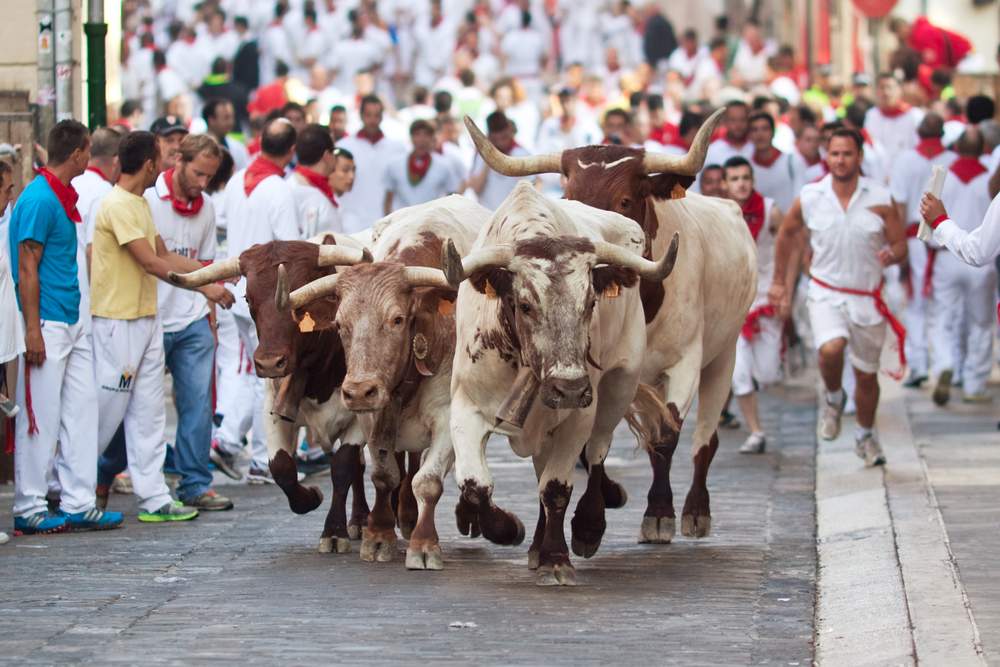 Running with the bulls at the
San Fermin festival in Pamplona
has become an event that attracts thousands of backpackers from far and wide. A small group of bulls is let loose through the streets on the 826 metre run to the bull ring. Anyone can participate and run with them, but 15 people have died since 1910, which is what makes this such a dangerous event.
While most tourists who attend this festival don't actually run with the bulls, those who do are at risk from the horns of the bull and the trampling of hooves and, technically once you start running, it is illegal to stop.

Sandboarding in Peru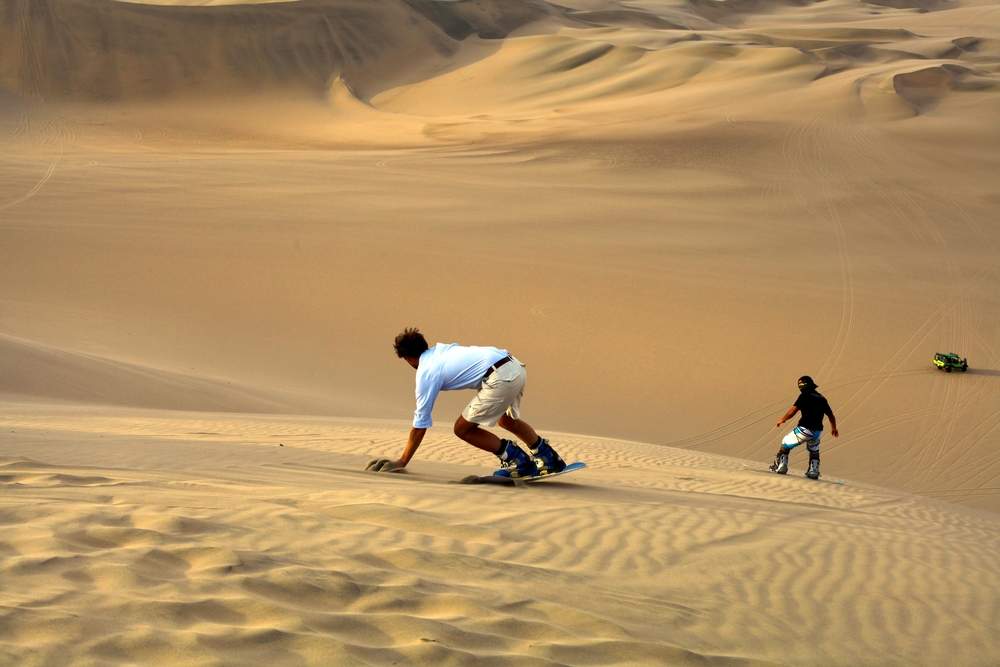 Like the idea of snowboarding but not so keen on the cold snow part? Or perhaps you're a snowboarder that can't wait for the season to begin. Then check out sandboarding – the latest craze that spans all seasons.
This extreme sport offers a similar rush to snowboarding except you're sweeping down a mountain of sand. The world's tallest sand dune at 2,048 metres is Cerro Blanco near the Andes mountain range in Peru; getting there involves a three- hour uphill hike in the heat. The ride down, however, makes it all worth it

Zorbing in New Zealand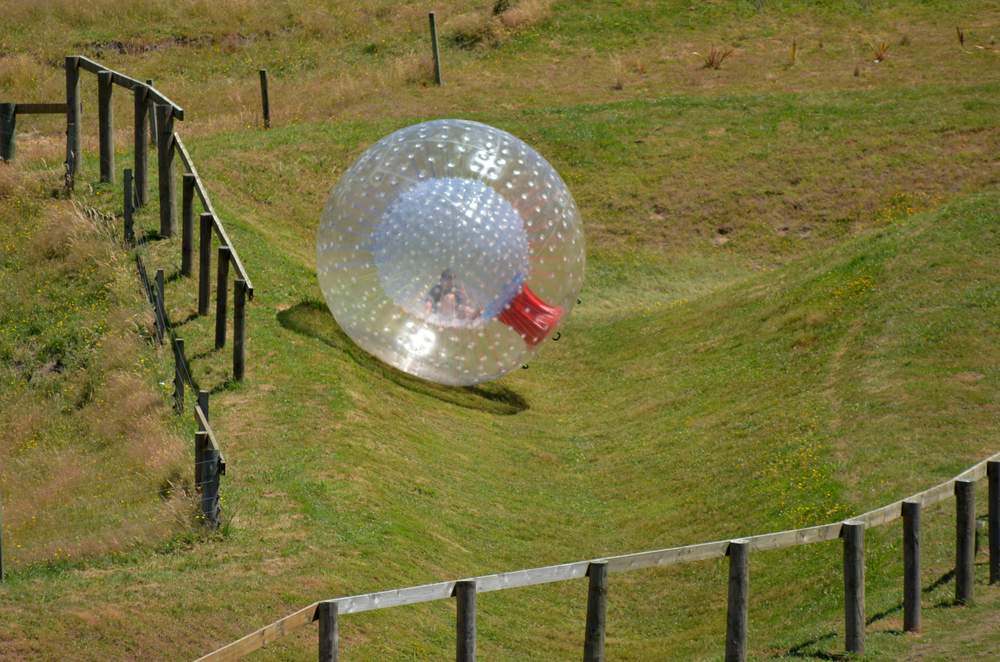 Something to put on your bucket list should be Zorbing, which – odd as it sounds – involves putting yourself in a giant inflatable ball and rolling down a hill. Zorbing was invented
in New Zealand
where the crazy Kiwis decided it would be a good idea to get inside a giant globe and roll to the bottom of a specially designed hill.
You can roll down wet or dry in one of two types, either the harness (dry) variety or the non-harness (wet variety) and there are a variety of tracks so you can roll down straight or in a zig-zag.

Bungee jumping off the Macau Tower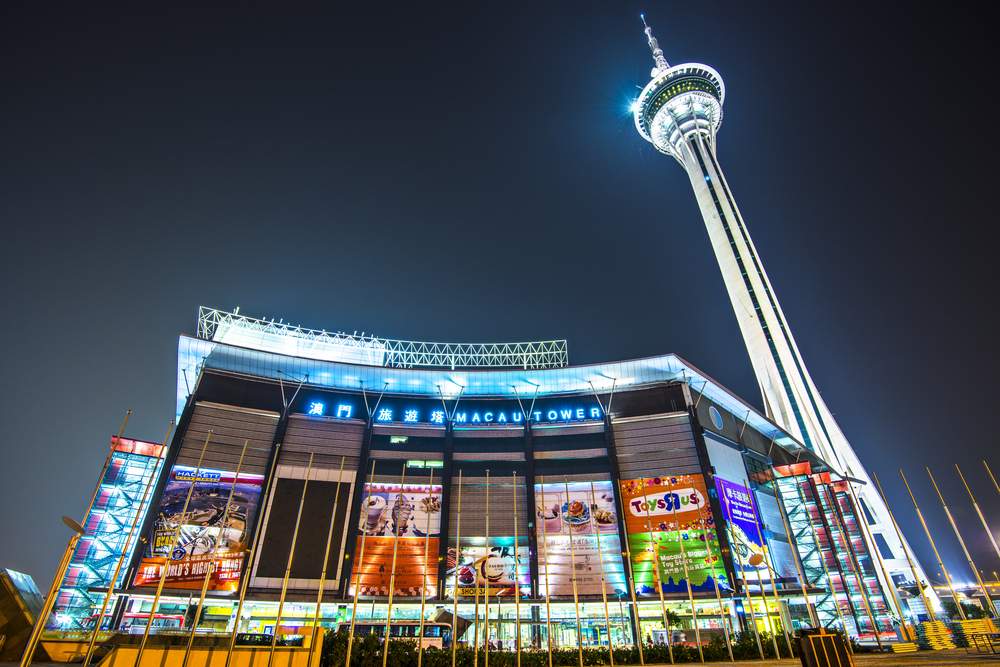 Many backpackers have bungee jumping on their list, but how about the tallest bungee in the world, from the Macau Tower? Throw yourself 233m down the side of this tower in Macau and you'll experience an adrenaline rush like no other as you plummet face-first with the ground rushing towards you.
The Macau Tower bungee is the most technical of its kind and allows the jumper to fall close to the tower without touching it. This means you have the wildest and most extreme bungee as the concrete tower is only metres away as you fall, acting as a reference for how fast you are traveling.

Riding Kingda-Ka, the world's tallest roller coaster, in New Jersey
The Kingda-Ka in New Jersey is the world's tallest, fastest roller coaster on Earth. For the mother of all roller coasters, go on this record-breaking ride which zooms from 0 to 128mph in 3.5 seconds and catapults you 45 stories into the sky. Get propelled horizontally at 128mph, shoot 90 degrees into a quarter-turn, blast 456 feet high, then plunge into a 270-degree spiral and experience weightlessness as you swoop down a valley and up a 129-foot camel hump.
If the description alone is enough to make you dizzy, you might want to think about foregoing lunch before you get on this ride because; after you're likely to be walking in a zig-zag with your stomach churning.

BASE jumping off the Perrine Bridge in Idaho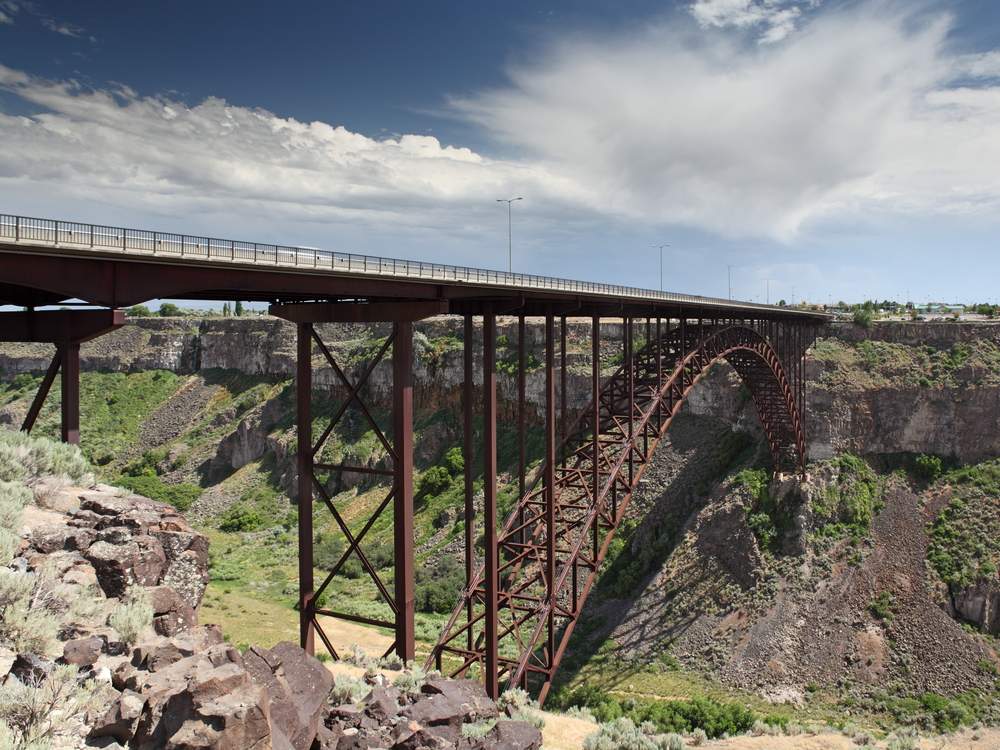 If you thought Skydiving was scary, then you might not want to try BASE jumping, the "sport" in which instead of jumping out of a plane you jump from a fixed point. Ever wondered what it would be like to jump off a cliff? Well, this is as close as you're going to get, except you have the safety of a parachute.
The Perrine Bridge in Idaho is the only bridge where BASE jumping is tolerated in the US – meaning the sport is allowed year-round without a permit and the worry of being arrested. It's the most-jumped spot in the world, with up to 5000 jumps taking place per year, but the jump is to be treated with respect. If you make a poor judgment or something goes wrong as you jump off the 500-foot bridge you'll be quickly engulfed by the Perrine.

Flying a Mig-25 – Top -Gun style – in Russia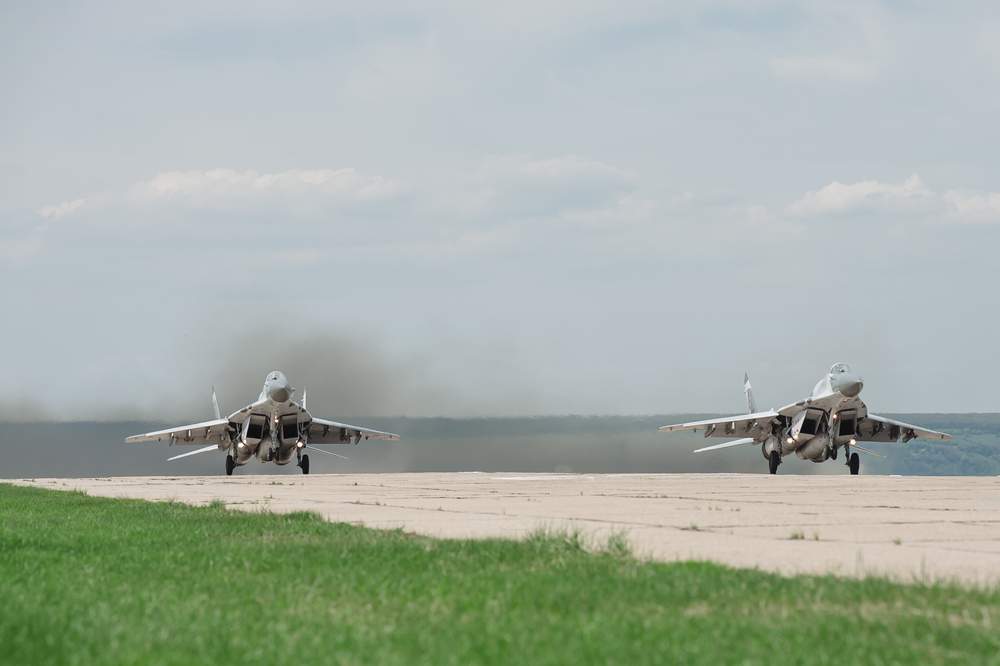 Fancy being Goose or Maverick for the day? Try flying in a legendary MIG fighter aircraft in Moscow, Russia. This is the only place in the world where you can take an MIG flight; it starts and ends with Russia. These aircraft can take you to the Edge of Space, where few aircraft are capable of flying.
You'll be able to see the curvature of the Earth at a height over 2.5 times the height of Everest and 55 times the height of the Empire State Building. The American Institute of Aeronautics and Astronautics even refers to the altitude as "near space." The MIG-25 can reach ridiculous speeds of Mach 3.2 and if you're lucky, your pilot will perform Top Gun maneuvers.

White-water rafting the Zambezi river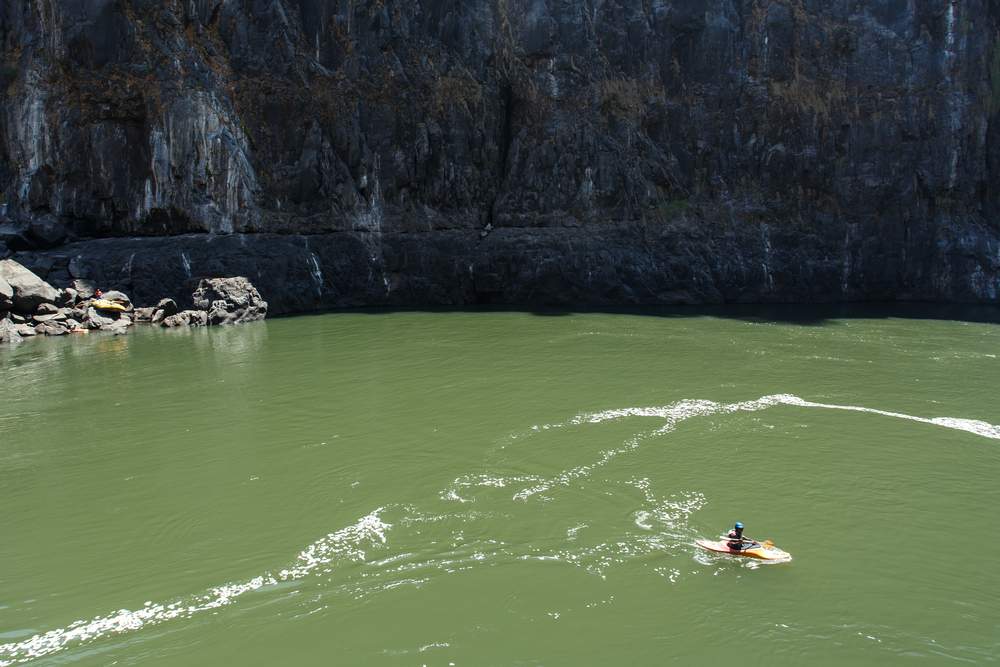 Not just your average white-water rafting experience, when you go rafting down the Zambezi River you'll be accompanied by hippos and crocodiles. Start your journey under Victoria Falls and raft down a river like no other as you are pounded by the white-water rapids.
Between July and January, Botoka Gorge produces Class 5 rapids, but be careful not to fall in. Hippos laze along the riverside, monkeys swim in the trees and crocodiles swim beneath you…

Biking on the "Road of Death" in Bolivia
By the name, you can tell that the road nicknamed "Death Road" isn't just your normal biking road. Local people pray before using it and the nearest hospital is a two-hour drive away. Officially declared the most dangerous road in the world, you would think it would deter people, but it attracts bikers for this very reason; the sheer challenge and adrenaline rush.
El Camino de la Muerte begins high up in La Paz, Bolivia and runs for 40 miles through the lush Amazonian jungle to the town of Coroico. The road is notorious for its narrow lanes, harsh terrain and sheer drops of thousands of feet.
Photos by: Photo by: Shutterstock.com, Stefan Pircher/ Shutterstock.com, Stefan Pircher /Shutterstock.com, Frank Molter / Shutterstock.com, Mavrick /Shutterstock.com, Matthew Connolly /Shutterstock.com, mRGB /Shutterstock.com, ChameleonsEye /Shutterstock.com, Migel /Shutterstock.com, Jan-Niklas Keltsch /Shutterstock.com, Sean Pavone /Shutterstock.com, nikitsin.smugmug.com /Shutterstock.com, Evgeny Sribnyjj /Shutterstock.com, Sam DCruz /Shutterstock.com, mezzotint.