With celebrations around the world appreciating all that vintners and brewers have to offer, it's tough to decide which festivals to get on your calendar. In a world where everything from garlic to clam chowder has its own festival, where can an imbiber truly be satisfied? Aside from the beer festival of all beer festivals – Oktoberfest in Munich – what are the best options for proper beverage appreciation? From February to October, whether to learn from those who produce the best in the world or to catch a glimpse of your favorite faces, here are the noteworthy events you should book your tickets for.
South Beach Wine & Food Festival – Miami, Florida
Along the sunny coast of southern Florida, the Food Network South Beach Wine & Food Festival roars into the sexy city of Miami at the end of every February. Recently celebrating its tenth anniversary, this event brings the most recognizable of faces within the food world. From Martha Stewart to Anthony Bourdain, the often-sold-out SOBE weekend includes a half-mile Grand Tasting with grand white tents surrounded by beach and packed to the gills with beer, wine, and delicious bites. Certainly make time for a little sun while you're in this nearly tropical locale, with hotels spread along both Collins Avenue and Ocean Beach Drive only a moment from the beach. From fashion to food, in the city of see-and-be-seen, don't miss the city's Art District featuring artists of every medium as well.
>> Look for cheap flights to Florida
>> Find hotels in Miami
>> Read our tips for having an indie travel experience in Miami.
Vancouver Playhouse International Wine Festival – Vancouver, British Columbia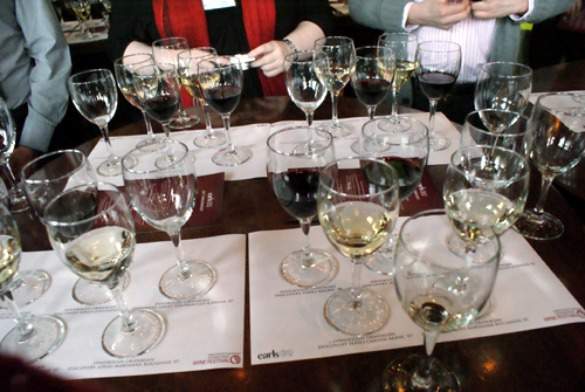 From the capital city of British Columbia, this fabulous wine festival held each year in early spring boasts a long list of national and international wine favorites. Touted as Canada's premier wine event, this golden weekend of events is held in early spring, with sessions and dinners for both trade professionals and wine enthusiasts. Those looking to add to their vino collections can purchase bottles and cases of exclusive pours during their attendance at the Playhouse International Wine Festival's gala and auction, the diamond event of the weekend. While in town, sea lovers will also appreciate the Vancouver Aquarium Marine Science Center exquisite aquarium located in the city's Stanley Park, while diehard skiers may have a chance to get a few late season runs in at nearby Whistler.
>> Find cheap airfare to Vancouver
>> Book budget hotels in Vancouver
>> Plan your trip with our Vancouver city guide
Tasting Australia – Adelaide, South Australia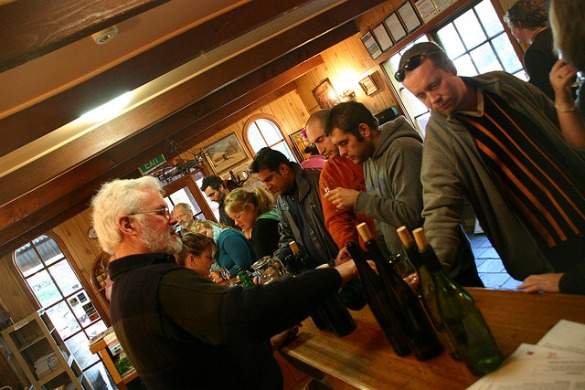 Taking place every other spring (on even years), this weeklong food and wine celebration features workshops, demonstrations, and events designed to inspire and entertain. Well-knowns, from kitchens to television, make an appearance, bringing thousands of fans to this seaside destination. In the heart of Adelaide, you'll find the historic North Terrace, housing the city's museums and government offices, as well as the shopping mecca that is Rundle Mall. While in town for Tasting Australia, travelers can also visit the beautiful coastline by taking in the city's vintage tram from Victoria Square to the seaside suburb of Glenelg, where visitors can enjoy restaurants and shops lining the popular beach.
>> Find cheap flights to Australia
>> Plan your trip with our Australia travel guide
Food & Wine Classic in Aspen – Aspen, Colorado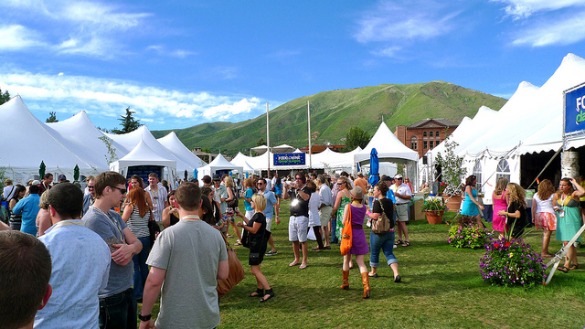 The festival that started it all – at least stateside – happens in the beautiful AspenValley every June. After nearly thirty years in operation, the Food and Wine Classic includes the top beer and wine in the world, from North America to South Australia. Top chefs and restaurants make an appearance at this annual event, offering up demonstrations and meet-and-greets throughout the weekend, with culinary favorites like chefs Tom Colicchio, Bobby Flay, Jacques Pepin, and Masaharu Morimoto on hand to enjoy all that the weekend has to offer.
With crystal blue skies and tree-lined green mountain surroundings, visitors to the popular summer and winter destination can stop to take a gondola ride to the top of Aspen Mountain to truly enjoy the views or linger through the town's cobblestone streets for a leisurely afternoon experience. Both shopping and dining are top-notch, so be sure to have your wallet handy for those memorable experiences and treasures.
>> Look for airfare to Denver
>> Read more about things to do in Denver and the surrounding area
>> Check out our indie travel tips for Denver
International Pinot Noir Celebration – McMinnville, Oregon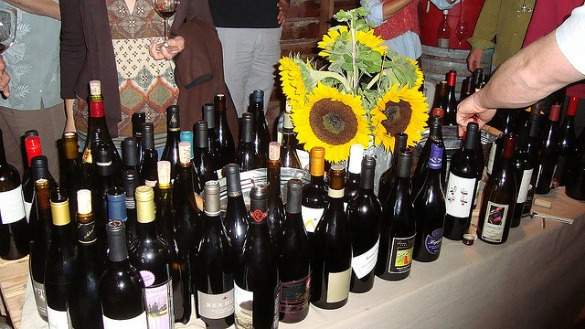 Bringing wine enthusiasts from around the world to the beautiful vineyards of Willamette Valley each July, the International Pinot Noir Celebration focuses on the very best pinot noir available. With over seventy producers, plus chefs, media, and guests, this four-day event is filled with seminars, winery tours, book signings, and dinners to please even the novice of wine lovers. Amid the lush hills of the award-winning wine valley, visitors to this event have the opportunity to learn more about the terroir and taste of their favorite wines directly from the winemakers themselves, providing an exclusive insight to the world of wines. With both food-fantastic Portland and the rocky beaches of the Oregon Coast within driving distance, attractions like the world famous Rose Garden and the kid-friendly McMinnville Air Museum are at every turn.
>> Look for cheap flights to Portland
>> Learn more about Oregon wineries
>> Plan your trip with our Portland travel guide
Oktoberfest – Munich, Germany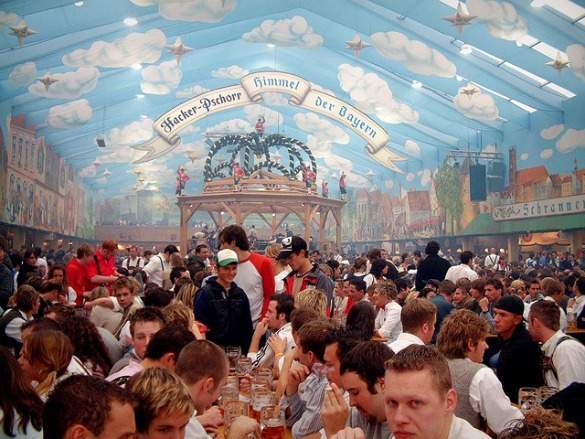 Who could make a list of beer and wine festivals without including the end-all, be-all beer festival of them all. The original Oktoberfest in the heart of Germany is one to put on your list, particularly if you appreciate a great German beer. Headquartered in Munich, this annual festival, held for a two-week period spanning the end of September and beginning of October, includes music, food, and more beer than you can imagine.
Festival rides, games, food booths, and beer gardens are also included in this massive event, which attracts thousands of internationals guests each year. In addition to a strong history – both politically and with regard to brews – Munich city sights include a Hofbrauhaus, English Garden, and the historic Olympic Stadium, where the newsworthy 1972 Summer Olympics were held. You can also enjoy one of the numerous bus tours available – whether you fancy a look at the city or a view of the regal castles dotting the Bavarian countryside.
>> Look for cheap flights to Munich
>> Find hostels in Munich
>> Read about how to enjoy Oktoberfest on a budget
Great American Beer Festival – Denver, Colorado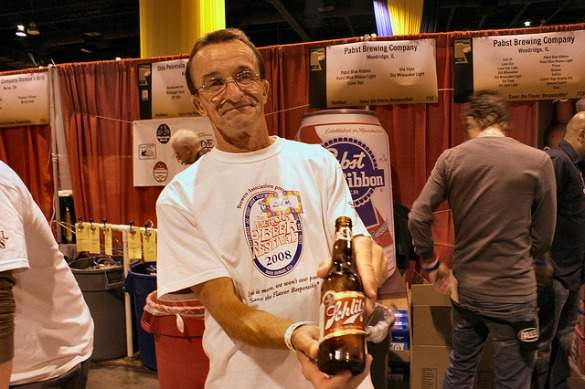 For beer fans nationwide, this is the event to attend each year. Taking over the Denver Convention Center for three days, the Great American Beer Festival brings breweries from Maine to California – and everywhere in between – for tasting sessions, product reviews, and brew-inspired dinners. Though you'll have to choose between Oktoberfest and the Great American Beer Festival, as both run through the end of September/beginning of October, there are plenty of things to see and do while in Denver, including the Denver Art Museum, which houses one of the world's greatest collections of Western American art.
>> Look for airfare to Denver
>> Find cheap hotels in Denver
>> Read more about things to do in Denver
For more on beer and wine festivals, check out seven Oktoberfest celebrations around the world,  and read about the Beaver Creek Wine and Spirits Festival, held in Colorado each August. And when you need some food to balance all that booze, check out seven classic and weird American summer food festivals.

Photos by: Bob. B. Brown, Philip Morton, SanFranAnnie, fall-line, Daniel Spiess, Night Owl City