Just about every hotel will hang a little painting on the walls of its rooms. But there are hotels that far transcend the ordinary, turning the entire room into a designed work of art. In some cases, this will involve hiring a specific artist to outfit the entire establishment, while other hotels will assign each room to a different artist. Then, there is also the option of making each room represent a specific theme. Such hotels make for a more than interesting stay, as you literally sleep in a work of art.
Here are 9 of the coolest art hotels in the world: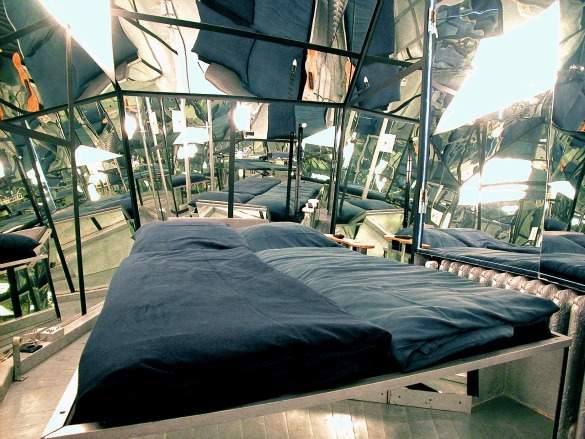 The Propeller Island City Lodge features 30 rooms designed by the German artist Lars Stroschen. "Living in a work of art" describes this establishment more than "hotel." Each room is absolutely unique, and by "unique," they mean literally, for the entirety of all furnishings and other objects you will discover here are custom-made, individual handiwork. Thus, you might as well call the city lodge a museum with guest accommodations. The latter vary from the tame to the extreme. For example, you might find yourself staying in a padded cell (room 28) or in a cage (room 43). The above photo shows Room 15, also known as "The Mirror Room." The diamond-shaped room is completely laid out with mirrors and gives you the impression of living in a kaleidoscope. "Caution: Very Sexy!" warns the website description.
>> Book flights to Berlin, find a Berlin hostel or get tips for visiting Berlin now 
2.     Hotel Fox – Copenhagen, Denmark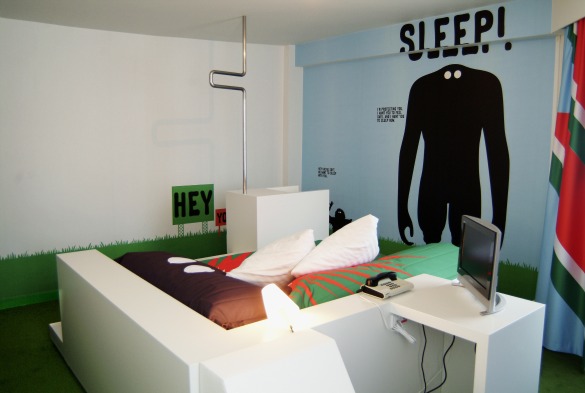 At Hotel Fox, a modern and individual atmosphere is met by re-conceptualization combined with first-class service. 21 international artists, including graphic designers, urban artists and illustration experts, helped make this unique creation possible. Each room is an individual piece of art – from wacky comical styles to strict graphic design, from fantastic street art and Japanese Manga to simply spaced out fantasies. "61 rooms, 21 artists, 1000 ideas," as the slogan says.
Above, you can see an image of room 106, also titled "Sleep Well" by French artist Geneviève Gauckler. Gauckler normally works with graphics software, creating colorful, collaged, kaleidoscopic mandala-like worlds defined by computer graphics. This room is the first time she worked on interiors. To her, the experience was a blast: "It's just your stuff and nothing else: No logo and no barcode to add! The glorious, technicolor-dream-coat room where rocking horse people eat marshmallow pies."
>> Find airfare to Copenhagen
or book a hostel in Copenhagen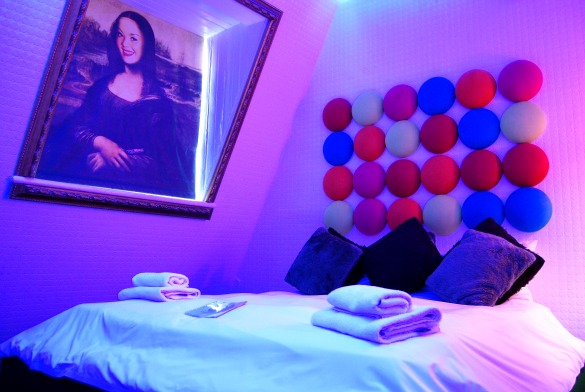 At the Daddy Long Legs Boutique Hotel, each of the thirteen rooms is uniquely designed by an artist, poet, photographer, designer or musician. Since each of these contributors was awarded complete freedom to interpret the space as he or she pleased, the result is a collection of hotel rooms that are an adventurous, humorous (and sometimes ironic) representation of Cape Town's contemporary cultural landscape.
The photo above displays "The Freshroom," designed by Karl Straub. While all the other rooms at Daddy Long Legs are devoted to artistic concepts, this one is the only one based on a commercial item: Mentos. Yet it is more than a Mentos advertisement. The room, in the typical unexpected style that pervades the hotel as a whole, includes more than 2500 rolls of Mentos. The majority of them form part of the furniture, which includes Mentos mints as part of the mosaics in the shower and wallpaper on the wall. Here, on the wall, you also find a Mona Lisa dressed in pin-up style and holding out a Mentos. And if you want to change up the lighting a little, turn the round knobs (on the side of the bed). They make the room color change.
>> Buy tickets to Cape Town, find out what to do with three days in Cape Town , and check out these tips for having an indie travel experience in Cape Town.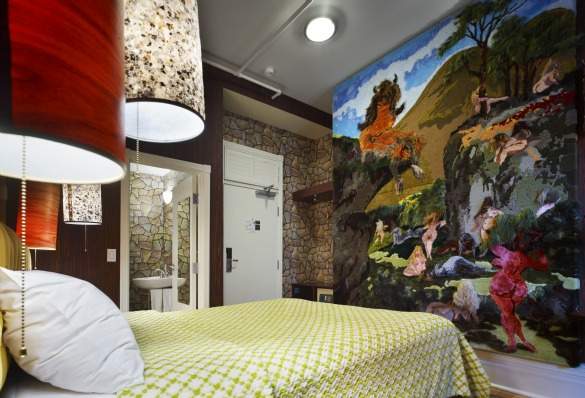 "Stay and sleep in a work of art!" is the slogan of this establishment. Located in one of Toronto's most vibrant neighborhoods, the Gladstone Hotel is a  values-based business dedicated to offering an immersive and authentic experience to its guests. This establishment transcends the traditional services of a hotel. In addition to witnessing unique artistic events (more than 100 per month), you can sample local culinary delights here, too. Last but not least, the hotel aspires to be sustainable in all forms.
Each of the thirty-seven guests rooms have been individually designed by local Toronto artists. The above photo shows room 304 "Faux Naturelle" by Allyson Mitchell. Here is her artist statement about the room: "The hotel guest staying in this fairy glen will have a jumb-o-tron view of a bevy of husky wood nymphs frolicking in a forest glade via a giant erotic fun fur canyon scene covering the largest wall in the room." To view a video about this particular room, including an interview with the artist, click here.
>> Find a hotel in Toronto , search Toronto airfare , and find out how to have an indie travel experience while visiting Toronto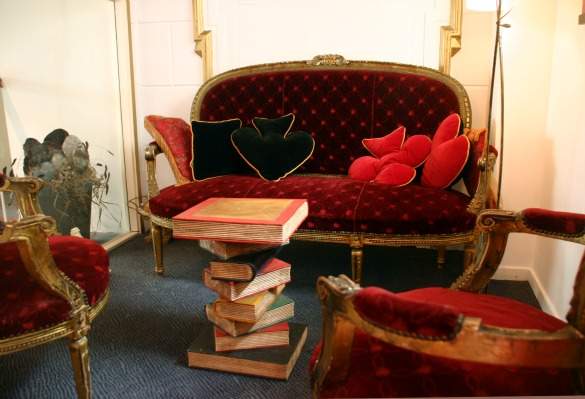 Housed in authentic 19th century buildings, this hotel is ideally situated in a quite location next to the Vondelpark. There are 38 rooms for you to choose from, but be aware; they aren't all the same. Quite the contrary; each room has a diverse philosophical and cultural style. To be exact, each room carries the name of a notorious philosopher, and the decoration, in turn, may include original artworks that relate to that particular persona.
Love Georges Bataille? Then stay in the "Passion Room" and reminisce in the philosopher's book, "The Tears of Eros." It is this masterpiece that served as inspiration for the style of the room. And if you're just coming with a friend, you might be glad to know that the room is founded on the concept of Platonic Love. In addition to the theme of passion, this room also links in with the teachings of the four elements: earth, air, water and fire. The dominant colors of the room are red and gold.
>> Compare prices on airfare to Amsterdam or read our Amsterdam travel guide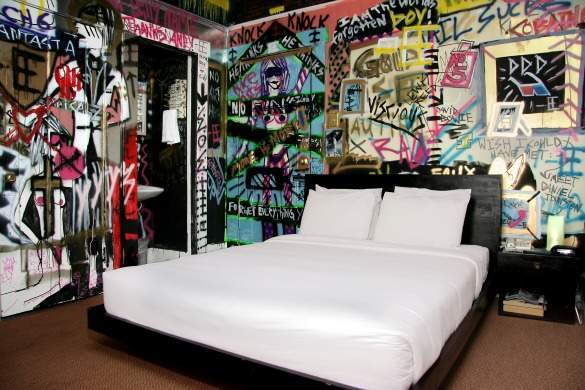 Each of the 43 rooms at this boutique hotel is painted by a different emerging artist from around the world. The hotel is located in the heart of downtown San Francisco's French Quarter, at the crossroads of Union Square, the Financial District and right next to the great gates of Chinatown. In this unique location, Hotel des Arts offers the opportunity to experience art in a new and more immediate way than a gallery or studio.
The above photo shows Room 506 by Brian Ermanski, whose urban-primitive, naïve aesthetic has been compared with that of Basquiat. In Ermanski's Painted Room, the words "She is tan" appear in one corner, apparently describing someone he just met. Near the bathroom, you can see a quick spray-can rendition of a Chanel #5 bottle. "I saw Scarface last night." "I am the world's forgotten boy." "JZ is @ Sway."
>> Find flights to San Francisco or book a San Francisco hotel 
7.     Le Monde Hotel – Edinburgh, Scotland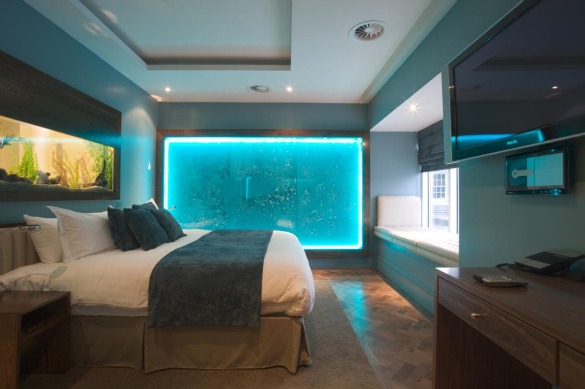 Who ever thought you had to come to Edinburgh to then stay in Los Angeles? At the Le Monde Hotel, this is possible. Here, can choose from a total of 18 rooms, each one of them named after a different city. The photo above, for example, depicts the Atlantis room. If you love fantasy, this is the room for you. On the wall, you can admire an oversize artwork that portrays the underwater world in its full glory. And as you lie in bed, you can look up towards an aquarium. If that's too much and you need to wake up, head to the bathroom, where you can experience a rainfall shower right above the bathtub. And if all those in-room highlights aren't enough, the hotel also comes with three bars: one called Milan, and the other two Vienna and Paris. In addition, you can dance the night away at the Shanghai Club. "Imagine dining in Paris, clubbing in Shanghai and waking up in LA…" warns the company website.
>> Book a flight to Scotland or read about whisky tasting in Edinburgh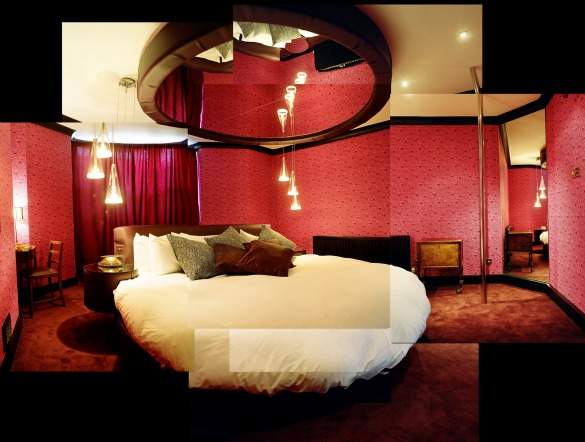 Hotel Pelirocco describes itself as the "real rock 'n roll hotel." Its 19 bedrooms are themed around pop subculture, provoked by visionary artists, maverick musicians and inspired individuals. Overall, it reflects the melting pot of culture that Brighton stands for.
The hotel is particularly proud to have a room decorated by the notorious Brighton twosome Stevi and Emma of Ophelia Fancy, a "Pin Up Parlour" dedicated to Diana Dors – the UK's answer to Marilyn Monroe and a sexy leopard print-clad boudoir dedicated to 50s bombshell Betty Page. Both Rough Trade and Skint records have put their names to a room at the hotel along with legendary punk artist Jamie Reid of Sex Pistols fame. Devotees of Muhammed Ali can stay in the knock-out "Ali's Room." New in 2010 is also the Stolichnaya-sponsored "Stoli Salon" – a contemporary take on soviet chic, equipped with chaise longue, furs, mood lighting and even Russian style hats.
>> Book a hostel in Brighton or read about more places to go in England outside of London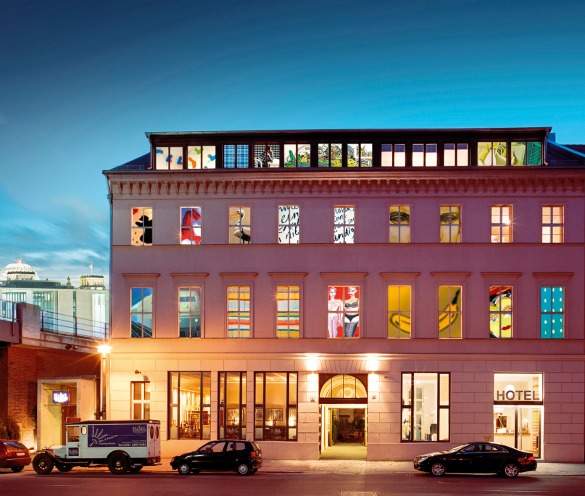 This hotel is often called a "gallery where you can spend the night" and is located in one of the city's most exciting neighborhoods: Berlin-Mitte, the city center. Comprising a neo-classical residential palais dating from 1825 and an addition built in 2003, the hotel has a total of 50 rooms, a generous lobby, and an art gallery that also serves as a venue for events. All rooms in the hotel have been individually decorated by a renowned artist. Every room is an original, and the only thing that they all have in common is high artistic quality. The sculptures in the lobby and the philosophy in the stairwell accompany guests en route to their rooms.
Those who want to learn more about Germany's past, for example, can choose to stay in Room 432, titled "The History of Berlin." Others who prefer the future over the past can opt for Room 431, called "Future Comfort." To find out more about the individual rooms, click here. Information on the artists, in turn, can be viewed here.
 >> Read about what to drink, and where, in Germany 
Read about other unique sleeps around the world: 
Photos: Lars Stroschen for Propeller Island City Lodge, diephotodesigner.de (Hotel Fox), Courtesy of Daddy Long Legs Boutique Hotel, Courtesy of Gladstone Hotel, Sandton Hotels, Courtesy of Hotel des Arts, Le Monde Hotel, Hotel Pelirocco, Arte Luise Kunsthotel.