Want to add these beaches to your RTW itinerary? Don't know where to start? Sign up today for Plan Your RTW Trip in 30 Days and start receiving email lesson plans tomorrow – it's free!

If you're a traveling family, sign up for the Family Edition of Plan Your RTW Trip in 30 Days.
---
If you are like me – and admit it, you are – you like being the first in your group to see a new country, to have visited a hotspot before it was hot and to have discovered a gem that is still untouched and untarnished by tourism overkill.
Well, cities can be quaint and attractions, charming, but nothing beats the discovery of a new-found beach paradise.
So, move over Maui, here are seven of the best hidden beaches in the world, and they are not staying undercover much longer.
Cousine Island, Seychelles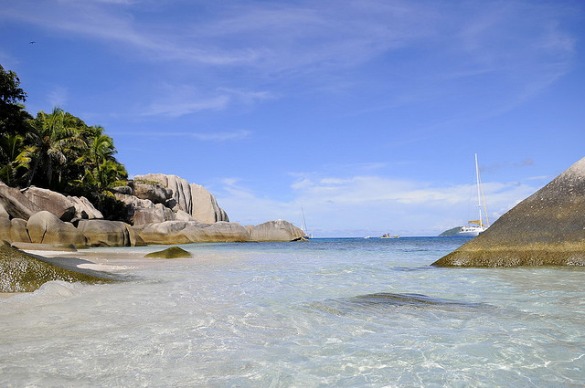 Looking for a private island where you and seven of your closest friends can spend the days sipping mai tais, exploring near-deserted land and giving back to the environment all at the same time? Then, start picking euros from the money-tree, honey, because Cousine Island, one of the 155 islands that make up the Seychelles Islands in the Indian Ocean, costs a whooping €6,500 per night. Ahhh, but that is a small price to pay for absolute isolation, right?
Only reachable via helicopter, Cousine Island accommodates up to eight people per day in one of their four exclusive island villas, with all of the proceeds from that hefty ransom being used to sustain the island.
>> Find flights to the Seychelles
Caprera Island in Sardinia, Italy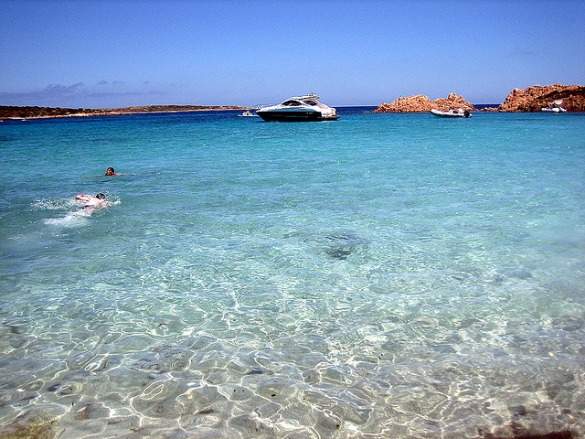 The Maddalena Archipelago, located on the northeastern end of Sardinia is composed of seven islands and 55 islets that are scattered along the most seducing stretch of sea in the Mediterranean. Caprera Island, which isn't actually an island since the Passo della Moneta footbridge was built to link it to Maddalena, is most known for the pink granite rocks that adorn its shores.
Nineteenth Century Italian patriot, Giuseppe Garibaldi bought Caprera in 1855 and planted the first pine trees that now cover the land. A century after Garibaldi's death, Caprera was freed from military restrictions and the area is now fully open to the public. There are no hotels on Caprera but one of the most enchanting ways to see those pink rocks are via a chartered yacht from Scarlino.
>> Find out how to get to Sardinia and discover things to do in Sardinia
Whale Island in Vietnam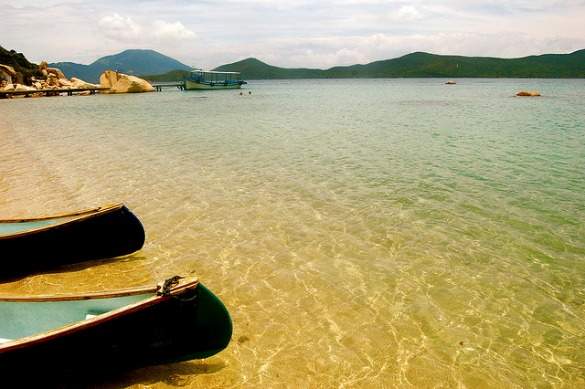 I'll give you three guesses what type of marine mammal you'll see at Whale Island. You guessed it – whales. (Smart readers, aren't you?) Whale Island, famous for its whale-spotting and coral reef snorkeling, is the type of beach backpackers write home about. Located just two hours north of Nha Trang – and an additional 30 minute boat ride away – Whale Island boasts translucent waters, diverse coral reefs and untamed coconut trees.
Whale Island Resort, the only building standing on this almost-deserted island, promises its guests complete isolation with an injection of Vietnamese charm. Guests can spend their days diving in the waters that spurred Jacques Cousteau's underwater obsession, snorkeling, windsurfing, sailing or swimming.
>> Find airfare to Vietnam and book hostels in Nha Trang
Luskentyre Beach in Harris, Scotland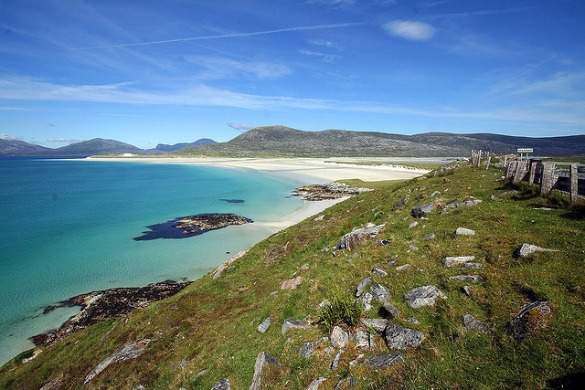 Scotland might not be the place to go if you are looking for a conventional beach vacation … but who wants conventional? The west coast of Harris, Scotland is filled with golden-sand beaches that remind vacationers more of the South Pacific than of Scotland's Highlands.
Sparsely inhabited, Luskentyre has a few farms and vacation homes, a couple of cemeteries and the best beach views in the UK. The best place to go is where the pebbled beach curves into the vast sand dunes where the North Harris Mountains tower in the distance.
>> Search for flights to Edinburgh and book hostels in Aberdeen
New Chums Beach in New Zealand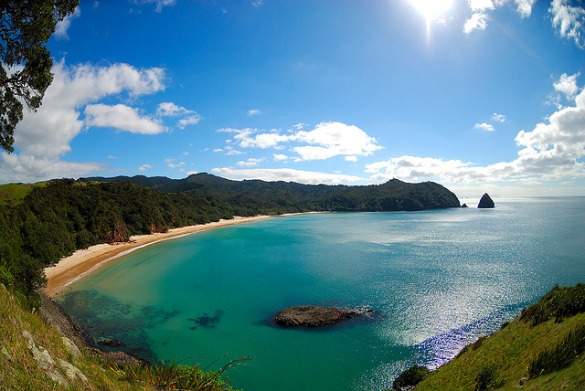 Forget about taking an airplane or a speed boat to reach this beach, if you want to soak in the sun at New Chums, you are going to have to get dirty. Located in Wainuiototo Bay – 15 kilometers from Coromandel – New Chums Beach is a 40-minute walk from all of the action.
Beach bums in search of the holy grail of unspoiled sand will have to wade through the shallow lagoon of Whangapoua Beach and follow a rocky shoreline for 30 minutes to reach the golden coast of New Chums Beach. Standing proudly like a portrait from your favorite Lost episode, the overgrown pohutukawa trees brush the coastline where the warm, azure waters of the Pacific Ocean meet the untamed kauri-filled forests.
>> Book flights to New Zealand, find New Zealand adventure trips,  or find a beach vacation rental in New Zealand
Playón de Mismaloya Beach in Mexico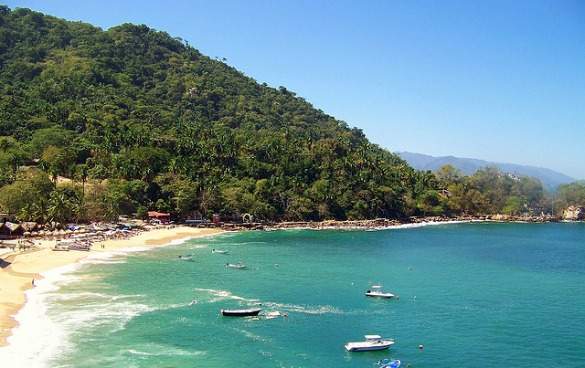 It's not the first beach that comes to mind when you think of romantic Mexican nights and tropical seaside vacations, but Playón de Mismaloya, located just 60 miles south of Puerto Vallarta is the type of beach that forces its guests to kick back and relax. That's right. There is nothing to do at Playón de Mismaloya – and that, they say, is the attraction.
If you are looking for a little action, try celebrity scouting at Hotelito Desconocido, one of the most significant turtle and sea bird reserves in Mexico or hike through the forests in search of one of the many rivers and waterfalls that flow through the region.
>> Find airfare to Puerta Vallarta and get travel tips for Puerta Vallarta
Whidbey Island in Washington, USA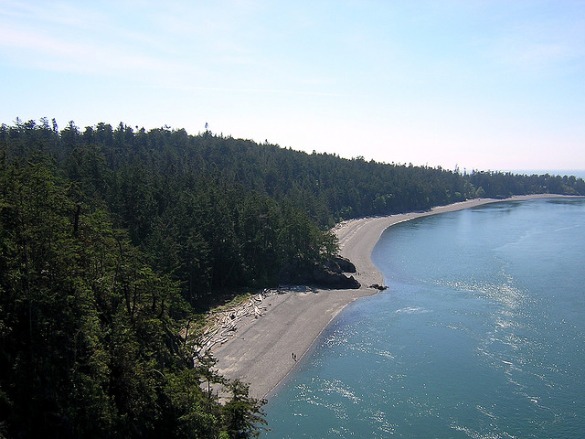 If you like your beaches to offer more than gold-toned sands and turquoise waters, then head to Deception Pass State Park in Washington. Deception Pass is a 4,134-acre marine park with more than 77,000 feet of saltwater shoreline and 34,000 feet of freshwater coast.
Visitors can trek among redwood trees or venture over the Deception Pass Bridge and peer into the rocky waters that lie below. The rugged cliffs at Deception Pass are an ideal viewing spot for America's legendary bald eagles, while sunbathers at Maxwelton Beach can soak in the views of the nearby Olympic Mountains.
>> Find flights to Seattle and book Seattle hostels
Learn more about beaches around the world:
---
Read about author Cherrye Moore and check out Cherrye's other Bootsnall articles.
Photos by:nicogenin, echiner1, dominiqueb, bobthelomond, Piotr Zurek, maryn0503, Mindful One