Making the decision to take a RTW trip is quite difficult. Taking your life and turning it upside down should not be taken lightly, but there are plenty of travel lovers who make the decision each year. Once you decide to take that plunge, the real fun begins – planning!
Planning an RTW trip, whether it's for a few months or a few years, is time consuming, frustrating, confusing, and challenging. It's also enthralling, exciting, and tons of fun. One of the first and biggest challenges that RTW planners face is trying to decide where to go on your RTW trip.
Some plan their trips around destinations and sites they have always dreamed of visiting. Some plan around cheap destinations and regions so they can travel further and longer. Some travel fast; some travel slow.
Then there are others who go with a completely different approach and take their RTW trips to the extreme. There are some who have cycled the Pan American highway from Alaska to Argentina. One woman planned her trip around visiting all the countries of the former Soviet Union. And others are attempting to walk around the entire world.
There are all types of different quests that travelers have built their long term trips around, and structuring your trip around your own challenging goal is an exciting, unique, and cool way to plan your epic trip. You can plan your entire trip around your goal, or you can make it one leg of your adventure.
The best thing about a trip like this is that it's all up to you. Here are a few ideas to get you started planning your own round the world journey.
To cycle from North to South America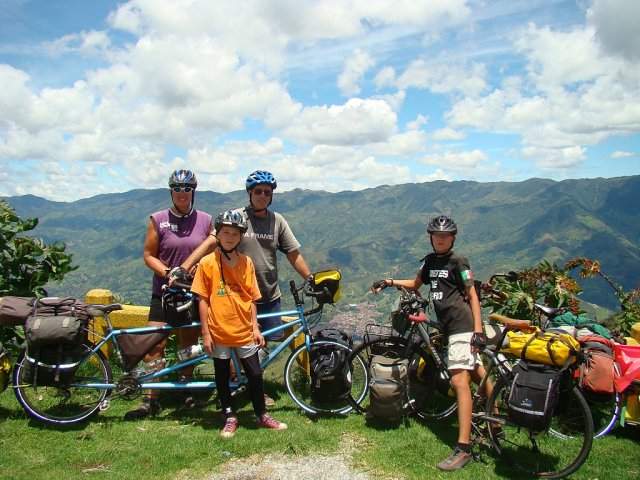 Nancy Sathre-Vogel, her husband John, and their two sons, Daryl and Davy had an extremely ambitious plan. John and Nancy, both teachers, were getting sick of seeing other people's children more than their own, so they vowed to change things. The result was taking off to cycle around the United States and Mexico for a year. After the end of that trip, they weren't satisfied, so a new challenge emerged.
They were going to cycle the length of North and South America, as a family, from Alaska all the way down to the end of the world in Ushuaia, Argentina. The Vogel family ended up pedaling 17,300 miles through fifteen countries over the course of three years. The two boys are now in the Guinness Book of World Records as the youngest people to cycle the length of the Americas.
We are thrilled to have this chance to grab life by the horns and truly live. That's what life is all about.
When thinking about changing their lives and doing something so dramatic, it came down to the American Dream and the Vogel family's thoughts of it. Nancy writes, "Was the American Dream the be-all and end-all? Was it the Path to Enlightenment and Roadway to Happiness? Would I, could I, be content with a big house in the suburbs and some cars? Was that really what life was all about?"
After accomplishing their goal after three long years, she reflected on their decision to go against societal norms, "We were excited about reaching our destination of Tierra del Fuego, but mostly we're excited about living life. We are thrilled to have this chance to grab life by the horns and truly live. That's what life is all about."
>> Read more about the Vogel family's journey on their site, Family on Bikes or get tips for cycling around Europe
To go around the world with no motors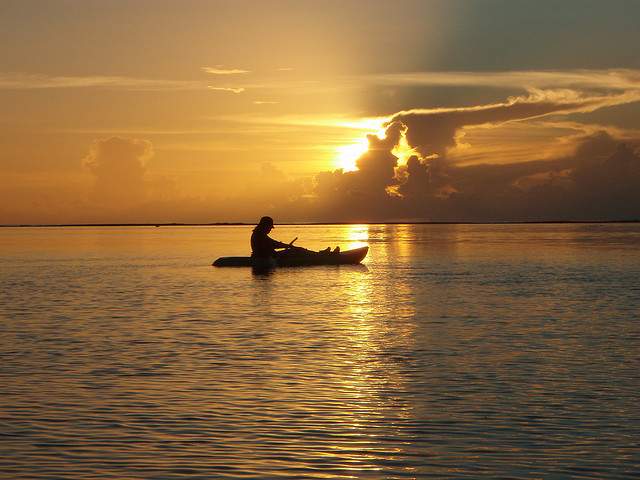 While the Vogels expedition was ambitious, challenging, and some might say a bit crazy, there are other folks around the world who took their travel challenges to an even bigger extreme. Jason Lewis and Steve Smith set off from the Greenwich Meridian on July 12, 1994 on a journey called Expedition 360.
The idea was to circumnavigate the globe using only human power. That meant no motors or sails. With the use of bikes, in-line skates, kayaks, swimming, rowing, and walking, Jason Lewis completed the journey over thirteen years later in October of 2007. Smith dropped out in 1999, but Lewis and his team ended up traveling over 45,000 miles across five continents.
Their mission was "to circle the world by means of human power alone, to use the adventure as a classroom learning tool, to encourage world citizenship between cultures, to promote environmental responsibility, and to live fully and enjoy the experience."
>> Check out some small countries you can walk across
To walk around the world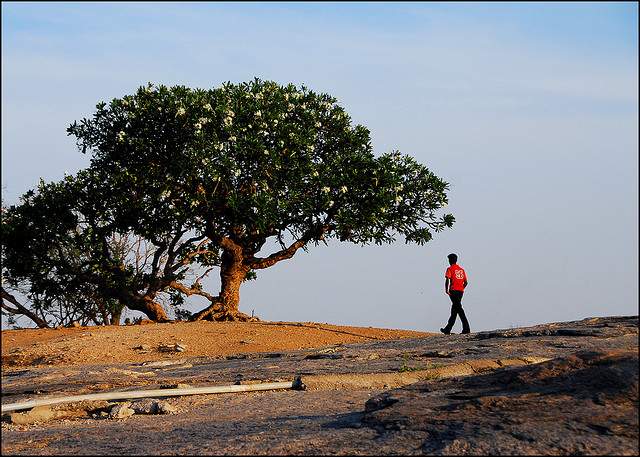 Arthur Bless and Gary Hause might think that Jason Lewis cheated on his thirteen year long journey around the world. Even though he didn't use any motors or sails to complete his expedition, he did use things like bicycles and kayaks, which is more than either of these two gentlemen have been using to travel around the world.
Mr. Bless has been on the road for the better part of forty-four years, ending up in the Guinness Book of World Records along the way. The reason isn't because of the longevity of his journey, but the fact that he has been doing it using nothing but his own two feet while also carrying a cross to share his message along the way. To date Arthur has traveled nearly 40,000 miles through every nation, all 321 of them, since he started way back in 1968.
If Arthur Bless ever stops walking, then Gary "Walkingman" Hause might be the one to break his record. His journey started back in 1996, and since then Gary has walked over 25,000 miles across the United States, Europe, Central America, South America, Australia, and New Zealand. Wanderlust struck Gary at a young age, and he has spent his entire life traveling and working seasonal jobs to support his habit. After getting into cycling and spending several years biking all over the world, he was ready for a new challenge. "I decided to walk around the world. One continent at a time, working 6 months, then walking 6 months to support myself."
[social]
To run marathons around the world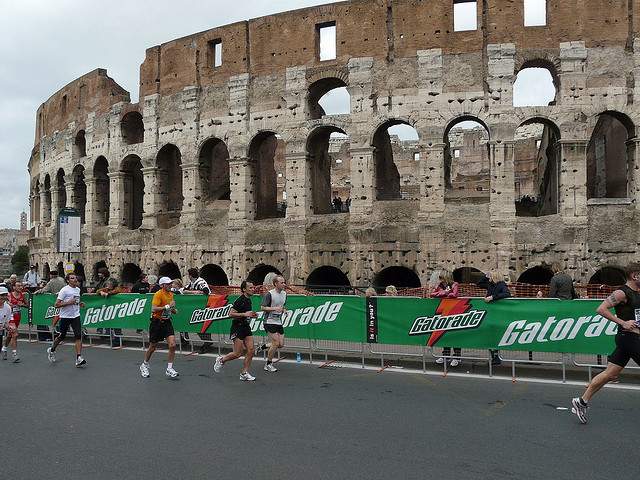 Many people around the world challenge themselves physically by doing things like running marathons. Setting a big, long term goal gives people something to strive for. Running just one marathon in your hometown is an extremely challenging endeavor, so when we came across Laura Walker's site, A Wandering Sole, and found out that she was planning her RTW trip around running marathons, we were intrigued.
Laura has several passions in her life – running, volunteering, and traveling being her three big ones. So she decided to combine all three on a trip around the world in 2010. Laura asked her readers to donate $5 towards her race goals, and the money she raised on her site went to support the people in the countries she visits.
The idea came about when she ran her first marathon in Chicago back in 2009 when she raised $1000. She says, "It was a success, and I knew that I wanted to incorporate running into my travel and bring new purpose to my trip." She ran three marathons, the Rome Marathon in Italy, the Dead Sea Marathon in Jordan, and the Kigali Half Marathon in Rwanda, and "with the help of fellow travel bloggers and readers, I raised an additional $1100 on my trip just by doing what I love: running and traveling."
>> Check out some great marathons to run on your trip
To visit all 15 countries of the former Soviet Union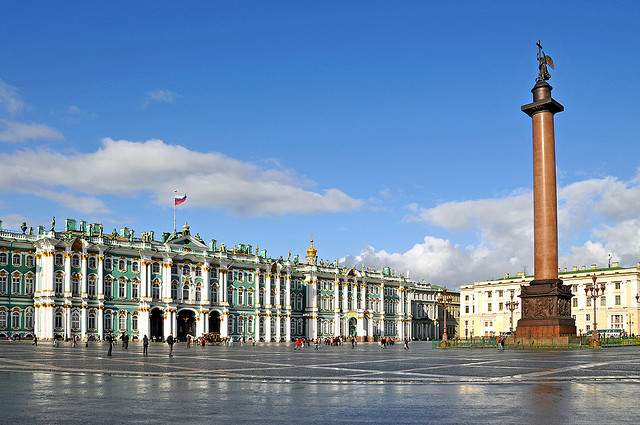 We use the letters R-T-W quite a bit on this site. The meaning of those letters is round the world, and if you take that literally, that would mean that you must circumnavigate the globe in order to complete a RTW trip. But that's not necessarily how we view it here at Bootsnall. RTW travel can include any type of long term travel. That's why we're more than happy to include Katie in this article. Even though she didn't take a traditional RTW trip, we love her out of the box thinking.
Katie studied both the language and history of the former Soviet Union while she was in college, so when she pondered a RTW trip, she came up with the idea to travel to all fifteen countries that made up the former world power. She set off in August of 2011, traveling and volunteering for 13 months, taking the opportunity to truly make a difference and not spend her trip doing nothing but sight-seeing (not that there's anything wrong with that).
She writes, "From the beginning, I envisioned this trip being more than just months and months of sightseeing. As cheesy as it sounds, I hoped to use my background in law, fundraising, event planning, volunteer management, social media and tutoring English to connect with, and make a difference in, local communities along the way." Katie had several big goals along the way, including volunteering, becoming fluent in Russian, and running an international marathon.
>> Learn more about the south of Russia and read why now is a great time to visit post-Communist countries
To volunteer around the world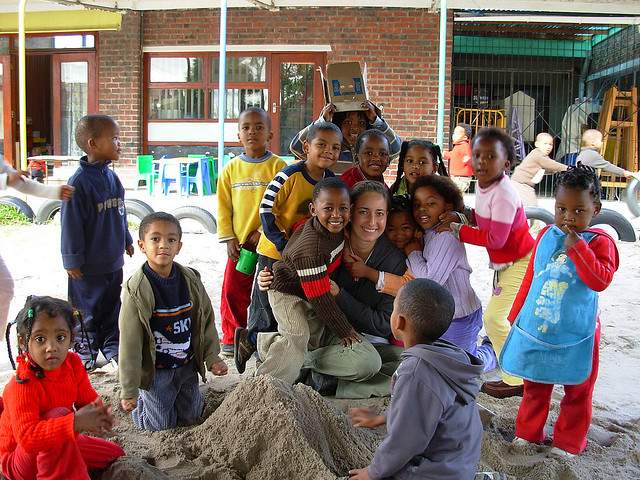 All people travel for different reasons. Some like to see the famous sites. Some like to hike famous mountains. Some travel to learn more about different cultures. Some want to learn a new language or skill along the way. There's nothing wrong with traveling to see and experience places you've always dreamed of seeing. That's why the vast majority of people travel. Then there are those who truly want to make a difference in the world, and they work very hard to make that happen.
Charyn Pfeuffer is one of those people, a food, travel, and lifestyle journalist who "swapped her blackberry for a backpack to volunteer with 12 community projects in 12 countries over 12 months." Charyn volunteered her services to different organizations throughout the US, Canada, Central and South America, and Europe as part of her RTW trip. She makes the world a better place in her travels by connecting with locals, building relationships, and helping out in the communities she visits.
>> Find more resources for voluntourism
To take the Ultimate Train Challenge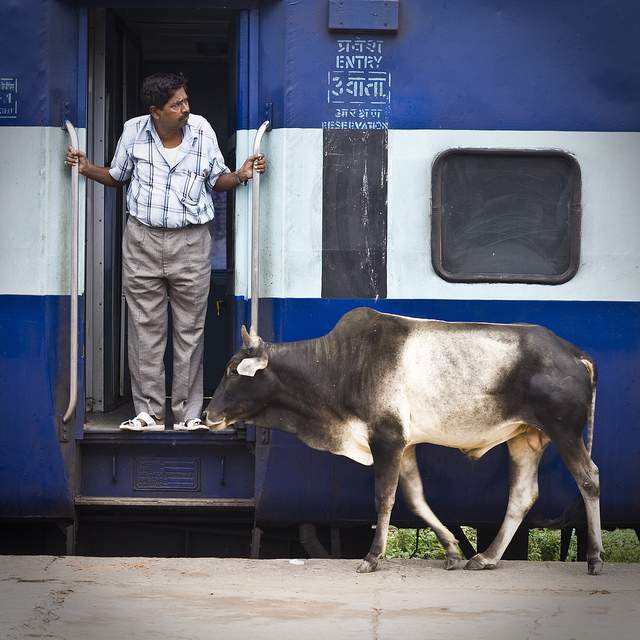 Three travel bloggers competed in the Ultimate Train Challenge, which saw them travel solely by train from Lisbon, Portugal to Saigon, Vietnam in a little over a month. Michael Hodson of Go, See, Write was the organizer of the challenge, and writes, "I have been a huge train fan for quite some time and was looking for a new sort of travel challenge after I got back from my round-the-world (RTW), no planes trip in 2009-10. My mind wandered to the question: 'What is the world record for longest continuous train journey?'"
The premise of the Ultimate Train Challenge was pretty simple. Get from Lisbon to Saigon, by train, taking whatever route you want. The participants had to take at least one train every day, and the winner was the one who racks up the most mileage by rail after arriving in Saigon. Sitting on a train for a month could get pretty boring, so they spiced it up a bit by adding in challenges along the way. A scavenger hunt added some excitement to the challenge by making participants take part in things like singing karaoke and taking shots with a Russian on a train.
The cool thing about this challenge is that it can inspire so many other challenges for your own RTW trip. You don't have to set the Guinness record for a continuous train journey like these guys, but you could come up with an interesting challenge that is similar what these bloggers did.
>> Discover some of the most beautiful train rides in the world
To sample the best street food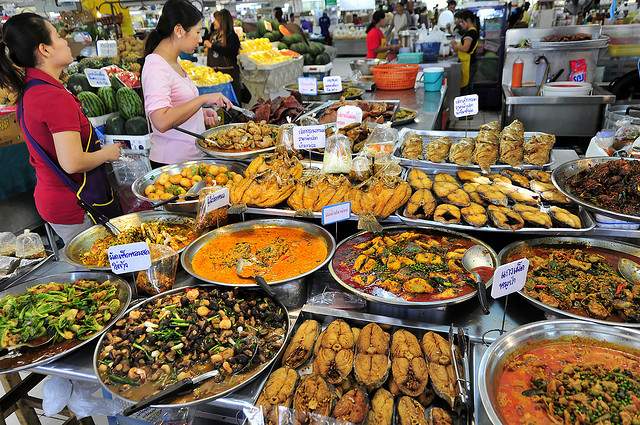 The highlights of many people's trips, no matter if it's a short weekend away or a year-long RTW trip, is food. People love to try new and interesting food, and in developing countries across the world, street food is king. Some citizens of western countries get a bit uneasy when it comes to eating from street carts or markets, but now that street carts are starting to take off in countries like the US, travelers are getting braver.
Most of the time, you can get a phenomenal meal from a street cart in regions like Southeast Asia and the Middle East and countries like India and China. The food is typically very fresh, cooked right there in front of you, and costs a fraction of what you would pay in a restaurant. Street food is usually amongst the best around, so planning a trip or a portion of your trip around street food could be an extremely fun way of traveling, especially for all you foodies out there.
I have yet to find someone who has taken it to the extreme of planning an entire trip around it, but there are several people who have taken the street food challenge in their own cities. Richard Barrow, an expat living in Thailand, decided to take on the Thai Street Food Challenge, where he vowed to eat nothing but Thai street food for an entire month. Breakfast, lunch, dinner, and all snacks had to bought from a street cart, which would be difficult enough, but he added another twist to the challenge. Richard refused to eat at the same cart twice, and better yet, he refused to eat the same meal twice. So that meant at least 90 different dishes over the course of the month (he ended up eating over 100).
Spencer Spellman, a travel blogger living in San Francisco, California, runs the site The Traveling Philosopher. When he first moved to San Francisco, he was overwhelmed by the amount of quality street carts in the city, so he decided to challenge himself. He wanted to spend his summer eating from every single street cart in the city. He quickly realized that his plan may have been a little too ambitious as new food carts were popping up around the city each day. He did manage to eat at 75 different carts over the course of his summer, though, and he hopes to continue his food cart challenge during his travels. "It's accessible and because it's mobile, there's a certain feeling of being on the inside when you're eating from the newest street cart. Many great restaurants and chefs first got their start with a push cart…It would be fun to eat from street food vendors from around the world and follow them as they grow and be able to say, 'I remember them when they were just a push cart.'"
>> Our friend Jodi from Legal Nomads just launched Jodi Eats Food Walks – check it out if you're a street food lover!
To ride a motorcycle around the world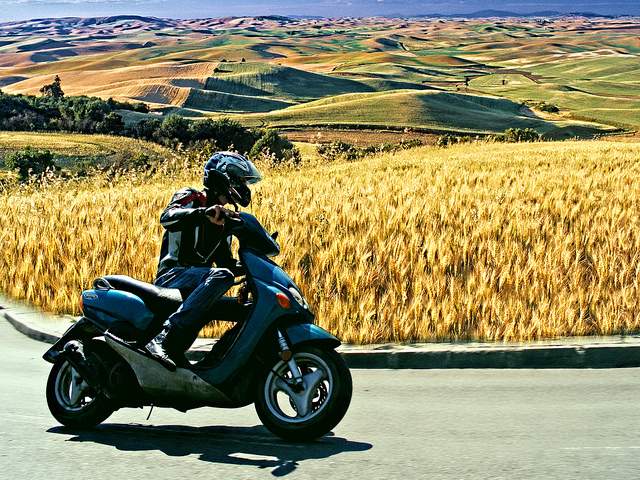 In 2004 actors Ewan McGregor and Charley Boorman decided to ride their motorcycles from London to New York City, making a television series out of it called Long Way Round. The challenge was "to bike 20,000-miles, cross 12 countries and 19 time zones in just 115 days." The crossed Europe, Ukraine, Russia, Kazakhstan, and Mongolia, then through Siberia to Alaska, where they rode through Canada and the US onto their final destination in New York.
It may not be as easy for normal everyday people to do something similar, since most of us don't have television crews and a support staff to follow us, but there are others who have done similar journeys. Thomas Tomczyk has done three motorcycle journeys across India, not exactly known for their road safety or modernism. He has also fulfilled a childhood dream of taking an epic motorcycle journey across Africa, covering nearly 13,000 miles in the process.
Thomas took his journey to another level. "Traveling for travel's sake was no longer satisfying enough, and I decided I needed to find a purpose as I travel, something that would give meaning to the journey and benefit others…For several months I brainstormed the idea and eventually the purpose of the journey evolved into a something I do well: finding interesting people and telling their story as a journalist." If you're a motorcycle lover, there are plenty of ways to combine your love for riding with travel, and as Thomas proves, you don't have to be an actor to accomplish your childhood dreams.
Like with almost all RTW travelers, it's all about making your trip your top priority. While some of these themes seem extremely ambitious, most of them were done by normal, everyday people with the same means as you and I. If you're looking for a way to spice up your RTW trip, consider basing it around a theme that you love.
Have you ever based a trip around a theme before? Have you heard of other trip themes that you thought would be interesting? Comment below to share your thoughts or get more inspiration for planning your trip:
Photo Credits: 1, 2, 4, 5, 6, ; all others belong to the author.