Summers are filled with ice cream and picnics, swimming pools and festivals, and this year the festivals are bigger and more spectacular than ever before. Top musical and performing artists such as U2, Green Day and Norah Jones are on the line-ups at events in Chicago, Tennessee, Washington and the UK. Other festivals feature bucking broncos and cowboys, air shows with so many airplanes it will make your head spin and participation art so elaborate that a whole city is constructed. So bring your lawn chair and bug spray and check out 13 of the best outdoor summer festivals in the world.
[social]
Bonnaroo in Manchester, Tennessee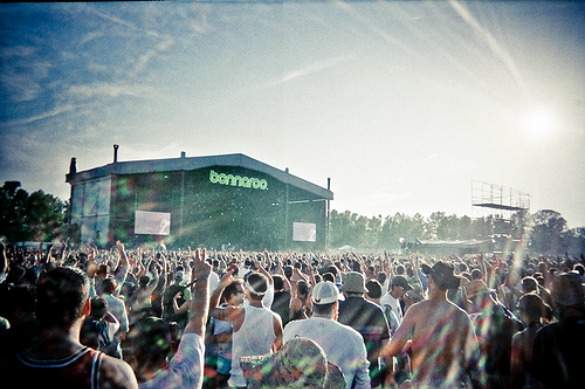 Bonnaroo, which means "more than ever", pretty much sums up this event. Touted as today's Woodstock, this four day musical, comedy and arts camping festival takes place in June on a 700 acre farm and draws over 80,000 people each year.  It features some of today's hottest artists like the Dave Matthews Band, Conan O'Brien, Jay-Z, Weezer, Kings of Leon and Stevie Wonder.  In addition to the musical performances, attendees are treated to comedy shows from Conan O'Brien and Margaret Cho, cinema shows, silent disco, yoga sessions and more. Special guest appearances, diversity of the lineup and community spirit is what keeps festival-goers coming back year after year.
>> Find Bonnaroo travel deals and book cheap flights to Tennessee
Bumbershoot in Seattle, Washington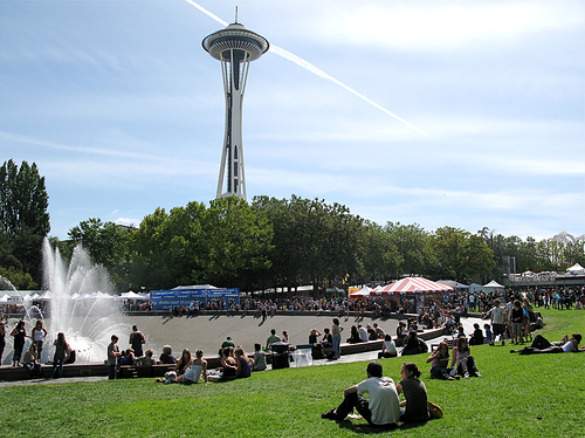 The Bumbershoot Arts and Music Festival is one of the last summer festivals of the year. It's been held every year over Labor Day weekend since 1977. Bumbershoot's the largest fest of its kind, and welcomes over 250 performers at over 20 unique venues. There's music, comedy, film, performing and visual arts, dance, theatre, and even special events for the kids. The festival is held in the 74-acre Seattle Center campus, around the base of the Space Needle. Throughout the weekend, the city is a buzz of excitement as even those who aren't attending the festival can still take part in special outside events happening all over the city. Of course, thanks to the festival's location in the middle of the Queen Anne neighborhood, you have only to stand nearby and hear the strains of your favorite song to feel like you are part of the festival.
>> Find Bumbershoot travel deals, book flights to Seattle and find cheap hostels in Seattle
Lollapalooza in Chicago, Illinois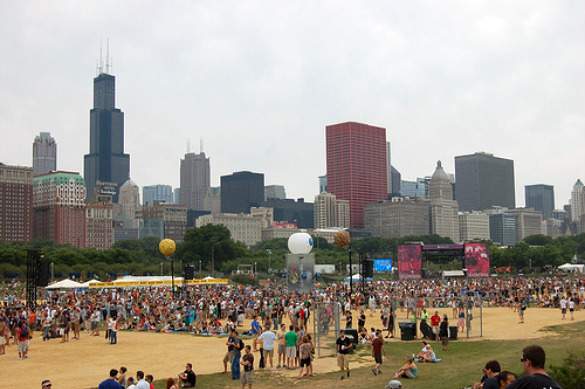 Another hot, annual summer concert, Lollapalooza features Green Day, Lady Gaga, Soundgarden, Social Distortion, MGMT and many more. A diverse lineup within the heart of Chicago is what draws people to this annual event that's been taking place every August since 2005.  Over the top stages (Lady Gaga will have a $150,000 custom built stage this year) and VIP Cabanas complete with air-conditioning, private restrooms, gourmet buffets and spa treatments are a big draw. Due to city ordinances, the festival must end by 10:00pm each night, so bands are often times seen at area nightclubs and occasionally do after-hours shows.
>> Find Lollapalooza travel deals and discover what you need to know about attending Lollapalooza in Chicago
Burning Man in Black Rock City, Nevada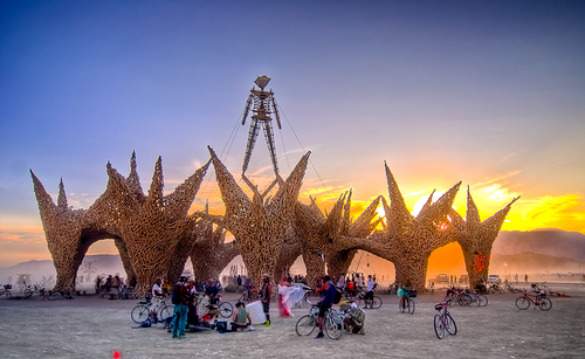 Each year, tens of thousands of people gather together for one week in late August/early September in Nevada's Black Rock Desert to create an experimental city. A theme is assigned (for 2010 the theme is Metropolis) and pretty much anything goes at this event. Part artistic, part communal, organizer Larry Harvey started Burning Man 1986 on a San Francisco area beach to encourage people to "come alive" via a common bond. Living conditions for the week are primitive – everything must be brought in, including food and water, nothing can be left behind, and the only commerce is gifting or bartering – but that's just how people want it.
>> Find Burning Man travel deals and search for cheap flights to Reno
EAA AirVenture Show in Oshkosh, Wisconsin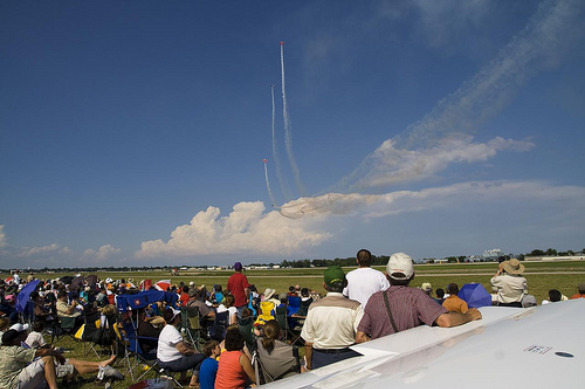 The EAA AirVenture Show (EAA stands for Experimental Aircraft Association), held every year at the end of July, is one of the largest aviation festivals in the U.S with over 10,000 airplanes on display.  This family-friendly event also has amusement rides, airplane rides, an airplane auction, air shows, fireworks and live music (Chicago will be performing this year) plus lots of educational exhibits and museum that teach both kids and adults all about the history and mechanics of flight.  From World War 2 bombers to experimental electric planes, it's just "plane" fun!
>> Find cheap flights to Milwaukee and read about attending a hot air balloon show
Frontier Days in Cheyenne, Wyoming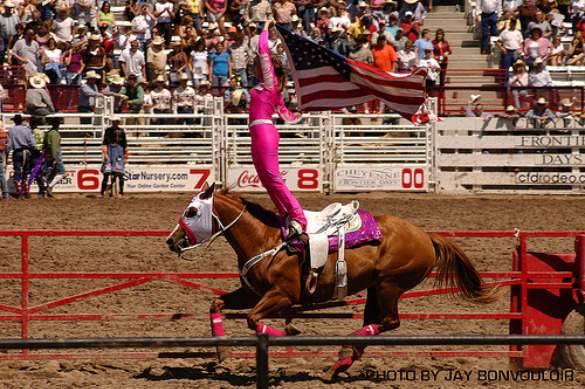 Get a taste of the Wild West at the oldest and largest outdoor rodeo and western celebration in the world, Cheyenne Frontier Days, held at the end of July.  Be prepared for crowds as over 550,000 visitors attended last year alone. There is more rodeo action here in one day than anywhere else with over 40 bucking bulls and 70 saddle and bareback broncos taking to the ring every day. All the most exciting rodeo competitions are featured, like bull-riding, bull roping and wrestling, trick-riding and barrel racing,  but there's plenty of excitement outside fof the ring too. The festival also features top country and rock artists, entertainment, and lots of cowboys. There's an authentic Native American village, museum, western parades and free pancake breakfasts.
>> Read about travel to Wyoming and look for cheap flights to Yellowstone
Red Bull FlugTag in Miami, Florida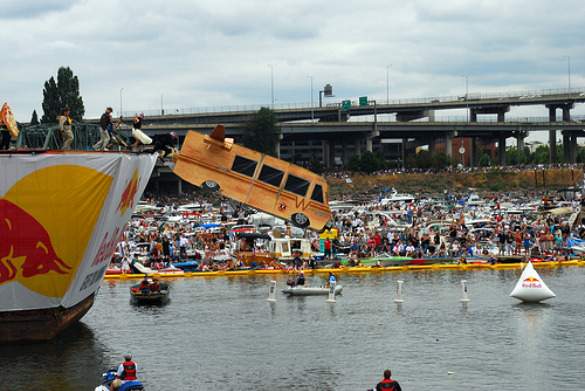 The Red Bull FlugTag competition/festival kicks off its summer tour this year in Biscayne Bay, Miami. Over 30 teams from across the Southeast will see if their engineering fêtes have paid off. Flugtag, which means "flying day" in German, is a competition that encourages all to design, build and pilot a homemade flying machine off a 30 foot high ramp. Festival-goers love watching the creative and often absurd human-powered craft dive into the water below. It seems every "aircraft" ends up soaking what, but what matters most may not be how well the machine actually flies – contestants are judged on creativity and showmanship as well. Additional 2010 events will be held in Long Beach, Philadelphia, and Twin Cities in July, August, and September.
>> Find cheap flights to Miami, look for Miami hotels, and read our indie travel tips for visiting Miami. 
Spoleto Festival U.S.A. in Charleston, South Carolina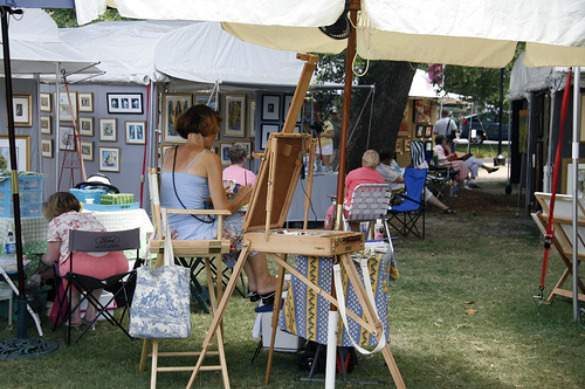 Deemed as one of the most important mixed arts festivals in North America, the Spoleto Festival was founded in 1977 as an American counterpart to the annual Festival of Two Worlds in Spoleto, Italy. The festival, held from the end of May to the beginning of June, has many different venues throughout the city, showcasing classical music, opera and theater. This year performers include Ireland's Gate Theatre, Soprano singer Anne-Carolyn Bird and Jazz Vocalist Lizz Wright. It's not uncommon to see mimes and other street performers performing in the historic district. People flock to the Charleston area during this festival for the elegant parties that have become a part of the event.
>> Find hotels in Charleston and look for flights to South Carolina
Sasquatch Music Festival in Quincy, Washington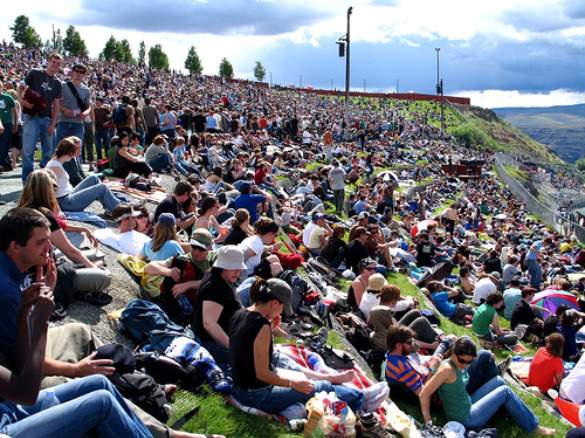 Kicking off the summer music festival season, the three day, Memorial Day weekend Sasquatch Music Festival is held at The Gorge near Seattle, WA.  A fantastic venue in the rolling hills of Central Washington, this event features indie musical acts such as Vampire Weekend, The Posies, Massive Attack and Band of Horses, all set against the stunning backdrop of the Columbia River Gorge. Most people camp out for all three days and it's one of the best ways to hear new and up and coming musicians.
>> Find Sasquatch festival travel deals and look for cheap flights to Vancouver
Glastonbury Festival in Glastonbury, UK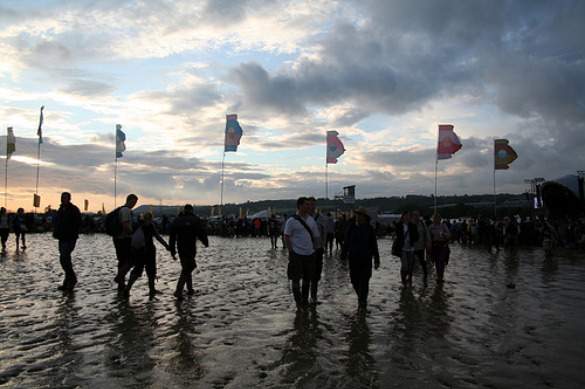 The Glastonbury Festival , held every July, is considered the largest music and performing arts festival in the world. Made famous for music and mud (it rains a lot), this festival was begun the day after Jimmie Hendrix died in 1970. Set on 900 acres in the Vale of Avalon, many people travel here to tune in to the mythology and religious traditions. In fact, many believe this is where King Arthur is buried and that it holds ancient secrets and symbolism. The festival is broken out into different areas and villages with each as diverse as the next.  There is the Dance Village featuring contemporary UK dance music and The Green Fields which focuses on green living and where you can get a massage or take your turn pedaling to create electricity to keep the PA charged. The Pyramid Stage will host the largest acts which include artists as diverse as Willie Nelson, Snoop Dogg, U2 and Norah Jones.
>> Find Glastonbury Festival travel deals and book flights to London
Edinburgh Fringe Festival in Edinburgh, Scotland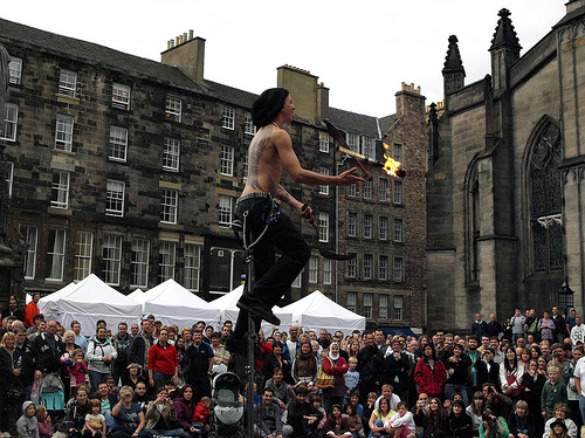 The Edinburgh Fringe Festival is officially the biggest arts festival in the world and features all forms as art including theatre, comedy, dance and music. The event takes place over a three week period in August and kicks off with a huge parade known as the Cavalcade.  Beads are given out to parade goers like at Mardi Gras (but they can't be thrown). Attendees to this event like that it is unjuried which means that there is no selection committee to decide who the performers will be so anyone can perform at this festival. While this means you're not guaranteed a certain level of quality in the performances, it also allows for a lot of creative and experimental art that you might not get to see elsewhere.
>> Find Fringe Festival travel deals, book your Edinburgh hostels, and read these indie travel tips for Edinburgh.
Just for Laughs Comedy Festival in Montreal, Canada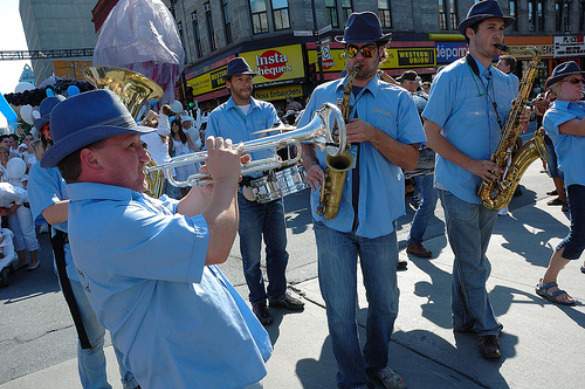 A festival of a different sort, Just for Laughs Comedy Festival features top acts from around the world including Pamela Anderson, Cheech and Chong, Brad Garrett and John Pinette. It's held in different comedy venues across the city each July and is the world's largest and most prestigious comedy festival, with over 1.5 million attendees and over 2000 performers each year. People attending this event are most likely to see the next big comedian and talent scouts, booking agents and producers attend in full force on the lookout for new talent. Additional festivals are also held in Chicago, Paris, and Toronto.
>> Look for hotels in Montreal and find cheap airfare to Montreal
San Fermin Festival (Running of the Bulls) in Pamplona, Spain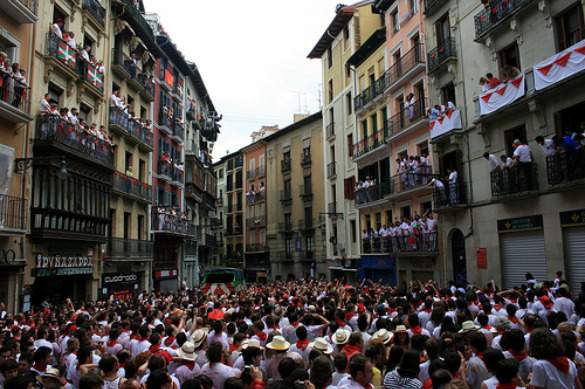 Over one million people come each year for the week-long San Fermin Festival that begins at 12:00 on July 6th with chupinazo (fireworks and rockets) at the town hall and ends at midnight on July 14th with the singing of the Probre de Mi, a hymn that marks the closing of the festival. The encierro, or the Running of the Bulls, is held at 7:30 a.m. each morning during the festival when six bulls are released onto the streets. Anyone is allowed to run, just stay away from Lane-Bullring and Santo Domingo streets, as those are places where the most runners have been killed in this dangerous activity. The biggest day of the festival however is July 7th when thousands of people, dancers and street entertainers follow a replica of the statue of Saint Fermin down the streets of Pamplona.
>> Find cheap flights to Spain and look for hostels in Pamplona
Planning a trip to these or other summer festivals? Check out our roundup of Summer Festivals Travel Deals or read about more fun festivals:
Photos by:  the camera is a toy., Jeff Croft, kisokiso, Michael Holden,  sstrubel, jbspec7, barjack, NYCArthur,   jsigharas,  red betty black, david-gilmour, austinhk, Abeeeer