With the world financial crisis still impacting many people worldwide, there are some looking for something different, a new way of living their lives, or simply a break from the routines of everyday life.  We follow the exploits of others, like Rolf Potts and his the No Baggage Challenge that saw him traverse the world in 7 weeks, and we think, "I wish I could do that."
Most simply dismiss the idea of extended travel as impossible.  So many people dream of traveling around the world, but unfortunately most never make it past that dreaming stage.  But by doing a quick scour of the internet, you will find that normal, everyday people do actually travel the world, so it is possible.  But many fear the unknown and costs of such an adventure.
[social]
Budgeting is always a tricky thing when traveling, particularly when on an extended trip.  A few wrong estimates could send your budget soaring, so it's really important to do as much homework as possible.
Using Rolf's trip as a template, I'm going to estimate the cost of taking a 7-week trip around the world (don't worry, you can actually pack a few bags).  While many think a job like Rolf's is all fun and games, it's important to know that much of a travel writer's time spent on the road is spent, well, writing and working.  So while a re-creation of his trip and itinerary will be as accurate as possible, a few changes will have to be made (unless of course you want to spend several nights in a hotel editing video).
What about all you backpackers out there?  Don't worry, a trip like this can be done on the cheap as well, with tips and a budget for visiting all the same places for about half the price as Rolf.  This guide will break down the costs of extended travel based on Rolf Pott's itinerary and activities, with cost saving tips for those of you budget travelers out there.  All quoted prices will be in US dollars
Flights: RTW vs. buy as you go
Airfare for a RTW adventure will be the biggest expense.  When it comes to flights, there are two different options for extended travel, buying a RTW ticket or buying one-ways as you go.  Both have pros and cons, and both have varying costs.  In the end, it sometimes comes down to luck, but there are a few tips for minimizing what you spend.
RTW ticket –  Rolf used a RTW ticket on his adventure, and for a shorter trip like this, it is often the best option.  The pros of purchasing a RTW ticket are that you won't have to stress about it once you are on the road.  The tickets will be purchased, you will have your itinerary, and you just show up at the airport.  The primary negative of buying a RTW ticket is that you won't have much flexibility.  If you really fall in love with a certain place but have a flight already scheduled, it can be costly to change.
Actual Cost of Rolf's RTW Ticket:  $4080US/person, which included 10 flights: New York>London >overland> Paris > Madrid >overland> Casablanca > Cairo > Johannesburg > Bangkok >overland> Singapore > Sydney> Auckland >overland> Queenstown >overland> Auckland > Los Angeles >overland> Las Vegas >New York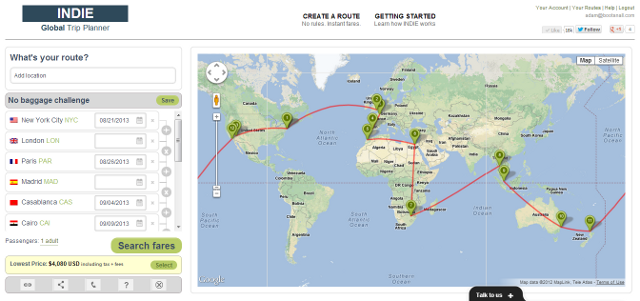 Buy as you go –  The great thing about buy as you go is the flexibility.  It truly affords you the opportunity to do what you want when you want and stay somewhere as long as you want.  Cons include having to spend a significant time on the road worrying about your itinerary, researching places and flights, and finding the right deals.  As far as costs, it really does come down to luck of the draw.  If you're flexible enough in your plans and dates, you may be able to find great deals by buying as you go, but you could just as easily get burned with high rates.
>> Be sure to download our free Around the World Ticket Report to read about the differences of various round the world carriers and buy as you go options, complete with price breakdowns. 
England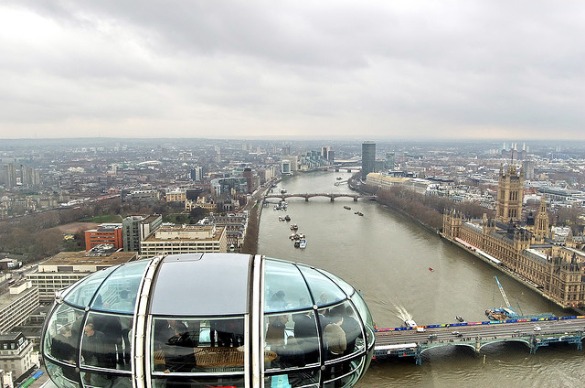 London (4 hours)
Rolf's costs: On his No Baggage Challenge, Rolf and his crew only spent an afternoon in London, in which he did a whirlwind tour, including consuming the obligatory fish and chips, bangers and mash, and obviously washing it all down with a pint.  He actually managed to accomplish 19 separate London travel clichés in his four hours there.
Food: $50US/person for a couple meals
Transport: $107/person for a train from London to Paris
Entertainment: $43/person entrance Buckingham Palace, $40/person for a double-decker bus tour
Backpacker costs/tips: If you're really looking to do a cheap trip, London isn't the best place to start, but there are ways to cut costs.  If staying in London, find a hostel with a kitchen and do the cooking yourself, limit your drinking as much as possible, and purchase a travel card before leaving home.  It is possible to get by on about $80/day in London (you probably won't be seeing and doing everything Rolf did), with about $40 set aside for lodging, $20 for food, $20 for transport, and $10 for entertainment.
>> Check out our London Indie Travel Guide
>> Look for airfare to London
>> Get tips for visiting London for the first time
France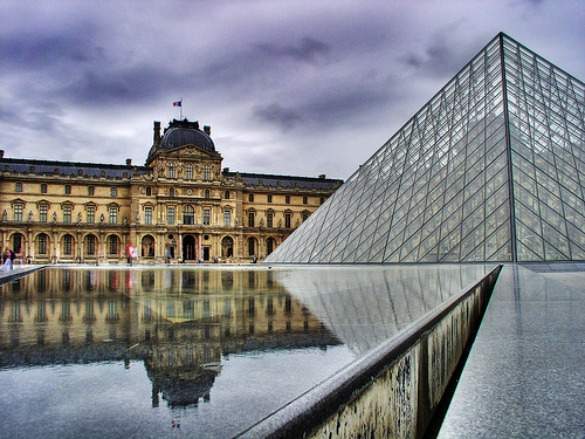 Paris (2 nights)
Rolf's costs: Rolf spent about a day and a half in the city of lights, staying in an apartment and taking a 2CV Tour of the city.  Remember, this trip did have to involve some work, so Rolf wasn't very active besides the aforementioned tour.
Lodging: They stayed in a comped apartment, but a mid-range hotel in Paris will run about $200
Food: $70/day for meals
Transport: $72/person for an EasyJet flight from Paris to Madrid
Entertainment: $135/person for the 2CV Tour
Backpacker costs/tips: Europe is not the cheapest place for a backpacker, especially in the large capital cities.  Your budget doesn't have to be busted when in Paris, though, so look around for ways to save a few bucks.  Like in London, a transport pass can really save you some money, and though the city is large, try walking as much as possible.  Popping in a bakery and grabbing a delicious, fresh baguette and some cheese can make a great, cheap meal.  With some effort, a backpacker can survive on about $70/day in Paris.
>>Check out our Paris Indie Travel Guide
>> Read these indie travel tips for Paris
>> Find hostels in France
>> Read Paris for the Indie Traveler
Spain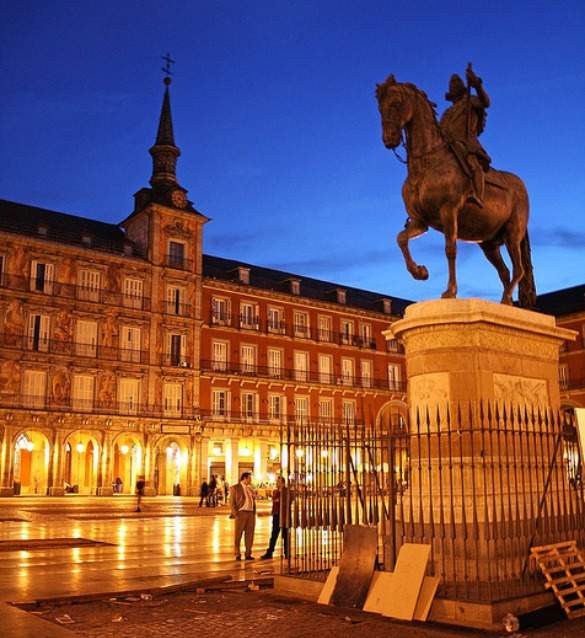 Madrid and Algeciras (3 nights)
Rolf's costs: An EasyJet flight brought Rolf and company to Madrid for two nights followed by one night in Algeciras.  As it should be, eating and drinking was tops on the itinerary, with tapas and wine the highlights in trips to several different restaurants.
Lodging: $27/person in the Malasana Traveler's Hostel (2 bed, shared bath)
Food: $60/day for tapas and wine in mid-range restaurants
Transport: $50US/person for a train ride to Algeciras; $10US/person for a ferry to Morocco
Backpacker costs/tips: Again, large, European cities are not exactly conducive to backpacker budgets, but if you want to fit them in on your RTW trip, you can do it.  You may not be fortunate enough to eat at tapas restaurants and drink your weight in wine, but sacrifices have to be made for budget travel.  $70/day is a good number to shoot for while in large Spanish cities, while doing it for a bit less (about $60/day) is possible in smaller places.  When in Madrid and looking to save some cash, visit the Moncloa and Lavapies neighborhoods for some cheaper eating and drinking options, and as always, cooking your own food in a hostel kitchen can really help.
>> Check out our Madrid Indie Travel Guide
Morocco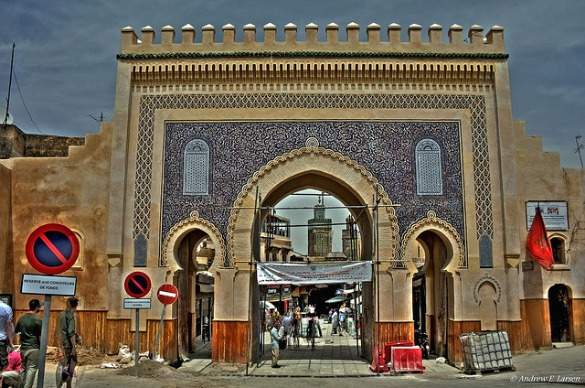 Chefchaouen and Fes  (4 nights + 1 flying to Cairo)
Rolf's costs: A ferry trip from Spain and a cab ride found Rolf and crew in the town of Tetouan (not where they planned to go) for the afternoon.  After a day spent at the markets (with a "tour guide"), they were off by way of taxi to their planned destination of Chefchaouen for a night.  They spent the rest of their time in Morocco's largest city, Fes, taking advantage of the markets so popular in this area.  The heat has tourists moving very slowly in Morocco, so there is more time spent relaxing and resting, particularly in the middle of the afternoon.
Lodging: $100/night in Chefchaouen and Fes
Food: $25/day for a few cheap meals and some room service
Transport: $70 for shared taxis to Tetouan and Chefchaouen; $8/person Chefchaouen to Fes by bus
Backpacker costs/tips: Now we're getting into some areas that are much more cost-effective for the backpacker.  All three cities visited in Morocco can easily be done on the cheap, for as low as $40/day.  Lodging is going to be the biggest cost (you can get a bed for about $25/night), but all food can be eaten in markets for as low as a dollar or two a meal, which isn't a sacrifice as street and market food in this area of the world is top notch.  Because of the heat, pace of travel is slower, and days can be spent just wandering the cities without spending a penny.  Shared taxis are obviously going to be more expensive than buses, so always check your public transport options to save some cash.
>> Find hostels in Morocco
>> Search for cheap airfare to Morocco
Egypt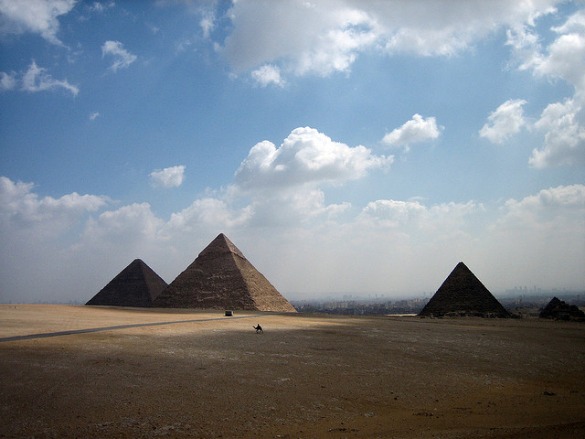 Cairo  (3 nights + 1 flying to South Africa)
Rolf's costs: Rolf spent three nights in and around the famous and historic city of Cairo, Egypt.  His time in Giza seeing the Pyramids consisted of a desert horse excursion (a two hour guided tour) and a camel ride, both activities that, while I'm sure very memorable, are not necessary for seeing and experiencing the Pyramids.  The rest of the time was spent in the city of Cairo itself, including a straight razor shave, which is a great experience if you've never had one before.
Lodging: $150/night-Marriott hotel
Food: $25/day for a mix of street/market food and food from the hotel
Transport: $5 cab transport to Giza from Cairo
Entertainment: $100 for the guided trip, $10 entrance fee to Pyramid site, $7 shave
Backpacker costs/tips: The city of Cairo itself can be a very cheap destination.  Beds can be had for around $5/night, and backpackers will have no problem eating for about the same amount per day.  But travelers are in Cairo for one reason and one reason only, and that's to see the Pyramids.  This is going to add some cost to a cheap place.  Entrance fees to the site are something you can't do anything about, so it's going to cost $10 for entrance to the site itself, $5 for the Pyramid of Menkaure, and $17 for the Great Pyramid of Khufu.  Instead of messing with taxis (which can be cheap, but haggling is necessary, and trips to a few of their buddies' shops might be on the itinerary as well), taking the public bus from Cairo to Giza is the cheapest option and can be done for about $0.35.
>>Read our Cairo Indie Travel Guide
>>Book a guided tour to Egypt
>> Search flights to Egypt
South Africa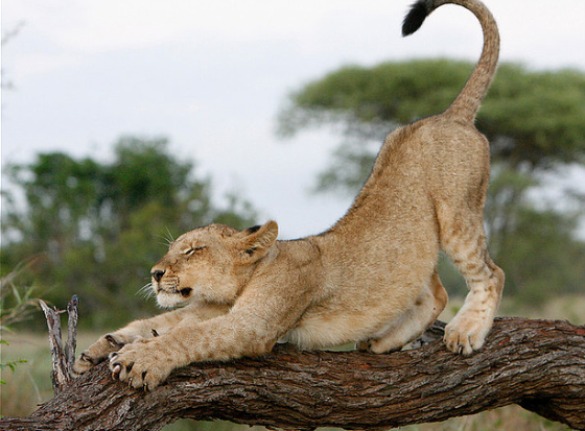 Johannesburg, Kruger National Park, and Welgevonden  (7 nights)
Rolf's costs: When travelers think of Africa, they think safari.  Rolf and his cameraman, Justin, were fortunate enough to spend time on two separate game reserves during their time in South Africa.  The crew went in search of the Big Five in Kruger National Park (and Rolf came up with his own non-Big Five list).  The game reserve in Welgevonden was memorable not only for its animals but for the discovery of a new drink and cold remedy.
Lodging: $90/hotel room in Johannesburg; $475/person for four days and three nights in Kruger (including all safari activities, meals, and ground transportation); $400/night (Makweti Lodge on the Weldevonden Game Preserve)-includes all safari activities, meals, and ground transport
Food:$50/day in Johannesburg, otherwise it's included in safari prices
Transport: Included in safari prices
Entertainment: Included in safari prices
Backpacker costs/tips: While safaris are never going to be a budget activity, South Africa offers some of the best opportunity for seeing wildlife on a lower budget than most other countries in Africa.  For lodging, food, and transportation, travelers can get by on about $25/day by camping or staying in hostels with kitchens and using nothing but public transport.  Going on a safari will bring those costs up, but there are many tips to make it cheaper.  First, picking one place and going there is the best the bet.  Kruger National Park (entrance fee-$23) is a great place to go as its home to the Big Five and can be traversed on your own without a guide.  Renting a car ($50/day) and heading in to a game reserve without a guide or group will offset some costs and allow you to stay where you want or camp.  If joining up with a tour, consider joining a larger tour as costs will always be cheaper.
>> Read these indie travel tips for Johannesburg
>> Plan your trip with our Johannesburg Indie Travel Guide
>> Learn how to plan a safari on a budget
Thailand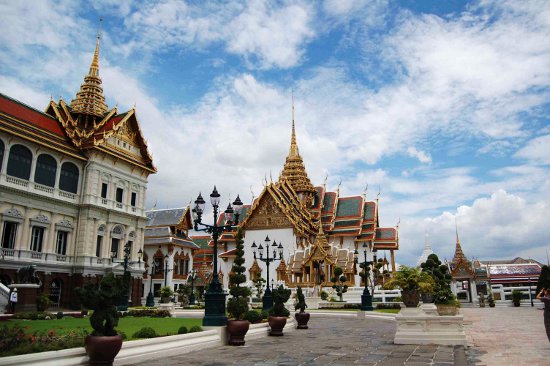 Bangkok (3 nights, 1 on a train to Malaysia)
Rolf's costs: Rolf's trip to Bangkok started where most travelers' trips to Bangkok start, the backpacker haunt of Khao San Road.  While travelers won't get an authentic Thai feel while on Khao San Road, for some reason something draws all tourists here at one point or another.  The one major plus of Khao San is the cheap cost of accommodations and street food, which is incredible.  For part of the No Baggage Challenge, Rolf wanted to test some of his travel clothing at a nightclub, so they also spent some time in a more upscale atmosphere.
Lodging: $140/night at the Column Hotel
Food: $5/day—All street food
Transport: $5/day-Taxis and tuk-tuks; $50/person for the 24 hour train ride to Malaysia; $63 for a flight from Penang to Singapore
Entertainment: $20/person- entrance to club (includes 2 drinks)
Backpacker costs/tips: Bangkok is expensive compared to the rest of Thailand, but it's still easy for a backpacker to make it on as low as $20/day.  Dorm beds in Khao San Road hostels can cost as low as $4-5/person, you can eat a good, filling meal for about one dollar, and any combination of taxis, the subway, the skytrain, and river boats can get you around the city for cheap.  Having some drinks will increase the budget, but even a night in a bar won't set most travelers back very much.
>> Read these tips for having an indie travel experience in Bangkok
>> Read Visiting Thailand: Indie Style
>> Search for airfare to Thailand
>> Check out our Thailand Indie Travel Guide
Singapore (1 night + 1 flying to New Zealand)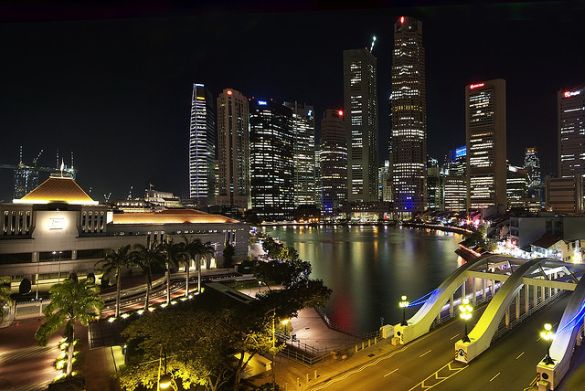 Rolf's costs: The long, 24 hour train ride from Bangkok to Penang, Malaysia was the major highlight during this leg of the journey.  Rolf and the rest of the No Baggage Challenge crew only spent one night in Singapore after the quick flight from Penang.  The budget numbers reflect their time spent in the hotel and the meals had, but other than that, this was a work day.  Obviously a city like Singapore offers tons for all travelers, so don't skip this city that represents a cornucopia of Asian cultures.
Lodging: $120/night for a double
Food: $50/day for hotel food/room service
Backpacker costs/tips: Compared to the rest of Southeast Asia, Singapore can be a drain on the old bank account, but like anywhere else, there are ways to spend less. The budget traveler can survive on about $40-50US/day in Singapore, but you really have to pick and choose what you do.  A dorm bed in a hostel can cost $10-15US/day, and backpackers can eat meals on the street, at hawker centers, or at food courts for about $4-8US/meal.  The Singapore tourist pass costs only $6US and offers unlimited transport for the day on all public buses and the MRT train.  If you plan on drinking, you may want to take advantage of the cheap prices in Thailand because alcohol will really set your budget back in Singapore.
>> Read these tips for having an indie travel experience in Singapore
>> Check out the Singapore Indie Travel Guide
>> Check out the best kept secrets of Singapore
New Zealand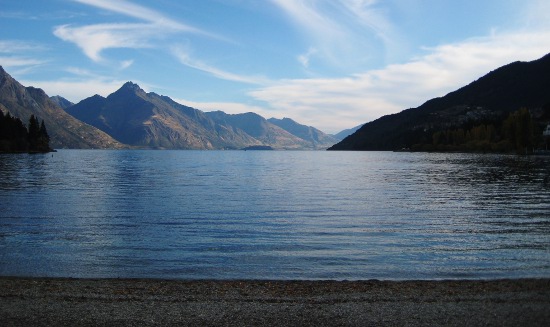 Queenstown (4 nights + 1 flying to the US)
Rolf's costs: New Zealand is the center for extreme sports, and Queenstown is ground zero for all things adventure-related.  Rolf was a busy man during his few days in Queenstown, taking part in many of the fun and daring activities on offer.  He was lucky enough to take part in a Land Rover mountain excursion ($120), a jet boat ride ($93), a zipline tour ($93-$140), and the Shotover Canyon Swing ($155), along with a wine tour ($127) during some much needed down time.
Lodging: $150/night at the Rees Hotel
Food: $30/day for meals in middle of the road restaurants
Transport: $75/day for a rental car
Entertainment: $615US for all five activities
Backpacker costs/tips: When travelers think New Zealand, "budget destination" typically doesn't come to mind.  While traveling in this spectacularly beautiful country isn't as expensive as the US or Western Europe, once you start adding in adventure activities, your budget can soar upwards.  A real budget traveler can make his or her way around New Zealand for about $60/day.  Campervans (some for as low as $40/day) are a popular way to get around New Zealand, and they can serve as both your transport and accommodation costs, but you will probably want to amp up the budget if you go this route.  Most campgrounds and many hostels have kitchens, so eating cheaply is also possible. If you want to take part in anything adventure related, it's going to cost you, so pick and choose what you really want to do before arriving, and budget appropriately.
>> Search for cheap flights to New Zealand
>> Read about downhill adventure sports in New Zealand
>>Check out our Auckland Indie Travel Guide
USA
Los Angeles, Las Vegas, and New York  (4 nights)
Rolf's costs: The final US leg of the trip was all work for the No Baggage challenge crew, with flights from New Zealand to Los Angeles, then immediately to Vegas, where they spent three days working instead of playing, then back to where it all began, New York City.
Lodging: $30/room at Circus Circus (they stayed with friends in LA, but a mid-range hotel will cost about $200)
Food: $60/day for room service and mid-range restaurants
Backpacker costs/tips: The United States may be one of the most expensive and non-backpacker friendly countries in the world.  The public transportation options aren't good or cheap, and the enormous size of the country makes it difficult to get around for a low cost.  Megabus, Greyhound, and Amtrak are all options backpackers should check out, while camping and stays in cheap hotels or hostels in major cities can knock down per day costs.  Unfortunately, fast food is your cheapest food option.  Places like Vegas do actually have cheap accommodation costs, but gambling, alcohol, and food add up quickly.  The most thrifty of travelers can probably get by on a bare bones $125US/day, but $150-$200 is a more realistic option, even for seasoned backpackers.
>>Read our New York Indie Travel Guide, Las Vegas Indie Travel Guide, and Los Angeles Indie Travel Guide
Totals costs (not including airfare)
Rolf Pott's No Baggage Challenge total trip cost: $6600 for lodging, food, transportation (excluding the RTW ticket), and entertainment
Backpacker total trip cost: $3600 for lodging, food, transportation (excluding the RTW ticket), and entertainment
The backpacker total assumes the per day budget outlined in the backpacker sections of each country plus a few additional entertainment costs like safari and adventure activities in New Zealand.  Travelers can save a significant amount of money simply by choosing to stay in hostels and guesthouses, particularly if willing to sleep in a dorm bed, and by cooking your own food or eating street food or at markets.
If those totals scare you, think of how much can be spent on a simple 7 night trip to any number of destinations around the world.  A cruise, a Caribbean island trip, or a jaunt over to Western Europe for a week can all easily set two people back $5,000-$7,000 or more.  If you're willing to rough it just a bit by staying in hostels, cooking some of your own meals, and eating street food, a 7 week trip like this can run you under $8,000.
Traveling around the world is something that many dream of, and while the cost of such a venture is significant, it is something that can be done if you make it your priority and budget appropriately.
Want to plan your own trip? Check out these other articles on round the world budget travel:

Photos by: Kol Tregaskis, Al lanni,  Dimitry B, papalars, girolame, Stuart.Bassil, williamcho, palsson, New Zealand and Thailand photos by Adam Seper and may not be used without permission.