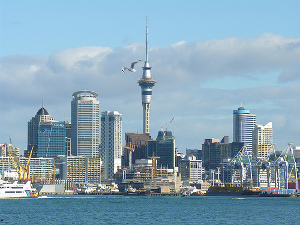 Australasia & the South Pacific: Round-the-World Travel Destinations

Budget Scale: 1-5
1-least expensive; 5-most expensive
3– Auckland is middle of the road when it comes to the budget. It's a big city in a western country, so it's not going to be cheap like big cities in Asia or Latin America, but it's also not going to be uber expensive like large cities in Europe or the US. Backpackers can get by on a modest budget.
Indie Travel Scale: 1-5
1-not a good Indie Travel destination; 5-a great Indie Travel destination
3– Auckland is the most diverse among New Zealand's cities, with a sizable Asian and Polynesian population. There are plenty of touristy things to do in Auckland, but it's not too difficult to get off-the-beaten path and find some unique opportunities in Auckland.
Indie Travel Tips
Head to the inner-city suburbs to check out the Victorian and Edwardian houses.
If you're looking for ethnic food on the cheap, visit one of the food courts in Auckland – Ponsonby Food Court on Ponsonby Road, Queen Street Foodcourt on Lower Queen Street, or Food Alley on Albert Street.
Consider heading out of Auckland and drive to Clevedon, a small village just south of Auckland. You can catch some polo or visit some wineries.
Why you should add Auckland to your RTW travel list
Take a walk around Whangaparoa Bay to the old Anglican church, hidden away under Norfolk pines
Take a ferry out to Great Barrier Island and wander through massive kauri forests and natural hot springs
Tramp to the top of Rangitoto, one of Auckland's extinct volcanoes, for great views of the city and its huge harbour
Explore the limestone caves, or go mountain biking in the nearby Hunua Ranges
Check out the views from the top of Auckland's Sky Tower, the tallest building in the Southern Hemisphere
Why you should not add Auckland to your RTW travel list
While Auckland is a great city, compared to the rest of the country, it's can seem a little boring.
While it still won't break the bank, it's the most expensive city on Auckland.
Are you heading to Auckland? What do you need to do?
Back to RTW Travel Destinations
Africa
Asia
New Zealand, Australasia, South Pacific
Central America
Europe
Middle East
North America
South America
Photo credit: 1