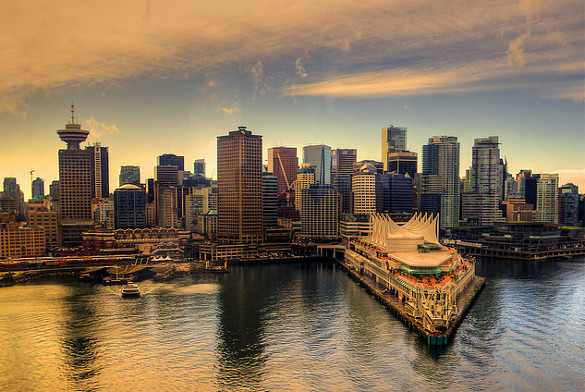 Budget Scale: 1-5
1-least expensive; 5-most expensive
4– Budgeting in Vancouver really depends on where you're coming from and the exchange rate at the time. But all things being normal, Vancouver is a pretty expensive place to visit. There are a decent number of hostels, more than in most US cities of similar size, but you're still going to pay a decent amount for even a dorm bed compared to other, less expensive regions of the world. Food is not cheap if you're going to eat out, but there are some cheaper alternatives around.
Indie Travel Scale: 1-5
1-not a good Indie Travel destination; 5-a great Indie Travel destination
3– While there are a lot of touristy aspects to Vancouver, there are plenty of reasons why it's a great indie travel destination. The city is very diverse, offering a variety of different ethnic restaurants to choose from. There is also a good amount of green space for such a large city, and the outdoor possibilities, both in and around the city, are endless. There are plenty of off the beaten path opportunities for travelers to Vancouver, and the vibe here is pretty awesome. Everyone seems to be really friendly, and immersing yourself into the local culture is quite easy.
Indie Travel Tips
There are lots of cool things to do in Vancouver, and there's no shortage of great sites to see. But what if you're looking for new and exciting things to add to your Vancouver itinerary? What is there to do for those who want more than just the typical touristy sites? Check out the following options to help you get the most of your trip to Vancouver.
Rent a bike and explore – there are bike paths everywhere, and it's simple and easy to get around on two wheels. You can explore the city center and surrounding areas quite easily by bicycle.
Sure, Stanley Park is no secret place, but there's a reason it's near the top in all the guide books. It's a pretty awesome green oasis in the middle of a big city. There are miles of biking, rollerblading, and walking trails, and it would be quite easy to waste away several days exploring this park while not spending a dime.
Take a small water taxi or ferry across to Granville Island and check out the Granville Island Public Market. Markets are always great places to check out what the locals are up to while getting some great food.
If you find yourself in Vancouver during the summer months (June through September) and like to explore markets, be sure to check out the Richmond Night Market. You may feel like you've been transported to Bangkok and a large Asian market, but this is a great place to pick up some souvenirs and some tasty street food.
Why you should add Vancouver to your RTW travel list
Catch a ferry out to Vancouver Island.
Don't look down as you cross the Capilano Suspension Bridge.
Walk in Stanley Park to Prospect Point to get a wonderful view of the city.
Stroll down to English Bay and hang out in the very cool Kitsilano area.
Talk in the greenery at Butchart Gardens.
Seattle is only two hours away.
The food is great and diverse, with a large Asian population providing plenty of tasty eats.
Go skiing in the mountains and windsurf in the ocean – all in one day!
Great public transport and a good hub for getting around to other parts of the world.
Celebrate Chinese New Year in Chinatown.
Why you should not add Vancouver to your RTW travel list
The prices are high and your budget can take a major hit.
Like most of the Pacific Northwest region, it rains a lot, making taking advantage of all the outdoor activities problematic at times.
Most cheap accommodations are located on or around Granville Street, the most touristy and commercial street in the city.
Many of the so-called must see attractions and experiences come with a hefty price tag.
Are you heading to Vancouver? What do you need to do?
Back to RTW Travel Destinations
Africa
Asia
New Zealand, Australasia, South Pacific
Central America
Europe
Middle East
North America
South America
Photo Credits: 1