This is another huge subject, but the mistake that many make is not realizing how easy it is to actually make adjustments to your travel wardrobe on the road. People end up packing way too many just in case items. In fact, swapping out certain items while on the road is a pretty common strategy for many experienced travelers. In short, you already know you should try to bring as little as you can get away with instead of as much as you can carry.
Trust The Old Cliche?
There is that old cliche that says you should think about what you'll take with you, then get rid of half your clothes and double the amount of money you planned to bring. That might help a novice traveler heading out on a 2-week trip, but packing for a RTW requires more strategy. And the money part simply doesn't work for a long-term or other RTW trip. Long-term travelers spend a lot of time figuring out costs and budgets, so simply saying "bring twice as much money" is ludicrous. Half the clothing, however, might not be a bad place to start.
Which Types Of Clothes To Bring
We can't cover all the fine points of selecting clothes and packing here, but there are a couple of things we'll point out that may not be immediately obvious. Certainly you want to look for clothes that take up as little space as possible, but you also really want to select items that will dry quickly.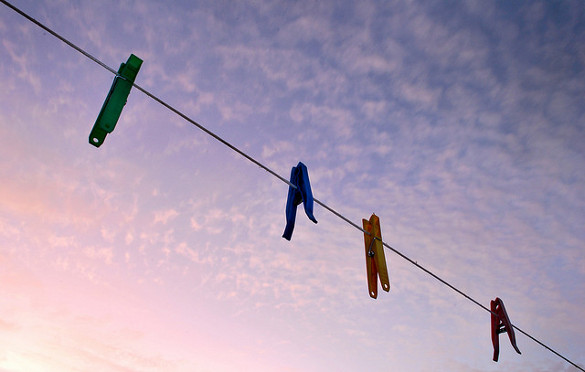 Washing Clothes – Most people plan on washing their clothes (one way or another) every week or so, so bringing more than a week's worth of outfits is simply unnecessary (in fact, having a week's worth is probably unnecessary). If you buck up for moisture-wicking gear, your clothes will dry super fast, making it easy to do laundry in your sink and do it often. If you're traveling in developing countries, you'll be shocked to find out just how cheap it is to send your laundry out.
Jeans – Most travelers think bringing jeans are crazy. Many of us wear them every day at home, but the fact that they are big, heavy, and take forever to dry is why many travelers refuse to bring them. BootsnAll editor Adam say, "I am in the minority, as I brought them on the first half of our trip through South America and New Zealand, and I wore them all the time." The key is to find a pair that aren't so heavy, making them much easier to pack. You can always get rid of them if they aren't working out.
Trekking – If you plan on hiking a lot, that can affect which clothes to bring, but luckily hiking and travel gear often seem to be one and the same. Shoes are going to be the only difference, as some people have to have special boots for hiking, which are big and very heavy. They make excellent hiking shoes these days which cuts down on size and weight, but if you have bad ankles, you may want to stick with the boots.
Underwear – Your unmentionables are a key component of your wardrobe while on the road. You are going to do be doing a lot of walking, and if you are in hot locales, a lot of sweating. This adds up to those nasty heat rashes and chafing in delicate areas. Do yourself a favor and buy several pairs of Ex Officio underwear. You may scoff at the price, but Adam says, "I brought 4 pairs of these bad boys on our trip, wore no other underwear for an entire year, came home, and wore them for another 15 months, regularly, before ditching them. They're super comfortable, they dry quickly, they wick moisture, and they are lightweight. I have trouble wearing any other underwear anymore."
Packing Lists – If you're looking for a detailed packing list for both men and women going on a year-long trip, be sure to check out the FAQ's for how to Choose Clothes For Your RTW Trip.
Buying Clothes On The Road
As mentioned at the outset of this section, part of your strategy should include buying or replacing some items on the road. T-shirts in particular are available almost everywhere and are quite cheap in most places. Many people have been known to start their trip with, say, 5 or 6 older t-shirts and then throw them away as new souvenir t-shirts are obtained. You really don't want to buy many knick knack-type souvenirs on the road so buying a useful item like a T-shirt can be a fun way of bringing new items with you without taking up any extra space.
If you are a bigger or taller traveler you need to give this a bit more thought. In some souvenir markets in places like Southeast Asia they do carry some clothes meant for larger Western travelers, but in general it can be very difficult to find things like XXL or XLT t-shirts in many places. Likewise, a shorter person will love not having to get pants hemmed when they're purchased in Southeast Asia, but probably won't be able to find as much in petite sizes in places like Scandinavia, where the citizenry is (on average) much taller. Just keep in mind that in most of the world they mainly carry items that are sized appropriately for their own people.
The Best Places To Shop For Travel-Specific Clothing
There are countless outdoor and camping stores like REI around these days. Some cities have more than others, but one thing tends to remain the same – travel clothing is expensive. You can shop around, keep an eye on sales and end of season clearance racks, or ask for some of your gear as birthday and Christmas presents. There are several websites, though, that offer travel clothing at discounted prices, but you have to be quick on the draw.
Steep and Cheap is a unique site that can be frustrating and addictive, but they offer crazy deals. Here's how it works. One item is on the site at a time. They have a certain number of that one item available for a discounted price. Once they are all gone, they go on to the next discounted item, with a predetermined number available, until those are gone, and so forth. An item can be gone in minutes, and there is a time limit for slower selling items. You'll see everything from shoes to boots to tents to sleeping bags to coats. It's a great site.
Backcountry.com and its sister site, which is specifically a discount site, both offer lots of great deals.
What Sort Of Bag Should I Carry?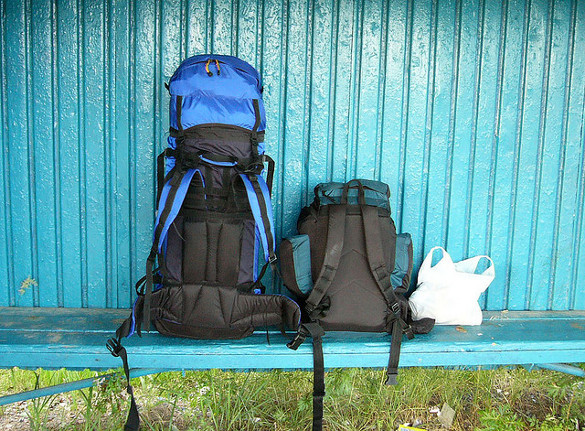 You'll want to carefully choose some type of backpack. Most people choose a proper hiking/camping-style pack, but there is another category of packs that are designed more like a soft suitcase and have zip-away straps as well. These probably aren't comfortable enough for 4 days on the Inca Trail, but if you are mostly doing cities and beaches and planes and trains, they can work well.
This is a huge subject and your choice will have a large impact on your trip, so you want to think about this very carefully. If you happen to already own a pack that might work you should still consider other options. If this trip is going to end up costing $15,000 or more, then spending $300 or even more on this essential item that will have a lot of impact on your comfort makes a lot of sense.
There are endless threads written by experts and long-time users on our travel message boards, and we strongly suggest you take your time and consider all your options on this subject. If you start out with a pack that is too small or uncomfortable or too heavy, swapping it out on the road is not easy.
There's more to packing than clothes, and trying to decide on tech stuff is usually the most difficult. Cameras and laptops can become heavy and cumbersome on a long trip, not to mention having to worry about them getting stolen, lost, or broken. Next we'll deal with what you need to be thinking about as far as tech and gear to bring on your RTW trip.
How To Choose Your Clothes For Your RTW Checklist
Start researching travel-specific clothing – costs, comfort, necessity
Consider where you are going, seasons you'll be traveling in, and climate
Decide how much you'll be doing as far as activities like hiking – they will require different clothing and gear
Check out various packing lists around the web to get an idea of what others brought
Get an idea of what you may need early on in the process, so you aren't scrambling
Consider light-weight, moisture-wicking clothing, and start shopping around
Ask for specific clothes as gifts for birthdays and holidays leading up to your trip
Try out your clothes beforehand. Don't buy travel-specific clothes and gear if you've never worn them before, then wait to wear them for the first time on the road
Don't pack too much – you will be able to buy more clothes on the road as needed
Buy Ex-Officio underwear. "You'll thank me later," says Adam
Decide on a bag to bring – go try them on, do not buy online without trying it on first!
[more link="http://www.bootsnall.com/rtw/cameras-ipods-and-other-gadgets-for-rtw-trips.html"]Next: Cameras, iPods, and other Gadgets[/more]
Photo credits: 1, 2